Dreaming up some big travel plans for 2019 and beyond? Well we've put together a short article explaining why you should come to TravelLab to make your dreams become a reality this coming year…
Price
No matter what your budget is, you always want to make sure your hard-earned money is being stretched the best it can be – and it's our job to ensure you do so. As an independent agent, we work with over 300 of the UK's top tour operators, so we can find and tailor the perfect itinerary for your next dream adventure. The vast majority of these operators we partner with offer full price parity – i.e. we can offer you the exact same price you would find online, and in most cases offer a discount on top! The way this works is rather than adding any money onto the cost of your holiday, we retain a small commission from the operators you would normally book directly with at full price. See diagram below explaining this*: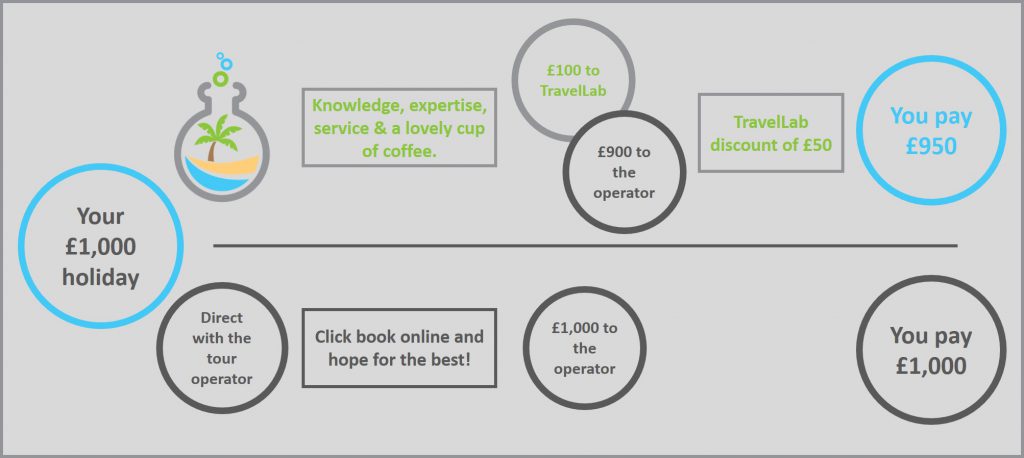 There are also loads of 'tricks of the trade' that can mean you end up saving a fortune! Did you know that airlines offer airfares that can be hugely discounted if you book the flight alongside a hotel/tour? We can also bundle multiple airlines onto one ticket and condense this onto a cheaper, deposit-able fare, meaning you save money and you only pay a small amount upfront.
In addition to this, our team offer a price match promise against other travel agents, so you can rest assured you're always getting the most out of your budget. Support your local, independent high street stores and pay no less for doing so – isn't it a no brainer?
Knowledge & Expertise
Our small, but incredibly knowledgeable team have decades of combined industry service, along with vast amounts of personal travel experiences, which mean we can advise and assist you in whatever your next adventure may be. We've travelled to over 100 different countries between us, combining everything from backpacking in hostels, through to luxury cruises and everything in between. Want to go on a safari? We've done it. Want to go on your first group tour and not sure quite what to expect? We've done it. Planning your first cruise? You get the idea…

Convenience & Service
Clicking 'book' on an online website is nice and easy, but what about the hours and hours of research that goes on beforehand to help you decide where you're going to go, or which hotel you're going to stay in, or which tour of Machu Picchu you're going to do? If you've saved up for months for your dream trip away, don't you want to be absolutely sure what you're booking is going to be incredible?
Wouldn't it just be easier to just pop into one of our stores, drop us an email or ring up our team, or even message us on Facebook, explain what you're looking for in as much or as little detail as you can, and let us do the leg work – it is our job after all (and remember – it wont cost you any more!).
We also process everything, pick your seats, check you in and print your boarding passes for you – the only thing you have to do is turn up to the airport…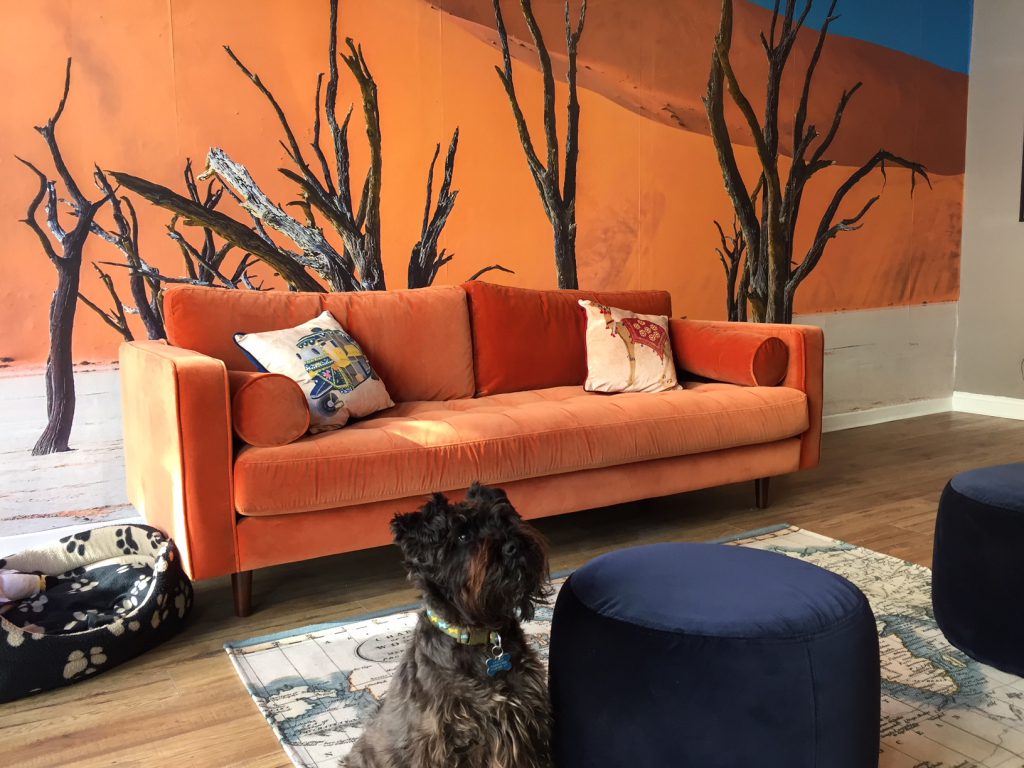 So, why TravelLab?
→ Price Parity with most of the top UK Holiday Operators
→ Price match against other travel agents
→ Group shared enquiry inbox to ensure your request is dealt with ASAP
→ Friendly and helpful service either over the phone or in one of our bespoke branches
→ Experienced, knowledgeable team who've visited over 100 countries and counting…
Plus, we've won a whole host of Travel Industry awards, so we must be doing something right! So pop in to see us in the New Year and we can start planning your next dream adventure.
* Figures used in the example are completely fictional, but the concept remains true for most of the bookings we do, tour operators we use and holidays we tailor make. Please feel free to contact us directly if this isn't clear or you'd like it explained further. Coffees are not offered 100% of the time as supplies run low. Customers are under no obligation to drink a coffee, other refreshments are also available.