Read this brilliant account of Becs, Jen and Georgia's whirlwind trip around one of our all-time favourite destinations – Vancouver & British Columbia.
25 April 18
We arrived into Vancouver airport and were amazed by how quiet and clean the airport was. We had a good giggle at the new immigration machines that took our pictures – after an 8 hour flight we did look a sight! After a quick freshen up at our hotel, Sutton Place, we went out for a walk as the jetlag was starting to set in. We ended up at the harbour in a lovely roof bar called the Lift bar, were we had a well-deserved glass of cava.
26 April 18
Our day started with having breakfast at Boulevard Kitchen & Oyster Bar, which is situated within the Sutton Place Hotel. We then walked down town taking in all the sights and sounds of Vancouver. We could not believe that it was so quiet and clean, and everyone was so friendly. We collected our bikes from
https://cyclevancouver.com/
, with a plan to ride the bikes on around the sea wall. We ended up at Prospect Point where we decided to take a break and take in the lovely views with a pint of beer before taking the ferry across to Granville Island and having lunch at Edible Canada. In the evening we went to Kitsilano Beach where we watched a beautiful sunset.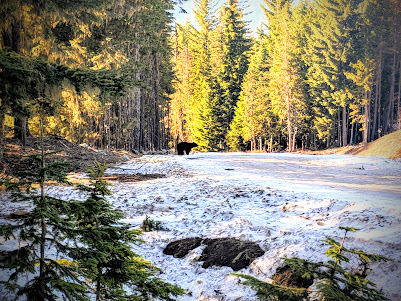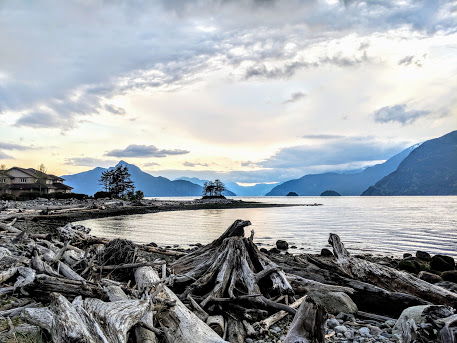 27 April 18
We collected our hire car from Hertz, which was a lovely red Chevrolet – Charmaine. We made our way up to Squamish taking in all the lovely scenery as Becs was doing the driving. We arrived at the Sea to Sky Gondola, which offered absolutely breath-taking views, we could see for miles as it was such a beautiful clear day. We then walked across the suspension bridge where we discovered that Georgia was actually afraid of them. Becs then drove us up to Whistler, which was really fun and there was so much to do. I couldn't believe how hot it was and there was still snow and people skiing! We had a bit of lunch and a yummy ice cream from
https://cows.ca/
 and then went and checked in for our Zip Lining with
https://ziptrek.com/
. We made our way down the mountain on the 6 zip lines which took us through the trees with some amazing views. Whilst walking to one of the zip lines through the snow, we were incredibly fortunate to witness a beautiful brown bear (see picture above) walking across the road in front of us – amazing! This is definitely something I'll never forget!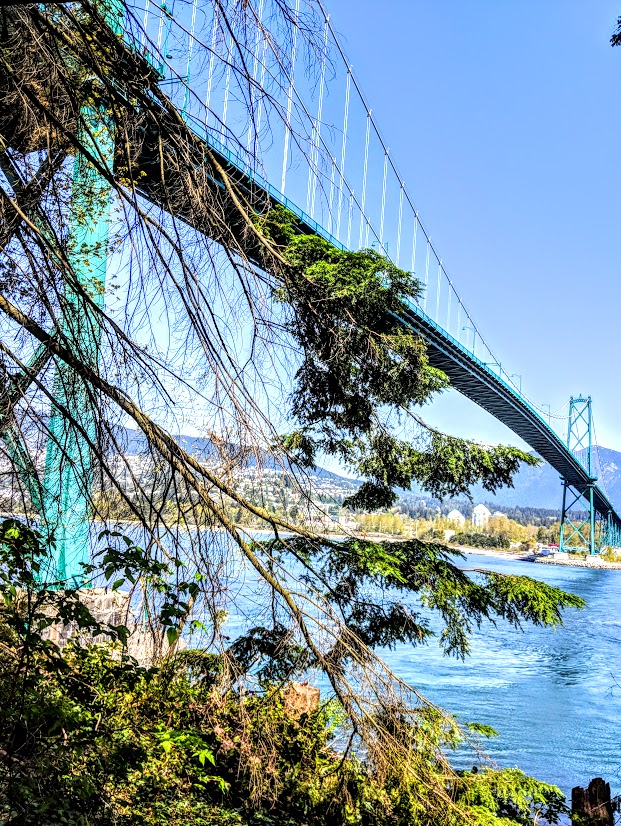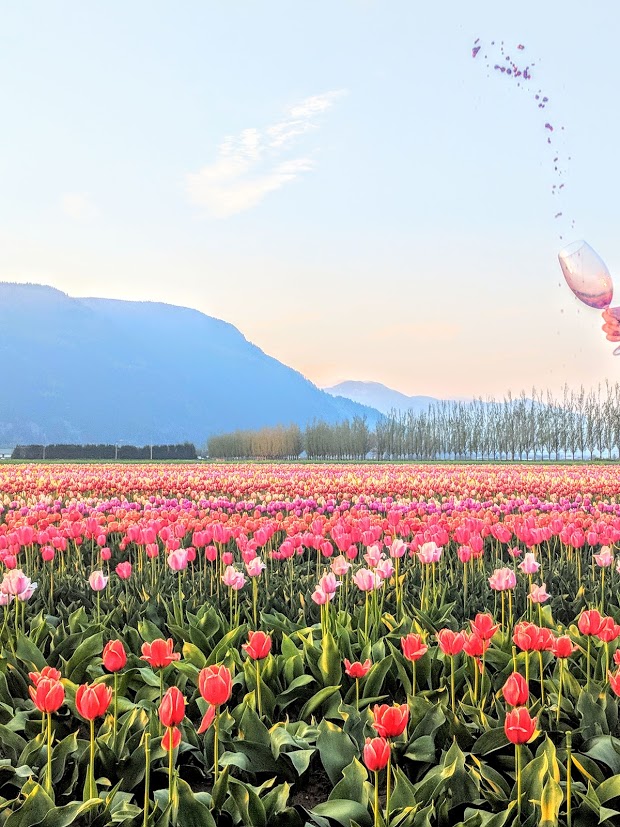 28 April 18
Upon arriving in Victoria after an early morning ferry, we stopped for a bit of lunch at Earls before making our way down to the Marina and checking in with
https://orcaspirit.com/
 for our whale-watching tour. We were all given very unflattering orange suits and given a safety briefing. Alex our Captain/Guide was very knowledgeable and took us out for at least an hour and a half in search of whales. We saw the most incredible Orcas, who put on an amazing show for us which included a tail flip (see our Instagram for a video!). We made our way back to our hotel were we all got changed and made out way to Gastown. We went to a lovely Mexican restaurant Called Gringo, where we had the most amazing Margs and Tacos before heading to the famous Gastown Clock.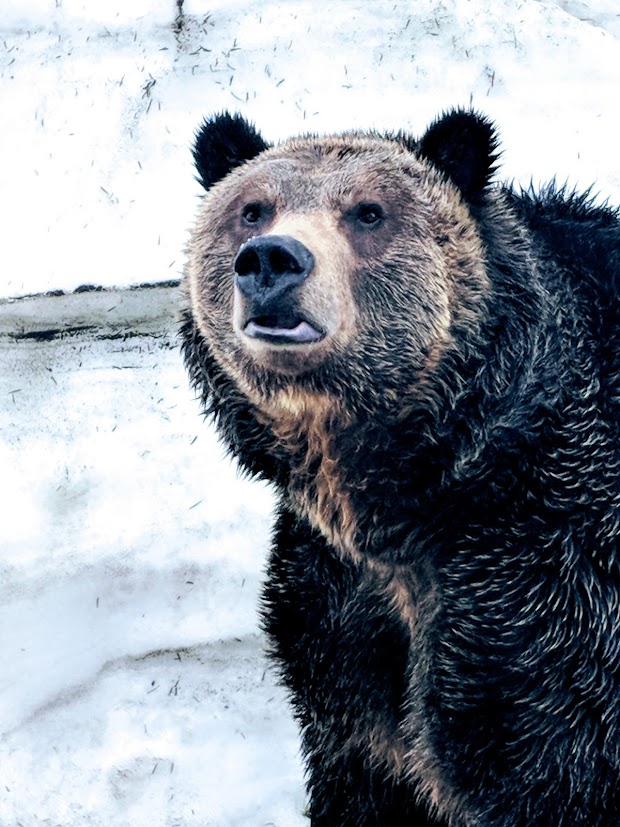 29 April 18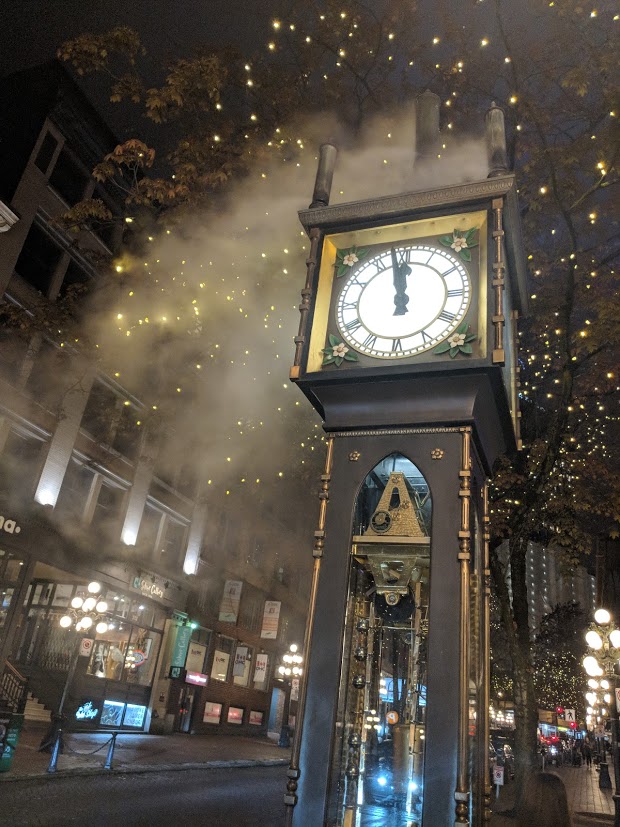 Today we made our way up to Grouse Mountain. We stopped at an amazing little restaurant on the way for brunch called BLVD in North Van. We took the Gondola up the mountain through the clouds and when we got to the top we were greeted by snow everywhere. We had been told on the journey up that the Grizzly Bears had just come out of hibernation and it was suggested to hire boots to go and take the short walk to visit them. We did so and could not believe how big they were! On the way back we stopped at Capilano Suspension Bridge Park, this was a beautiful place. You could easily spend the full day exploring round here, unfortunately we didn't have the privilege.
30 April 18
Today was our last day…
 We made our way down town for our meeting with Kelly Urbani at the Fairmont and Shukria Ganji at the Shangri La. Both of these hotels were amazing and both are very different. My favourite was the Fairmont as the rooms looked out over the beautiful harbour.
We then walked down to Canada Place where we did the Fly Over Canada attraction – 
https://www.flyovercanada.com/
. This was a virtual reality ride and took us through the countryside to the beach – well worth it!
We then made our way to Vancouver Airport, we were given a VIP tour of the airport and given some goodies to take home.
Amazing memories and what an amazing place Vancouver is. I would love to take my family back!!