Greeted by our driver and guide immediately from the arrivals gate, Waas and Ronnie were to be our guides for the next 5 days, we were in safe hands and ready to explore after a few group photos and a fresh coconut.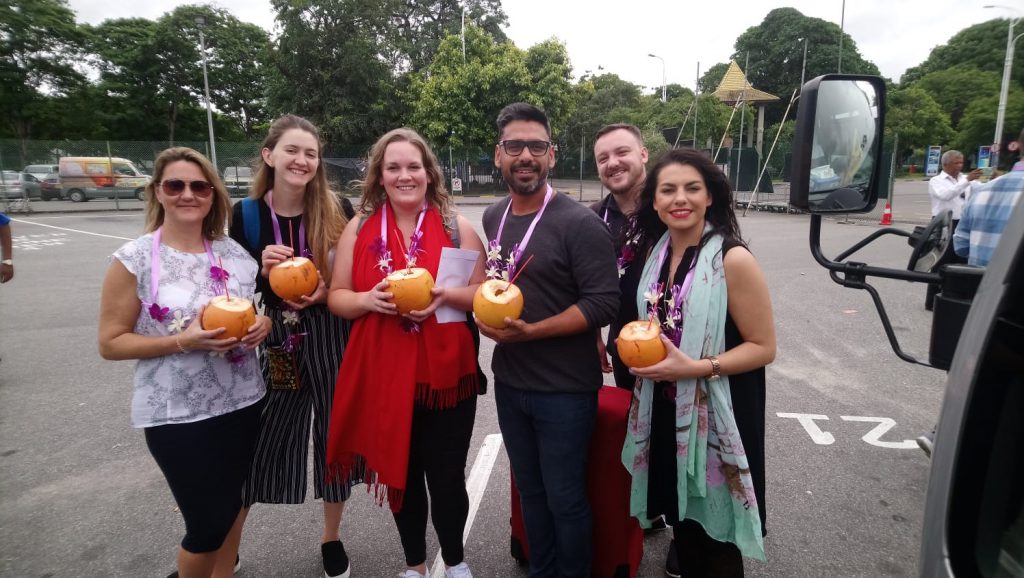 Our first stop, The Avani Kalutara, but first a whistle stop tour of Colombo.
My first surprise was how built up the city was, the lotus flower is the perfect start to view the area and begin your Sri Lankan adventure. Colombo could certainly give a place like Boston a run for its money, with so many parliament buildings in place and hotels and malls popping up all over the place, I cannot wait to come back in a few years and see it all completed. 

With over 1.5 million tuks tuks, the roads are full and controlled (although mostly ignored) by traffic lights and pedestrian crossing with green men.  
With our Colombo tour complete it was time to arrive at our first hotel the Avani Kalutara following a 2-hour drive from Colombo airport with stunning lush green scenery of palms and rice paddies. 
Our first Sri Lankan welcome did not disappoint. A traditional candle lighting ceremony, flower lei and papaya juice, closely followed by our room keys to take ourselves off to our Superior Ocean View room with stunning views of our first glimpse of the ocean.
This property offers ocean with sunset views and lagoon with sunrise view rooms. I'm not sure how to possibly choose,

but sunset sounds perfect to me right now. After a quick change, we were off to a beautifully hosted private dinner, located next to the open buffet restaurant. Drinks were flowing, including their signature SriLankan Delight cocktail and there were Hoppers and Roti galore. With the open kitchen, this was like a show and was truly spectacular. For our first Sri Lankan meal, it did not disappoint! The hotel itself is a good 4 star, with some redecoration taking place, the makeover will really lift the whole property. After a great breakfast (already becoming a little obsessed with Dahl), we were off to Tangalle, with a stop in Galle and the Jetwing Lighthouse.
Galle feels incredible safe and calm despite the cricket taking place whilst we were there, with a slight Balinese feel, you can really feel the Buddhism in the air and I instantly felt relaxed. We spent around 30 minutes pottering around the town with a look at the lighthouse and stunning views. With local street vendors and snake charmers, set amongst the crashing waves, it is certainly a location where I could've spent a couple of days.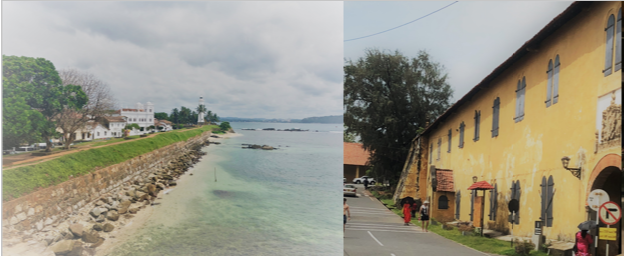 Lunch was at the Jetwing Lighthouse hotel, we didn't get the opportunity to view room categories as the England cricket team were staying had the hotel fully booked. However, we did get to see one of their suites. There are 3 suites on site. Themed with Chinese, Moroccan and Dutch. 
For lunch, my first Sri Lankan curry was awaiting…I accidentally ate an entire chilli but it didn't stop me in my tracks and I continued to thoroughly enjoy the tantalising experience.
The Jetwing Lighthouse is scheduled for closure for refurbishment June, July and August 2019.
Next stop, the Anantara Tangalle, this was the property which I was really excited to see and it did not disappoint. With welcome drums and singing, infinity pool and 4 restaurants plus cookery classes, a wine cellar and private dining available, this is a property where you can truly relax your mind and body. Time for a quick swim in the infinity pool and an inspection around the grounds, where we got to see a fantastic kids club, tennis courts and table tennis, there's plenty of activities to keep you entertained. Dinner was at Acquolina, the onsite Italian restaurant. We were greeted by the head chef and seated outside. 
Once we had ordered food, it began to ran and the staff were incredible and had everybody eating inside within 5 minutes. I opted for lobster and it was incredible. The star of the show was a tiramisu, prepared at the
table by the chef.  

After a beautiful night's sleep in our superior ocean view room led us to our journey to Dickwella, lunch at Cape Weligama and a night at Blue Water
Dickwella has surround ocean views with a fantastic animation program. The rooms are basic and traditional, with stunning views, and staff phenomenal.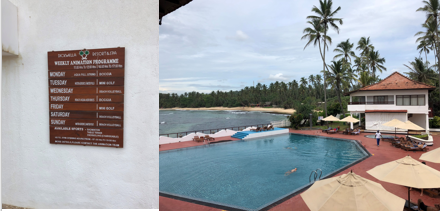 I am beginning to notice that the hospitality in Sri Lanka is absolutely incredible and I have never felt such warmth from a nationality as a whole.
Arriving at Cape Weligama…. WOW!! Such a luxurious property, this place is incredible. 

Complete with 13 pools, villas built into the hillside, all named after authors who have written about Sri Lanka. The main restaurant is open view over the ocean and the best food we've had thus far. The resort is spread out with some steep inclines however if you're looking for secluded pure luxury, then this is the place to be. 
I left a little bit of my heart at Cape Weligama and will certainly return back!
Tonight's stay was at Blue Water, Wadduwa, located within walking distance of the town. Greeted with the candle lighting ceremony, time for a quick change and to the buffet restaurant for tea. We arrived quite late and food was a little rushed before we sat down to watch a culture show filled with flames, bells and drums. This takes place every Thursday. During the inspection, we were showed a couple of room types of which I would recommend upgrading to a club suite complete with separate changing and seating areas.  The spa was beautiful and sadly we were unable to try out their famous Balinese massage, however the aromas and sense of relaxation in there were fantastic.
Before departure we headed to their onsite nightclub for a morning dance.
On our way to our final Sri Lankan destination we stopped at the Madu Ganga Boat Safari for a late afternoon cruise along the river, sadly this was cut short due to lightening, however what we saw, and the peace felt, I can only presume it would be a worthwhile addition to a holiday.
Our last night in Sri Lanka, was at Mount Lavinia. A popular pre-flight colonial hotel, built 212 years ago. This is an incredible building! The history, the high ceilings, it felt very British and grand. The rooms are very simple but are fit for purpose and the public areas, food and seafront locations certainly make up for this. 

Sri Lanka is a stunning part of the world with culture and calm. I have never felt as relaxed and safe within a country. A concern for me pre-travel was the poverty, however with an unemployment rate of less than 4% this wasn't visible at all. Yes; some of the housing was simple but that's what makes it and the local people truly beautiful. AYUBOWAN!!


Next Stop……The Maldives!