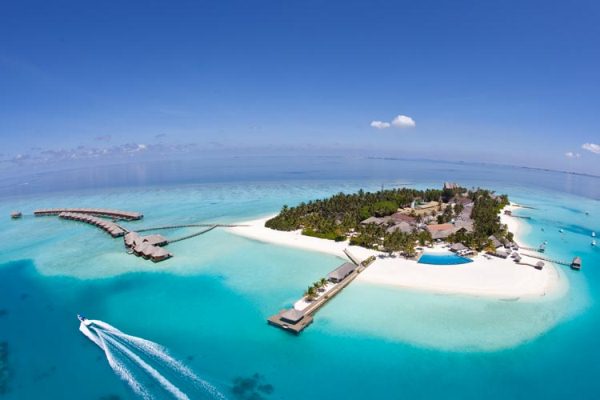 Velassaru
Velassaru Maldives is a distinct Maldives Island Resort inspired by local architecture. Minimal chic revealed in teak, stone, thatch. Simple colour tones with a dash of bright green, vivid turquoise, refreshing yellow. All rooms feature high vaulted ceilings and panoramic walls invoking a sense of space.
The resort boasts a gorgeous beach and a stunning oceanfront infinity pool. Enjoy sumptuous dining seaside with a range of options.
Read Michaela's account all about her recent trip to Velassaru in her Maldives blog – HERE.
Board Basis: Bed & Breakfast, Half Board, Full Board, All Inclusive, Departure Date: Low Season, Departs: London Gatwick
Our Opinion
Velassaru is an excellent choice of island whether it's your first time to the Maldives or you're a seasoned visitor, this island has a beautiful, contemporary feel to it. As well as being a member of the Small Luxury Hotels of the World this truly is gorgeous island to escape to.
Location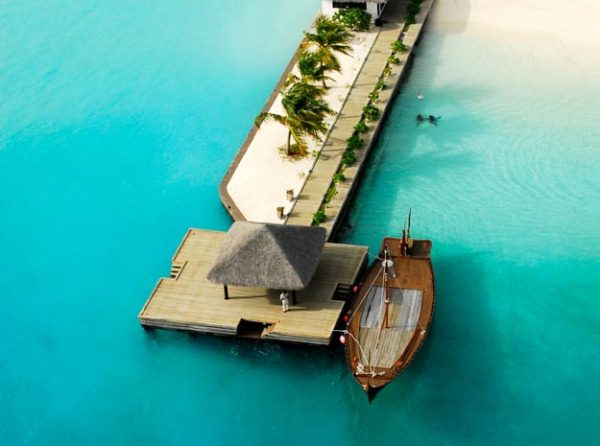 Located in the South Male Atoll, only a short 25 minute speedboat transfer from the airport.
Accommodation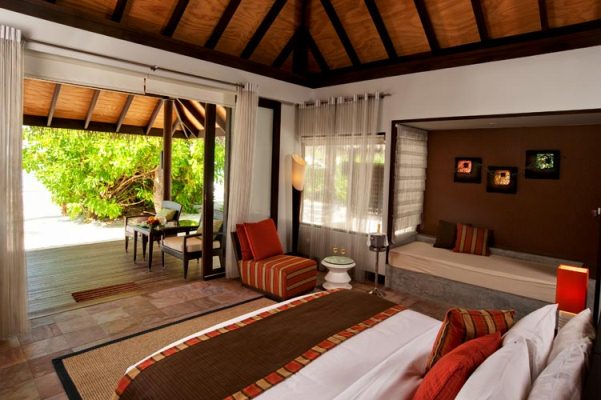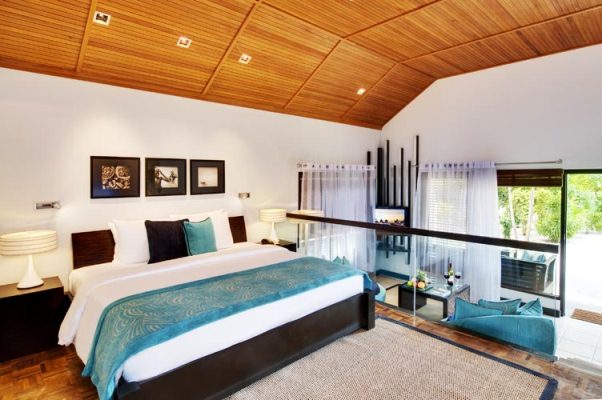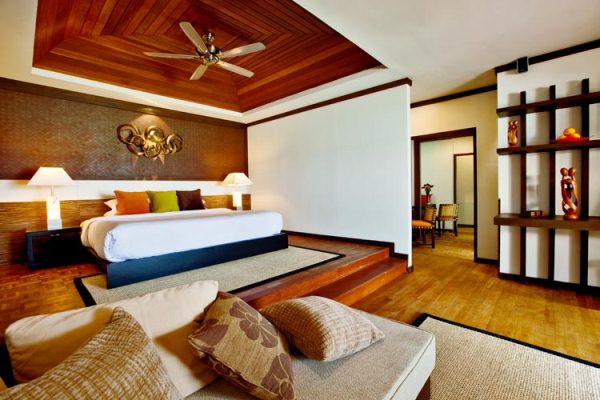 Deluxe Bungalow – 70 sqm
Set amidst lush tropical greenery and velvet-white sand with an open terrace, daybed and split-level bedroom. The refreshing interiors fashioned in white, warm teak and tropical foliage blend in seamlessly with the all-encompassing beachfront.
In-room Amenities include mini-bar, tea and coffee making facility, LCD TV and DVD player, garden bathroom with shower, and indoor shower.
Beach Villa – 96 sqm
Contemporary beachfront living. Elegant interiors of built-in stone and teak. The large windows and full length glass doors of our beach villas in Maldives allow for a seamless flow of space from indoor to the sea-facing terrace. An outdoor daybed soaked in natural light and breezes. Garden bathroom with indoor and outdoor showers.
Villa Amenities include mini Bar, Wine chiller and Espresso machine, LCD TV and DVD player with iPod docking station, garden shower and indoor shower and bathtub and double vanities with luxury toiletries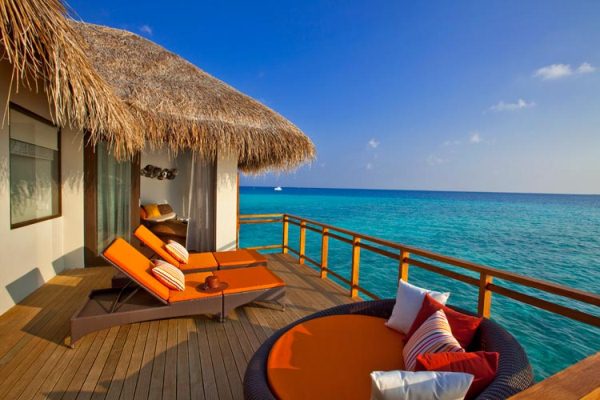 Water Bungalow – 80 sqm
Natural living spaces designed for intimacy. The modern interiors showcase clean lines. Panoramic views of the crystal clear lagoon through the floor-to-ceiling folding glass doors. An over-water deck with cushioned sun loungers lead into the turquoise ocean. The signature experience of the Maldives island resort lifestyle.
Villa Amenities personal wine chiller and mini-bar, espresso machine, LCD TV and DVD player with iPod docking station and luxury toiletries
Water Villa – 112 sqm
The crown jewel amongst all Maldives water villas. Living spaces bathed in warm natural light, perched atop the turquoise lagoon. King-sized bed draped in sheer linen and silk. A full sea-facing wall opens out to the spacious over-water terrace. Bathroom with a freestanding bathtub and a terrace with steps that lead you into the lagoon.
Villa Amenities include personal wine chiller and mini-bar, espresso machine, LCD TV and DVD player with iPod docking station, and double vanities with luxury toiletries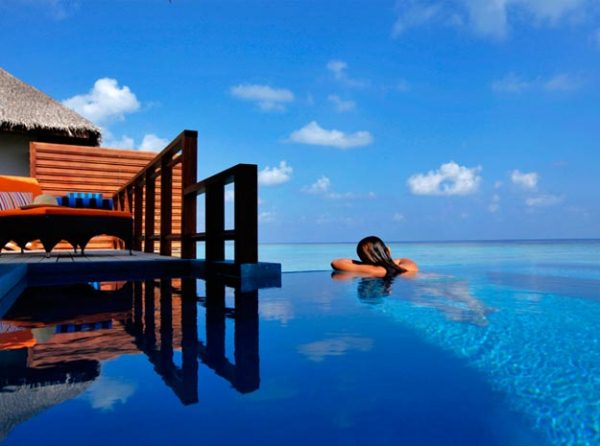 Water Villa with Pool – 112 sqm
Four premium Maldives water villas come with your own infinity pool overlooking the turquoise ocean. Sun-bathe in utter privacy. Warm natural light caressing your skin. Slipping into the shade for a nap. Indulge in a long, relaxing bath in the free-standing tub at our exclusive water villas in Maldives.
Villa Amenities include personal wine chiller and mini-bar, espresso machine, LCD TV and DVD player with iPod docking station, double vanities with luxury toiletries and infinity pool
Pool Villa – 175 sqm
An ultimate luxurious and secluded compound within high walls to create an intimate escape. Sprawling veranda and spacious en-suite bathroom. An over-sized lap pool with a poolside gazebo and dining area adds to your luxury.
Villa amenities and facilities include private butler, indoor and outdoor dining options, private bar, wine fridge and espresso machine, poolside gazebo with an over sized pool, home theatre system with iPod docking station, spacious bathroom with indoor/outdoor rain showers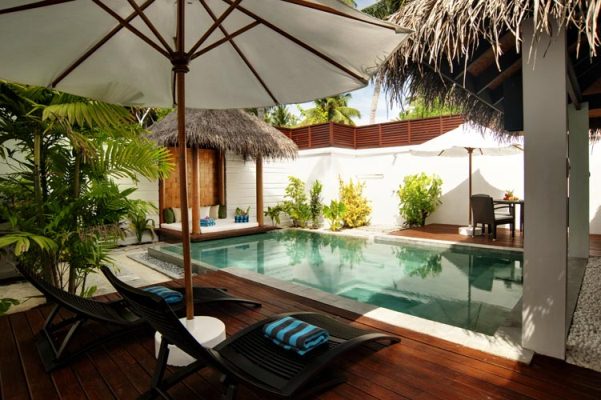 Velassaru Water Suite – 270 sqm
Mod sophistication and pristine privacy in the seclusion of the water suite. Through the glass bottom floor, a view of the marine life dancing beneath your feet. Dining leisurely under the stars on the spacious deck area. Dip into the oversized plunge pool overlooking the ocean before taking the stairs from the deck into the sea to explore its mysteries for yourself.
Restaurants and Bars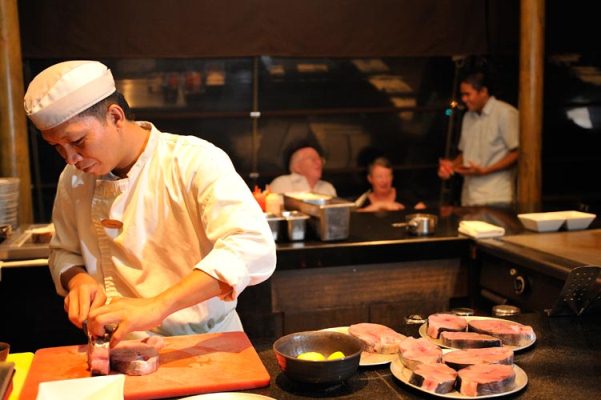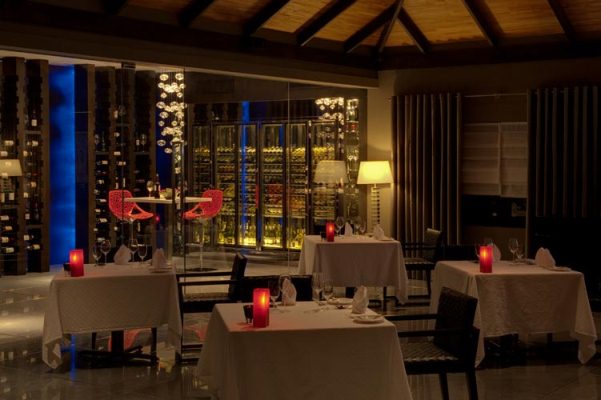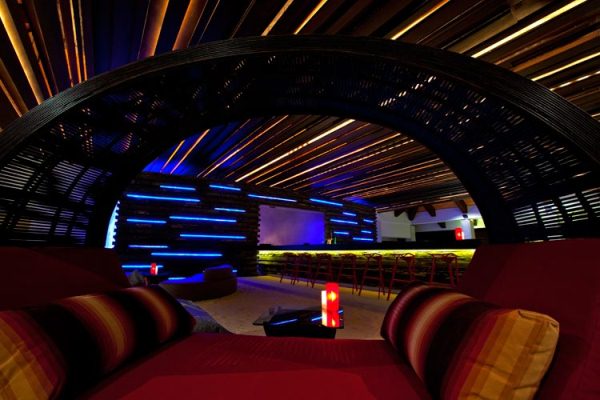 There is an excellent choice of restaurants at Velassaru for you to savour including
five dining venues and two awe-inspiring bars – each exudes individual personality, all exhibit imaginative texture and style. Beachfront setting, at the edge of the lagoon, under candlelight or starlight makes dining in Maldives Island a truly mesmerizing experience..
Vela – World cuisine with a casual vibe, cocooned in lush Maldives island greenery. Enjoy a selection of international delights from the interactive buffet, cooking stations and themed dinners. Gourmet breakfast tour, creative lunch recipes and an amalgamation of freshness, health and indulgence for dinner.
Etesian – A gourmand tour of the Mediterranean. Umbrian truffles, rich stews and interactive cheese board. A wine library filled with top shelf whites and reds. Degustation menu showcasing gastronomic creativity and flair. It's not pure dining; it's a journey.
Sand – Oceanfront food theatre with a dramatic panorama. Your dining pavilion perched on powder-white sand. Seating by the water's edge, overlooking dramatic Maldives sunrise. Indian curries whipped up in the clay oven. Indulge in the culinary arts of Eastern, Indian and Continental cuisines from live grill and cooking stations – al fresco.
Teppanyaki over the lagoon – Japanese sushi with a creative twist. Over water setting with seating by the water's edge. A magnificent way to celebrate fresh cuisine.
Turquoise – Integrated International cuisine in an informal yet intimate setting. Breathtaking azure ocean stretching indefinitely ahead. Continental and Asian influences with a tropical backdrop.
Fen Bar – Beachfront bar. Diving in. Chilling out. Cocktails, wines overlooking a panorama of blue. Asian and European nibbles. Spice up your Maldives honeymoon romance. Over-sized loungers. Eclectic contemporary World music.
Chill Bar – Large sundeck perched over azure blue. Cool cocktails and uninterrupted sunset moments every day of the year. A serenade of the ocean, and a glimpse of the picture-perfect bungalows and villas in the background.
Leisure and Sports Facilities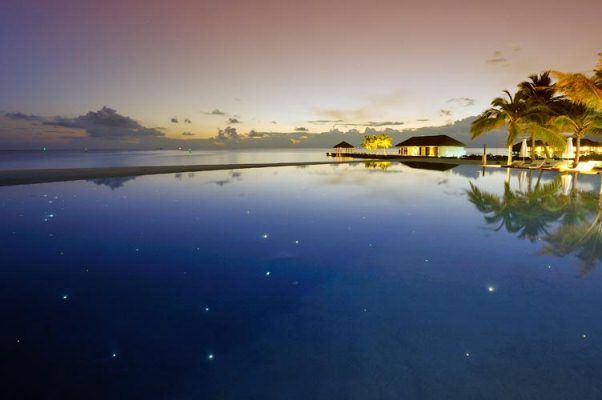 The resort offers the following sport facilities:
Swimming Pool
Fully equipped gymnasium
Tennis Court
Table Tennis
Yoga
Windsurfing
Diving
Weblab Marine Biology Centre
For more information or to book, please contact the reservations team.
Call 01928 246 243
Online Enquiries: Click Here