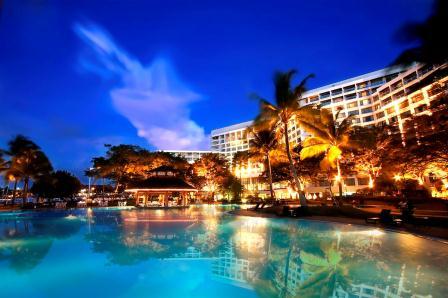 Sutera Harbour
Nestled between the shores of the South China Sea, fronting the tropical islands and the majestic Mount Kinabalu, is the grand expanse of Sutera Harbour Resort. The 384-acre resort provides a spectacular array of activities from its luxurious four and five-star hotels, championship golf course, marina and recreational facilities.
The elegant business setting of The Pacific Sutera Hotel is complemented by the resort ambience of The Magellan Sutera Resort, offering a total of 956 guest rooms and suites of luxurious comfort.
Board Basis: Bed & Breakfast, Half Board, Full Board, Departure Date: Low Season, Departs: London Heathrow
Our Opinion
I thoroughly enjoy my stay at the Sutera Harbour, I stayed in the Pacific section in a Deluxe Seaview Room. The views of the sunset make it worthwhile to upgrade. But if you don't upgrade never fear as there are many spots in which to watch the stunning and famous sunsets.
Location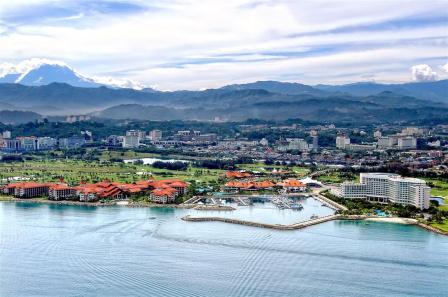 Sutera Harbour is located near the airport and Kota Kinabalu. It is easy enough to take a taxi into town to explore.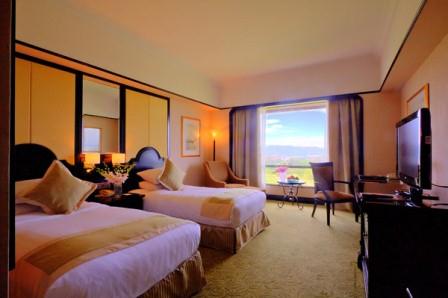 The 4-Star Deluxe Pacific Sutera is a tower style hotel whereas the 5-Star Magellan Sutera is a low rise complex, they have 500 and 456 rooms respectively. Each room has air-conditioning, satellite TV, coffee/tea making facilities, walk-in shower and separate bathtub, and many have minibars.
Room Types in The Pacific Sutera:
Deluxe Golf View – with views of the golf course
Deluxe Sea View – sea facing rooms
Pacific Club Golf View – higher floors with views of the golf course, and access to the Pacific Club including club benefits.
Pacific Club Sea View – higher floors wth sea views and access to the Pacific Club including club benefits
Junior Suite. Executive Suite, Deluxe Suite and Presidential Suite are on request.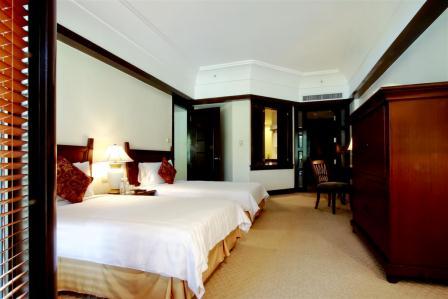 Room types in the Magellan Sutera Harbour:
With fine timber furnishings and traditional handicraft artifacts, this resort is a favourite among families and couples and those seeking a relaxing, tropical holiday in Borneo. Rooms are lavishly decorated and present fabulous views of beautifully manicured gardens or the South China Sea set against a backdrop of the islands of Tunku Abdul Rahman Marine Park.
Deluxe Garden View – views of the gardens
Deluxe Sea View – sea facing rooms
Magellan Club – guests staying at the Magellan Club enjoy personalized check-in services, prime sea-view suites and exclusive dining for breakfast and cocktails at the Magellan Club Lounge.
Deluxe Suite, Magellan Club Suite, Presidential Suite are on request.
Restaurants and Bars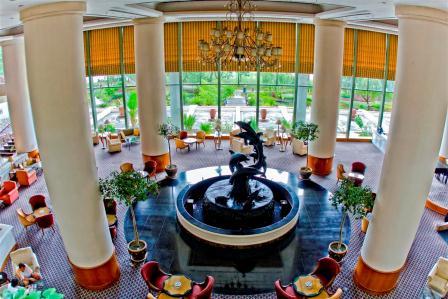 In the Pacific…
Silk Garden – featured in Malaysia Tatler's Best Restaurants list of 2009. Located next to the tranquil gardens and landscaped ponds of The Pacific Sutera Hotel, the restaurant enjoys fabulous views of the yachts by the marina, the swimming pool, swaying trees and the South China Sea against a picturesque backdrop of the islands of the Tunku Abdul Rahman Marine Park.
Cafe Boleh – a 24-hour restaurant, serving a wide selection of Western and Malaysian dishes a la carte. The renowned buffet options are available daily with elaborate indoor and outdoor set-up, making Café Boleh a popular dining venue for both guests and locals in Sabah.
Waves Pool Bar – set against beautifully landscaped gardens on the edges of the ocean with magnificent views of the entire resort and the tropical islands in the horizon. With a swim-up bar and pool-side seating, Waves offers a wide range of alcoholic and non-alcoholic beverages and local and international delicacies.
Lobby Lounge – the Lobby Lounge at The Pacific Sutera Hotel beyond the grand lobby is tastefully furnished with comfortable sofas and armchairs for guests to enjoy the magnificent ocean views of the Tunku Abdul Rahman Marine Park. It's a great place to enjoy a cup of coffee and hold casual business meetings throughout the day and to unwind to live band music throughout the night.
JUGs – the premier nightspot in Sutera Harbour Resort featuring live DJ every night except on Sundays with latest chart toppers and all time favourites. With the longest daily Happy Hour from 5:00pm to 9:00pm, guests enjoy great rates on house pouring drinks and beers.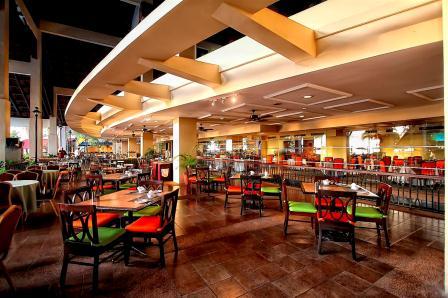 In the Magellan…
Al Fresco – situated by the side of a beautifully landscaped sea-view pool, Al Fresco enjoys outdoor dining with spectacular scenery and a relaxing atmosphere. The extensive selection of pasta, seafood dishes and famous wood-fired pizzas are complemented by a lively cocktail menu.
Ferdinand's – listed as one of Malaysia's best restaurants by Malaysia Tatler, Ferdinand's is a world class Italian restaurant offering the most exquisite fine-dining experience served with style, charm and attention to detail open only for that perfect night out.
Five Sails – offers a daily selection of international and Malaysian favourites for breakfast and dinner buffets. The elaborate spread for Sunday Brunch is particularly popular for late-risers and those seeking a perfect weekend treat.
Tarik's Lobby Lounge – located at the farthest end of the vast, magnificent lobby presents panoramic sea views and overlooks the free form swimming pool. Perfect for coffee during the day or a sunset cocktail at night it offers a delicious selection of alcoholic and non-alcoholic beverages, a snack menu and live entertainment at night. Malaysia's famous pulled tea, the 'Teh Tarik', is one of the main attractions at Tarik's.
Leisure and Sports Facilities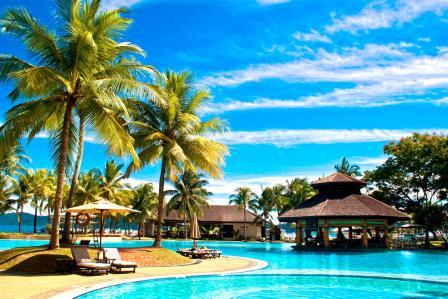 Swimming Pools
Recreation Centre
Movie Theatre
Marina & Chart Room
Beaches
Spa
Body Senses Gym
Shopping
For more information or to book, please contact the reservations team.
Call 01928 246 243
Online Enquiries: Click Here