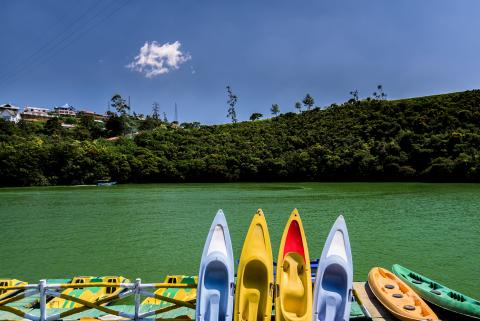 Sri Lanka Hike, Bike & Kayak
Discover a world of spice and splendour on a fitness trip through Sri Lanka. Ride through tea plantations, canoe down rivers, and hike to ancient fortresses on this fitness focused adventure from Negombo to Colombo. Sri Lanka is gaining traction as one of Asias most exciting new destinations and its not hard to see why. With pristine coastline, ancient ruins, rugged peaks and wildlife-filled national parks, it is a dream for travellers who like to get active. Explore the countrys premier Hindu and Buddhist sites while wandering through the wilds on this Sri Lankan experience. Witness ritual devotion in the spiritual heart of the country during an evening puja at Kandys Temple of the Tooth. Spot birdlife and watch as Sri Lanka's forested landscape shifts with the flow of the Kaluganga River on a three-day canoeing expedition. Encounter Sri Lankas rich plant life while hiking through the Knuckles Mountain Range, so named for its fist-like appearance. Soothe sore muscles while relaxing on Mt Lavinias Golden Mile of incredible beaches. Visit Sigiriyas ancient carved-rock fortress, which rises dramatically above the surrounding plains.
Board Basis: Mixed Meal Plan, Departure Date: April to November, Departs: London
Our Opinion
A magical way to experience Sri Lanka by private vehicle, Public bus, Train, Jeep, Taxi, Canoe and Bike and the opportunity to join like-minded people on this small group tour. This trip requires a good level of fitness. It is important to note that all travellers will need to be competent swimmers to take part in the canoeing section of this trip.
Itinerary In Brief
Negombo
Minneriya National Park
Sigiriya – Sigiriya, Lion Rock
Knuckles Mountain Range – Knuckles Mountain Range guided trek
Kandy – Temple of the Tooth
Hatton
Bogawanthalwa
Balangoda
Ratnapura
Kaluganga River – Canoeing at Kalunganga River
Kalutara
Mount Lavinia
Colombo
Minneriya National Park
Full Itinerary
Day 1: Negombo
Ayu-bowan! Welcome to Sri Lanka. Your adventure begins in the town of Negombo, located close to the international airport. You can arrive at any time on Day 1 as there are no activities planned until the important welcome meeting at 5:30 PM. Those arriving early can get into the spirit of seaside Sri Lanka by observing the local fishing craft and perhaps feasting on fresh seafood. The beautiful surrounding countryside is best explored on a bicycle, which you can rent with help from the hotel reception. There are no meals included on this day.
Day 2: Minneriya National Park – Sigiriya
Travel by private vehicle approx. 4.5 hours onwards towards Sigiriya an ancient carved-rock fortress that rises dramatically above the surrounding plains. Get comfortable at your accommodation, then once the evening rolls in, head out to the Minneriya National Park for a jeep safari. The park plays home to a mix of evergreen forest and scrublands, not to mention the sambar deer, leopards and elephants that can often be spotted roaming the wilds. 1 night in a hotel with breakfast . Included Activities Minneriya National Park. The visit to Lion Rock takes around 3.5 hrs. Start around 7am, reaching the lion paw around 8.30 am. On the way visit the water garden, boulder garden, Sigiriya Frescos and the mirror wall. After the Lion Paw its a steep climb with plenty of steps and walkways along the side of the rock. This part of the climb takes around 30 minutes. Those not wanting to go to the top can rest at the lion paw until the rest of the group return.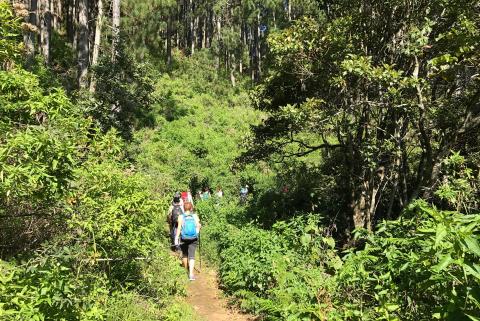 Day 3: Sigiriya – Knuckles Mountain Range
Near vertical walls elevate the ancient city of Sigiriya high into the air, keeping the secrets of the Kassapa kingdom inaccessible save for a rigorous climb along steep staircases. Take a morning visit to witness this monolith with your own eyes, then transfer onward to Illukkumbura. From here, take a half-day walk through the Knuckles Mountain Range, named because the peaks and folds resemble a clenched fist when viewed from certain angles. More than 34 per cent of Sri Lanka's endemic trees, shrubs and herbs are only found in these forests, so keep an eye out for these various plants as you push along the trail. 1 night camping including breakfast, lunch and dinner. Included Activities, Sigiriya – Lion Rock, Knuckles Mountain, Range guided trek
Day 4: Knuckles Mountain Range
Continue on a rigorous full day trek through the Knuckles region. After winding through the forests and hillsides, perhaps stopping at abandoned native villages along the way, wind up at Corberts Gap where views of the valley below and adjacent peaks await. 1 night camping including breakfast, lunch and dinner Included Activities Knuckles Mountain Range guided trek
Day 5: Knuckles Mountain Range – Kandy
Begin your hike out of Knuckles National Park approx. 3 hours before transferring to Kandy approx. 2 hours. Lying in the hills of the Kandy plateau, this major city previously served as the last capital of the ancient kings era of Sri Lanka. These days, it is surrounded by beautiful tropical plantations and plays home to the Temple of the Sacred Tooth Relic, a location that houses a tooth of the Buddha. Spend the rest of the day relaxing here, maybe find a spot by the scenic lake in the centre of town and while away the afternoon. 1 night hotel with breakfast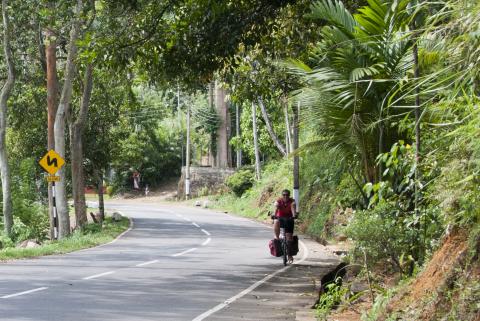 Day 6: Kandy
Start the day off in Kandy with a visit to the golden roofed Temple of the Sacred Tooth Relic. Housed inside, the relic of the tooth of the Buddha has played an important role in local politics due to the belief that whoever holds the relic holds governance of the country. It is because of both the temple and Kandys status as the last city of the Sri Lankan Kings that Kandy stands as a UNESCO World Heritage site. Afterwards, enjoy the rest of the day with free exploration of the city. Perhaps explore the local Buddhist temple or while away the afternoon amongst the trees and flowers of the Royal Palace Park. 1 night hotel with breakfast.
Day 7: Hatton
Transfer to Kandy train station after breakfast, then embark on a scenic train trip towards Hatton approx. 3 hours. After arriving at the station, continue on a mountain bike ride through the area. Pass by the vast tea estates lying in the flowing hills, dotted with few trees which stand like beacons over the plantations below. After roaming around the idyllic countryside, consider taking the hike up Adams Peak. The peak itself is often visited by pilgrims who climb a candle lit trail to the top in the evenings, passing shrines and food stalls along the way. Included Activities Mountain biking, Kandy – Temple of the Tooth. Breakfast lunch and dinner included.
Day 8: Bogawanthalwa – Balangoda – Ratnapura
Leave Hatton and drive to Bogawanthalwa by vehicle. Once you arrive, jump on your mountain bike and continue on a ride across the central highlands towards Balangoda. Travel through the rich forests and sprawling fields of rural Sri Lanka before finally arriving at Balangoda, pushing through 55 kilometres 34 miles and 720 metres 2362 feet of elevation gain along the way. From here, travel by private vehicle and drive onwards to Ratnapura, the bustling capital of the Sabaragamuwa Province, where you will spend the evening. 1 night hotel with breakfast lunch and dinner included. Included Activities, mountain biking
Day 9: Kaluganga River
Wake up in the morning and stretch those arm muscles as you prepare for a big day of canoeing along the Kaluganga River, meaning Black River in native Sinhala language. The Kaluganga stretches an impressive 129 kilometres 80 miles in length, reaching through many of Sri Lankas districts and provinces. As a result, the landscape and vegetation next to the river seems to shift the further you paddle along the river, listening out for bird calls as you quietly drift on. Stop off at a local village where you will camp for the night. 1 night camping with breakfast lunch and dinner included. Included Activities, Kalunganga River – Canoeing
Day 10: Kaluganga River
Depart from the village in the morning and continue paddling down the Kaluganga River, taking in more sights and sounds as you paddle onwards. 1 night camping with breakfast lunch and dinner included. Included Activities, Kalunganga River – Canoeing
Day 11: Kalutara – Mt Lavinia
Continue on your canoeing adventure before arriving at Kalutara, where the river meets the sea. Once an important trading centre for spices, the towns name is derived from the Kaluganga River and was temporarily made the capital by order of a South Indian prince. After a little bit of time looking over the beautiful beaches, board your private vehicle and depart to Mount Lavinia for the next stage of your journey. Breakfast Included
Day 12: Mt Lavinia
Located a mere 15 kilometres 9 miles from the Colombo city centre, Mount Lavinia is a suburb renowned for its Golden Mile of beaches. It's one of the most liberal areas of Sri Lanka and plays host to the islands annual Gay Pride and Rainbow Kite festival since 2005. With a free day to relax on the beach, wash yourself off after a big haul of physical exercise and calm your muscles down. Consider taking on an optional yoga class to knock off any extra tension, or even say goodbye to your fellow adventurers over a group meal, if you choose to do so. 1 night hotel with breakfast.
Day 13: Colombo
Today marks the end of your adventure and there are no activities scheduled after breakfast. If you want to explore Mount Lavinia further, extra accommodation can be booked through the hotel. 1 nights hotel with breakfast. Optional Activities, Colombo – Colombo by Tuk Tuk Urban Adventure – USD55, Colombo – Eat, Eat, Repeat Urban Adventure – USD55
For more information or to book, please contact the reservations team.
Call 01928 246 243
Online Enquiries: Click Here