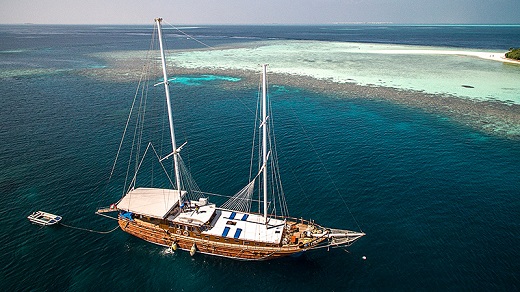 Marine Wildlife Cruise
Awake to the sun rising over the azure ocean, snorkel areas of stunning beauty and abundant marine life including Manta rays, Whale sharks, Green, Hawksbill and Olive Ridley turtles as well as Bottlenose and Spinner dolphins, visit unspoiled islands and by night relax on deck gazing at the millions of stars above you. A traditionally crafted luxury Turkish Gulet complete with sails is the perfect way to experience the magic of the Maldives.
Board Basis: Full Board, Departure Date: Low Season, Departs: London Heathrow
Tour Highlights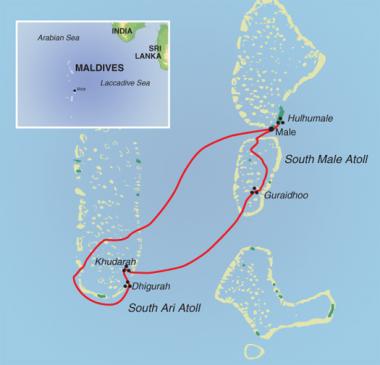 Spend 6 nights on a gulet in the Maldives
Discover unspoilt islands, pristine beaches and idyllic atolls
Snorkel with Whale sharks, sea turtles and Manta rays (in season)
6 nights in twin cabins on board the Felicity, all en suite facilities
Full day and half day Whale shark safari included
Dolphin safari included
Our Opinion
If you ever wanted a different view of the Maldives, both above and below the water, this is a fantastic journey. This gets you well off the normal track in the Maldives so you can see places most never venture to. Bliss!
Full Itinerary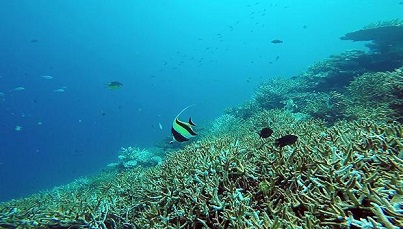 Day of Arrival
Arrive Malé; board the Felicity; cruise through South Malé Atoll.
Following the arrival of the group flights, the group will move to a hotel for the initial briefing before transferring by dhoni from the airport to board the MV Felicity, your home for the next 6 days, arriving in time for a light lunch. Today cruise south to Guraidhoo in South Male Atoll. During this time you are able to do as you please, relax on the sundeck, sit in the shade of the sun canopy and watch the beauty of the Maldives pass you by and maybe catch sight of dolphins. The crew will try to find an opportunity for you to have your first snorkelling excursion this afternoon. If the islands of the Maldives are beautiful, what lies under the water is a veritable wonder of nature. The reefs that encircle the islands and the Atolls are just as abundant in their variety of coral as the marine creatures that live in and around them. This coupled with the amazingly clear water, make snorkelling and diving in the Maldives a unique experience that you will not forget.
Day 2
Turtle snorkelling safari in South Male Atoll; cross into Ari Atoll.
This morning your first stop will be a reef located on the east side of the atoll which offers the strong possibility of a number of turtle sightings. The reef is shallow but dense with corals which provide turtles with an abundant food source. As with all Maldivian reefs there will also be plenty of fish life to observe including Box fish, Porcupine fish and schools of Banner fish. The remainder of the day the boat will cross the atoll into Ari Atoll and head south towards the island of Dhigurah. Dependent on the sailing conditions if there is time there will be the opportunity this afternoon to take a further snorkel trip before making a visit to the local island of Dhigurah where we will take a traditional Maldivian afternoon tea. Dhigurah actually means long island and at 3km, it is indeed the longest island in the atoll. It is also one of the most picturesque with a long beach, protected lagoon and a sandbar at its southern end.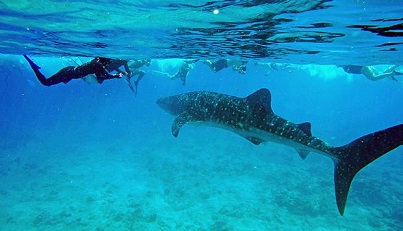 Day 3
Full Day Whale shark safari with the Maldives Whale Shark Research Programme (MWSRP).
The region of South Ari Atoll is very lucky to have a probable unique year-round population of Whale sharks. Nowhere else in the world boasts Whale sharks every single month of the year and furthermore many of the sharks seen are the same individuals time after time. We spend time with a representative of the Maldives Whale shark Research Team to learn about these magnificent creatures and how identification can be made before heading out on our own Whale shark safari. We may see 2 or 3 sharks in half an hour or maybe only one for the whole time we are searching, but the unpredictability all adds to the excitement! When we do spot them we will have the opportunity to snorkel alongside them, a truly magical experience. Whale sharks can, at times, swim very quickly, so you may need to work hard to keep up with them in the water!
Day 4
Morning Whale shark safari; afternoon snorkelling in South Ari Atoll.
Today we go in search of Whale sharks once more and if the time of year is right (December through March) we may also encounter Manta rays. Following lunch we will be taken to one of the best snorkelling sites in this area where we may be fortunate to encounter turtles amongst the colourful corals and fish life. The water conditions and currents play an important role in the choice of snorkel sites however it is likely that fish species such as Dogtooth Tuna, Trevally's, Jacks, Sweetlips, Butterfly fish, Wahoo and Fusiliers will be encountered. When not in the water the day is one for relaxation on board MV Felicity.
Day 5
Morning Manta ray snorkelling (in season); afternoon cruise back into South Male Atoll.
On departures between February and April we will cruise to Madivaru, a marine protected area, where with two cleaning stations we hope to encounter Manta rays. Out of season it is still possible to encounter solitary Manta rays and we will also make the most of a final opportunity to encounter Whale sharks. With a radio network between dive and cruising vessels our guide and crew will do their best to encounter Manta rays but should we not be lucky enough out of season further snorkelling opportunities to encounter sharks, turtles, eels, octopus and rays will be offered. Qualified divers are offered the optional opportunity to dive Kudarah Thila today, a protected marine area and one of the most exciting dive sites in South Ari Atoll (see money section for prices of the optional diving). For those who have not dived before a Discover Scuba Diving Course is offered to learn the basic safety guidelines and skills needed to dive under the direct supervision of a PADI professional. This afternoon we will start our cruise northwards.
Day 6
Cruise back to Male; farewell dinner.
Today we will continue our cruise north before we anchor in the lagoon off the island of Hulhumale late afternoon. This morning there will be a final chance to snorkel these tropical waters and whilst cruising we can do as we please: relax on the sundeck, sit in the shade of the sun canopy, read a book or just watch the beauty of the Maldives pass by. Once anchored in Hulhumale lagoon there will be an optional Male City Walking tour available for those who perhaps would like to stretch their legs! This evening, we will be joined on board by a member of the NGO group Save the Beach who will provide an overview of the Maldives marine environment.
Day 7
Disembark boat and transfer to the airport; fly to London.
Our adventure ends after a light breakfast. Those on the group flights will be transferred to airport for the flights back to the UK.
Need to Know
Guided Group
This is a small group adult holiday. The group is usually between 6 and 12 in size, with an average of 9 like-minded clients booking individually, in a couple or as friends together.
Activity Level
You are healthy, enjoy the outdoors and want a relaxing trip. No experience is required.
Turkish Gulet
A traditionally crafted and built luxury Turkish Gulet complete with sails, the MV Felicity has a length of 28m, a beam of 6.85m and a draft of 2.60m.
With two decks and 6 cabins, the Felicity accommodates 12 passengers comfortably. All cabins are air-conditioned with attached bathroom including shower, small wardrobe, drawer and storage facilities, portholes and a DC wall fan.
There is an outdoor dining area and an indoor area just in case of rain!
The indoor saloon area is furnished with dining table and seating plus banquette seating and is equipped with a TV-DVD-Stereo area and an equipment charging area.
The communal open-air deck space is furnished with sun mats and banquette seating.
Please note: the Felicity only has 6 cabins with a mix of twin and double rooms; we therefore strongly recommend booking early to guarantee availability of the correct room type.
Essential info
Vaccinations and Visa
British nationals can get a tourist visa for up to 30 days on arrival in Maldives, provided you hold a valid onward or return ticket and enough funds to cover your stay. Staying for longer than 30 days without the proper authority is an offence.
There are no mandatory vaccination requirements. Recommended vaccinations are: Typhoid, Hepatitis A. Yellow Fever vaccination is required for travellers who are arriving from, or have transited through, countries with risk of yellow fever transmission.
Holiday style
This is predominantly a marine adventure. You should be comfortable in the water in order to participate in the ocean excursions, but no certifications such as SCUBA are necessary. We take no risks with health and safety and our expert staff monitor conditions to take appropriate measures for a wonderful time in the area.
The climate in the Maldives is tropical which means it can get very hot and humid and you should be prepared for this.
Whilst the months we offer the trip are not known for poor weather conditions it is always possible that we may encounter the occasional day of rough seas and therefore an ability to swim is highly recommended.
Eating & drinking
Full board accommodation whilst on the ship.
Breakfast, lunch, dinner, afternoon snacks are fully inclusive whilst on board.
The traditional food of the Maldivians is based around fish, (tuna to be more specific), chilli and coconuts. White rice and 'roshi' (a flour based flat-bread) are staple items. Fish is normally smoked, fired, barbecued or roasted. Pork products are strictly prohibited. Typical ingredients used widely in dishes served on board include onion, ginger, garlic, lemon, spices.
Menus include European and Maldivian dishes, freshly prepared on board by our chefs who will do their best to cater for most specific dietary requirements. Please discuss any dietary requirements with your booking adviser at time of booking.
The indoor saloon bar offers a wide choice of soft drinks, wine, beer and spirits to purchase.
Please note that there is absolutely no alcohol allowed on the local islands – it is only permitted in the resorts and on the boats.
For more information or to book, please contact the reservations team.
Call 01928 246 243
Online Enquiries: Click Here