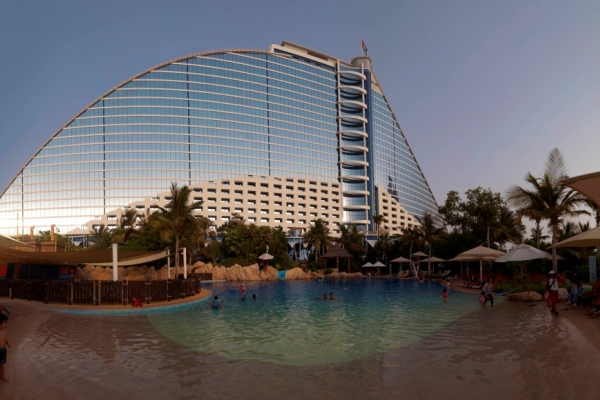 Jumeirah Beach
Jumeirah Beach Hotel is a beach resort that is completely given to the pleasures of life. A dynamically shaped 26 storey curved design built in the shape of a breaking wave; the building stands 93 metres high and 275 metres long.
Board Basis: Bed & Breakfast, Half Board, Room Only, Departure Date: Low Season, Departs: London Heathrow
Our Opinion
Jumeirah Beach is one of the most famous Dubai hotels. It is a legend. In March 2012 it completed a comprehensive refurbishment program and is now better than ever! Entry in to Wild Wadi is always a nice bonus.
Location
Jumeirah Beach Hotel is one of the centre pieces of Jumeirah Beach approximately 30 minutes from Dubai Airport.
Accommodation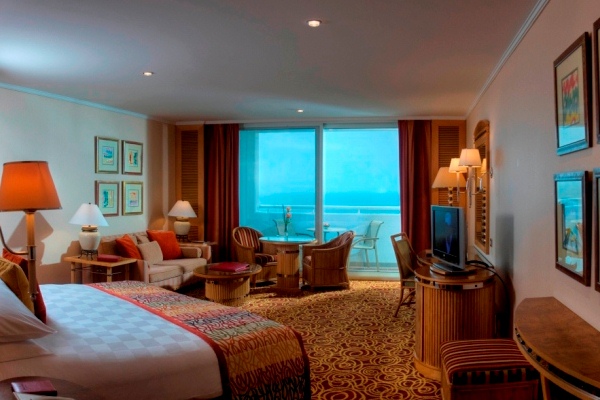 Jumeirah Beach has 617 ocean facing rooms and suites, each with air-conditioning, floor to ceiling window, minibar, television, bath and shower.
Room types:
Ocean Deluxe Room – with breathtaking views of the Arabian Gulf, spacious seating area and walk-in shower, the ocean deluxe room is your perfect holiday choice.
Ocean Deluxe Balcony Room – from the Ocean Deluxe room balcony, the most breathtaking views of the Arabian Gulf are available. The rooms with private balcony are equipped with a king size bed, a spacious seating area, walk in shower and a separate bath.
Ocean Club Executive Room – offering spectacular views and exclusive access to the dedicated Club Executive lounge, you can be assured of excellent service and privacy.
Ocean Junior Suite – relax in the privacy of your very own sun terrace, dine alfresco or entertain in the sitting/living area Privilege access to the Club Executive Pool and Club Eight
One Bedroom Ocean Suite – relax in privacy on your very own sun terrace, dine al fresco or entertain in the separate living/dining area. Guests have access to the Club Executive Lounge and breakfast is served in Latitude or in the comfort of your room.
Two Bedroom Ocean Suite – whether you seek an intimate atmosphere for two or generous space for the family, the 2 separate bedrooms, kitchenette and private terrace will exceed your expectations.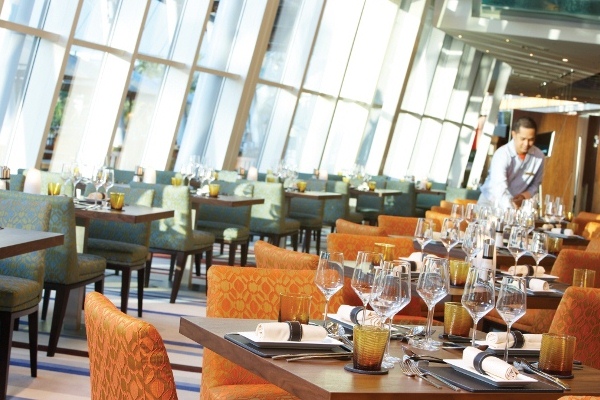 La Parrilla – Stunning views of the Arabian Gulf, Burj Al Arab and the Dubai's spectacular skyline, live tango dancers and exquisite steaks, cooked the La Parrilla way offer a true taste sensation in ambient surroundings.
Marina – located on the Gulf's most famous and happening stretch of sand, Marina is at the heart of Jumeirah's alluring beachside lifestyle, fusing together casually stylish dining and glamorous nightlife.
Villa Beach – Polished wooden floors and exposed beams make Villa Beach seem miles away from the rush of life outside. Intimate and desirable surroundings are matched with a contemporary menu created with colour, passion and flavour. Food designed to tempt discerning palettes, evoke conversations and create dining memories.
Al Khayal – This is where the mystery and romance of Arabian nights is brought to life. The poetic melody of traditional song. The drama and elegance of belly dancing. The passion and flavour of  Middle Eastern cuisine. Welcome to Al Khayal.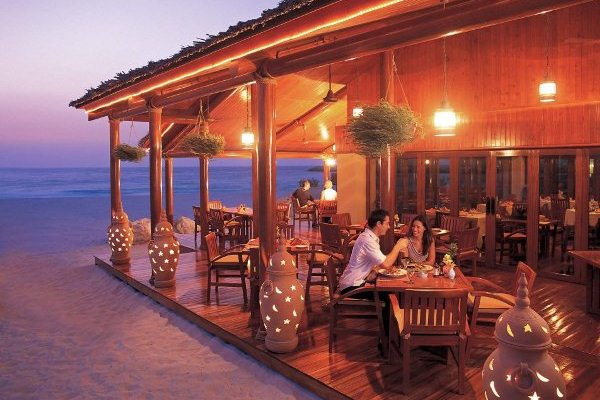 Beachcombers – Feel the warm, white sand between your toes and listen to the gentle lapping of the sea as you make your way to Beachcombers. Beachcomber blends Far Eastern cuisine with a dash of Asian culinary flair which has resulted in a menu that is overflowing with mouth-watering dishes.
Carnevale – For an Italian dinner affair to remember, visit Carnevale and savour the new face of decadence' at Jumeirah Beach Hotel. Come and experience the ambience and exquisitely crafted menu, in the superb surroundings of this fabulous restaurant.
Der Keller – Iron gates and pitchforks mould themselves around the red brick arches of this sturdy German restaurant. 'Gemuetlichkeit' is the password to enter Der Keller and a true reflection of the atmosphere in this German restaurant, one of the oldest restaurants in Dubai.
Dhow and Anchor – Dhow & Anchor prides itself on being one of the few establishments that creatively blends the aura of Arabian heritage with the feel of a classic English pub. All your favourite sports are screened live, ensuring you never miss a match!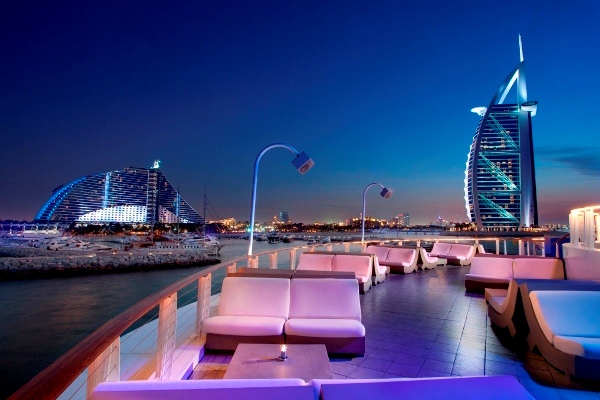 Go West – The history of the West unfolds on the walls, and characters beaming with life and lore bring a distinctive American feel to visitors. Go West, as the name suggests, takes you back to the days of cowboys and Indians, settlers and lawmen, chuck wagons and gunfights.
La Veranda – Casual beachside dining of pizza, pasta and salad makes La Veranda a favourite amongst sun kissed visitors. Relaxing views of gentle water lapping the spectacular yachts moored in the luxury marina make this restaurant all the more enjoyable. Our takeaway pizza can also be enjoyed in the comfort of your own room.
Latitude – Latitude is an electric mix of live cooking stations, a true assault on all your senses, making your dining experience an exciting journey from entree through to dessert. Savour the fresh approach to food and cooking styles from Malaysia, China, Thailand and Japan.
Palm Court – If people-watching was always in such luxurious surroundings as Palm Court, we may be forgiven for retiring for the day. The tea and coffee menu offers is exquisite. The hum of activity reminds you that even in a beautiful environment such as this people must still work
Waterfront – With its combination of exotic juices, blended smoothies and healthy options for breakfast, lunch and dinner, Waterfront is a lifestyle choice. Anti-oxidant berries, egg white omelettes and healthy sandwiches create an ideal alternative dining option for those preferring a wholesome menu selection.
Latitude Creations – The sweetest indulgence is gourmet creativity. Latitude Creations make every occasion one to treasure with exceptionally-crafted cakes, innovative desserts and freshly baked breads.
360° – Stylish rooftop lounge. Set out in the middle of the Gulf, this beacon of cool draws the city's chic set onto its tequila salted shores with the prospect of eyeing night time Dubai from the stylish rooftop lounge.
Mahiki – Mahiki is the ultimate destination for the cocktail lover with a fun times attitude!
Expect a vibrant Polynesian theme running throughout all aspects of Mahiki from the laid back yet chic surroundings, to the exotic drinks and tropical grill food menu.
Ocean Blue / Pool Bar – Set amidst the lush landscaped gardens by the leisure pool, serving a full menu as well as the freshest fruit juices, cocktails and a variety of refreshments.
Uptown Bar – Enjoy the enviable setting of Dubai's only sun-splashed terrace bar by day and moonlit terrace bar by night, offering spanning views of the Arabian Gulf and the distant city skyline.
Leisure and Sports Facilities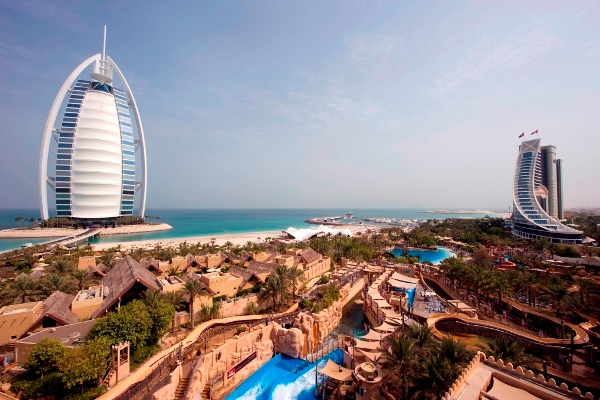 4 Swimming Pool
Gym & Aerobics
Marina
The Spa
Squash
Tennis
Water Sports
Seawings
Climbing Wall
For more information or to book, please contact the reservations team.
Call 01928 246 243
Online Enquiries: Click Here