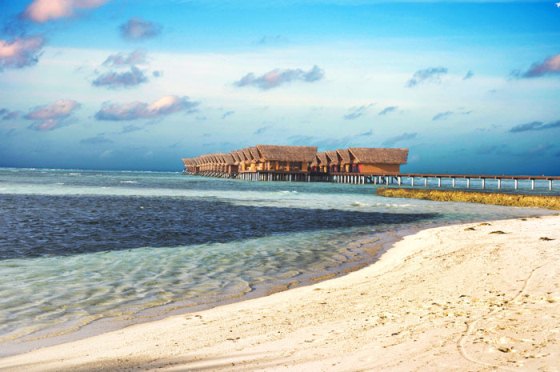 Adaaran Select Hudhuranfushi
Adaaran Select Hudhuranfushi is blessed with thriving vegetation and pristine waters, the Island of White Gold finds itself in peaceful seclusion in the North Male Atoll.
Board Basis: All Inclusive, Departure Date: Low Season, Departs: London Manchester
Special Offers
Early Booking Discounts
Book early and save up to 30% on room rates with this great offer to Hudhuranfushi in the Maldives.
Return International Flights
Return Speedboat Transfers
7 Nights in a Garden Villa
All Inclusive
Selected May, June & September Dates
From just £1,599pp
Contact our team today to book or to find out more.
Not all offers can be combined with other promotions, and other terms & conditions may apply.
Please contact us for more information on the latest special offers.
01928 246 243
Hudhuranfushi is set in 83 acres of surprisingly lush tropical beach property near Kani Beach on Lhohifushi Island. The resort's design enables it to snuggle into its surroundings reinforcing the impression of a quiet village whose shores are lapped by the azure waters of the Indian Ocean, a haven of tranquillity.
Complete with 137 air conditioned and well appointed Beach and Ocean villas with wonderful views, an outdoor pool, a white sandy private beach, tennis court, children's play area, a spa with varied treatments and fitness centre. Guests can avail themselves of recreational activities including snorkelling to view the rich and diverse marine life, wind surfing, canoeing and indoor sports. Mid night fishing, photo cruises where spinner dolphins can be spotted are activities of a more exciting nature.
Our Opinion
Hudhuranfushi is a simple 3-Star plus island perfect for watersports lovers. This is not a luxury resort and should not be sold to you as one. Most people think it is excellent anyway. It is in ok shape (salty air takes its toll on things quickly on the equator!) so when it gets refurbished be prepared for a price increase. For now it is generally a great bargain and if you are not looking for luxury it is a great choice too.
Location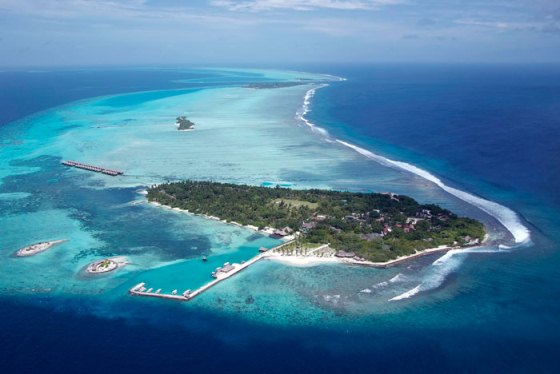 Hudhuranfushi is located along the outside of the North Male Atoll is about 25 minutes by speedboat.
Accommodation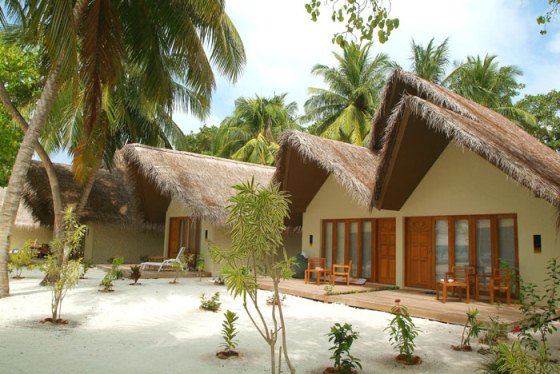 Hudhuranfushi has 137 air conditioned and well appointed Garden, Beach and Ocean villas with wonderful views. Each has a minibar, satellite TV, telephone, & tea/coffee facilities.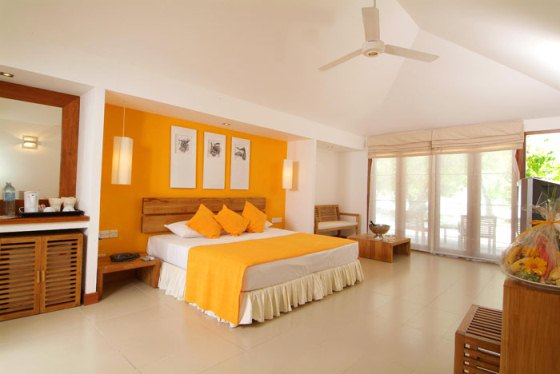 Room Types:
Beach Villas are located along the outline of the atoll with prime beach frontage. They offer convenient access to the beckoning sea. and are within easy reach of the hotel facilities.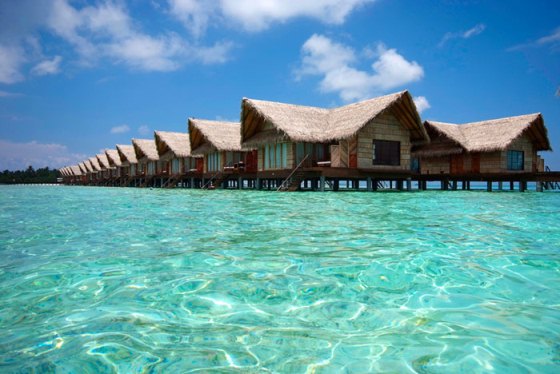 Prestige Ocean Villas – Walk along a dark wooden causeway into the enticing waters upon which you find the thatch roofed Ocean Villas. Each Ocean Villa features wooden exteriors with modernist interiors, each retreat is complimented by bright colours and contemporary design.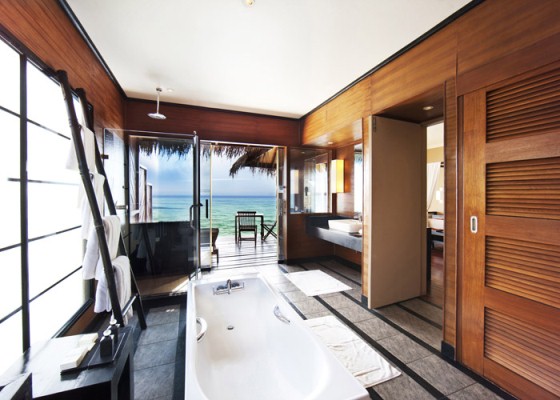 All villas feature modern amenities with views of the open sea along with direct access stairways you will feel the urge to bask in the clear waters for
Restaurants and Bars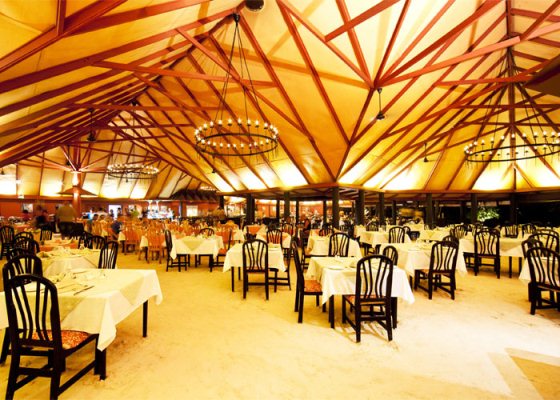 Banyan Restaurant (Main Restaurant) – Serving scintillating buffet style meals with a wide variety of food ranging from traditional Maldivian to western cuisines to accommodate the palate of the global traveller.
Lohis Bar – sheltered by coconut leaves and with the powdery white sand at your feet, enjoy a quiet drink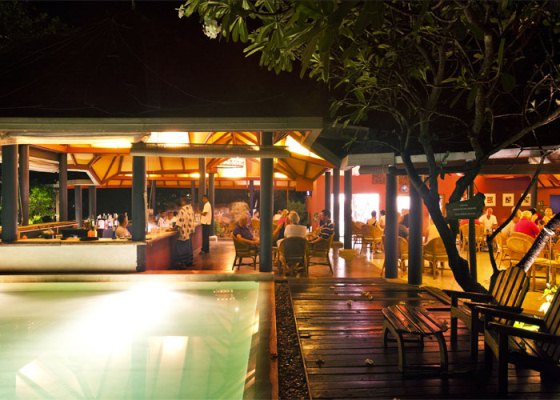 Hiyala Bar – where the fresh breeze keeps the mood on a high note. Enjoy the healing touch of the tropical sun while you relax and soak in the pleasant atmosphere. Taste the enticing flavours of our rich beverage list and fall in love with the captivating surroundings of the island. Have a spicy snack while you sip on a glass of red wine or a tongue tingling cocktail. Let the gentle breeze heighten your senses and elevate you to cap off a memorable evening.
Sunset Restaurant (A la carte Restaurant) – perched on a deck overlooking the island's scenic harbour the Sunset Restaurant offers an exceptional fine dining experience featuring an impressive a la carte menu studded with world class delicacies and views of stunning sunsets and the changing phases of the ocean.
Leisure and Sports Facilities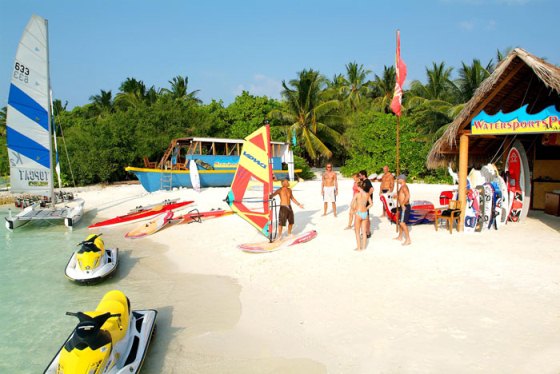 Swimming Pool
Tennis
Gym
Badminton
Squash Courts
Table Tennis
Volley Ball
Beach Volley Ball
Foot Ball
Children's Pool
Excursions
Shopping Arcade
Surfing (Seasonal)
Wind Surfing
Water Skiing
Snorkelling
Scuba Diving
Diving
For more information or to book, please contact the reservations team.
Call 01928 246 243
Online Enquiries: Click Here