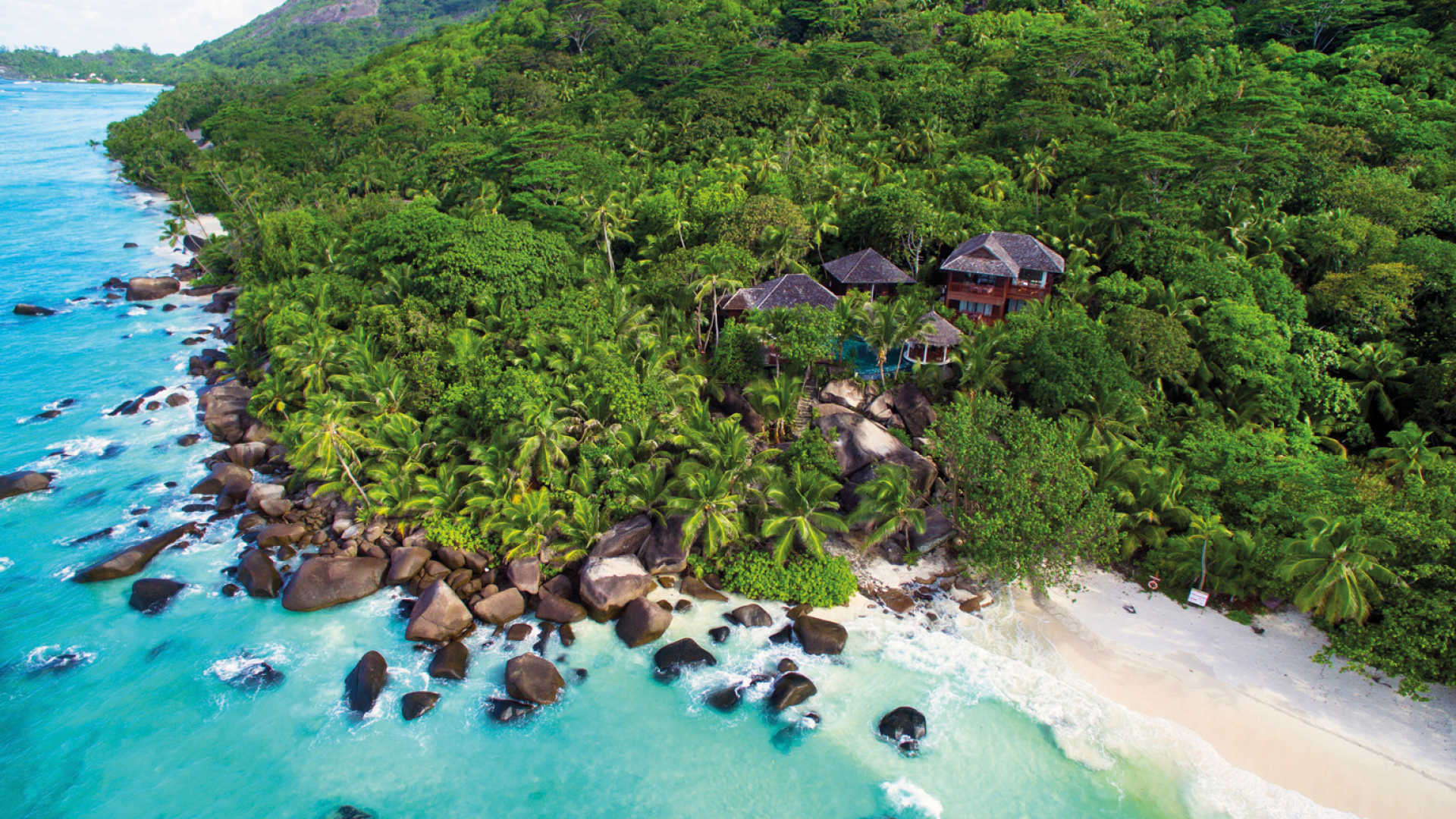 Hilton Seychelles Labriz
Board Basis: Bed & Breakfast, Half Board, Full Board, Departure Date: Low Season, Departs: London Heathrow
Our Opinion
A secluded luxury hotel. It is a multi award winning winning Leading Resort 2008, 2009 & 2010 at the World Travel Awards. It has recently been taken over by Hilton. While prices are never cheap, it is a relative bargain in the luxury arena.
Location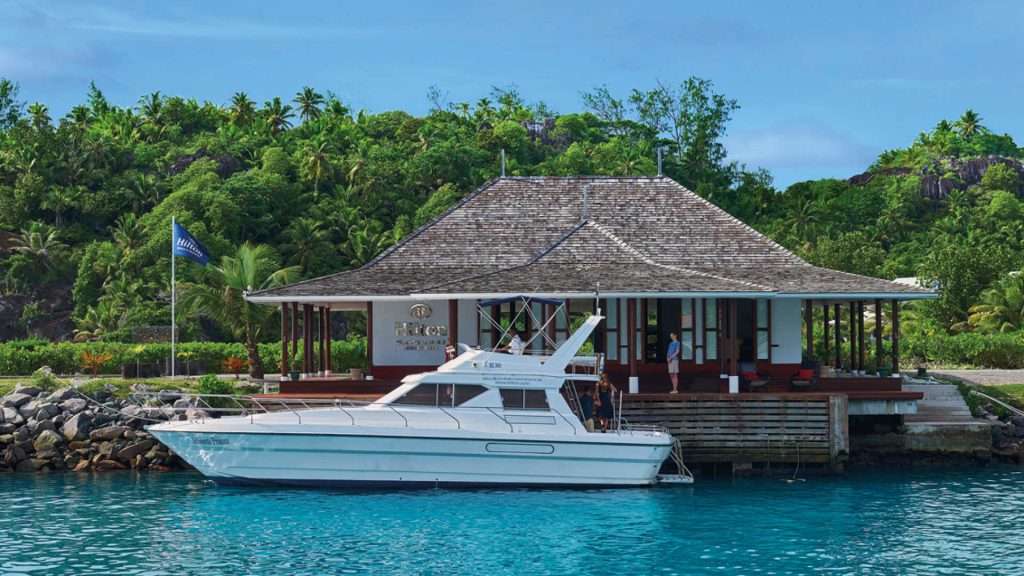 Labriz is located on the Silhouette Island, approximately 30 minutes by boat from Mahe. Please note that the last boat transfers from Mahe to Silhouette are at 17:30.
Accommodation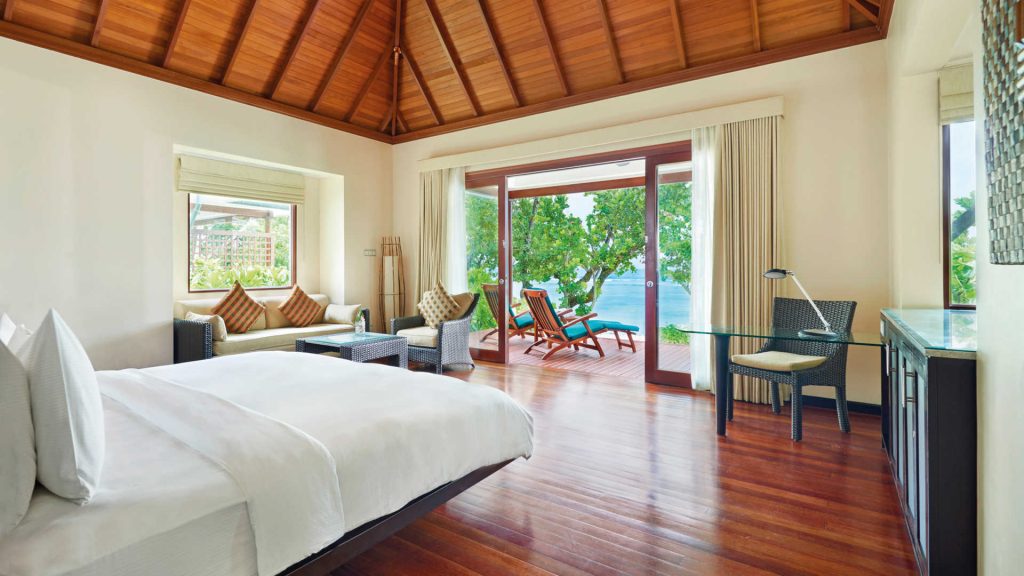 Only steps from the idyllic palm fringed beach, all of the stunning Villas at this Seychelles resort hotel offer spectacular views, luxury amenities, wireless internet access and spacious living areas.
Garden Villa– 88sqm in size and just a short walk from the beach and set amidst lush gardens, this contemporary villa features spacious bedrooms and bathrooms, wireless internet access, LCD TVs and DVD players. Recline on the plush sofa, stay connected at the desk and luxuriate in the elegant bathroom, which has a separate bathtub and a walk-in shower. Enjoy a glass of wine and relax on a sun lounger on your private patio or refresh under your private outdoor shower with stunning views of the mountains. Sleeps 3 adults or 2 adults and 2 children.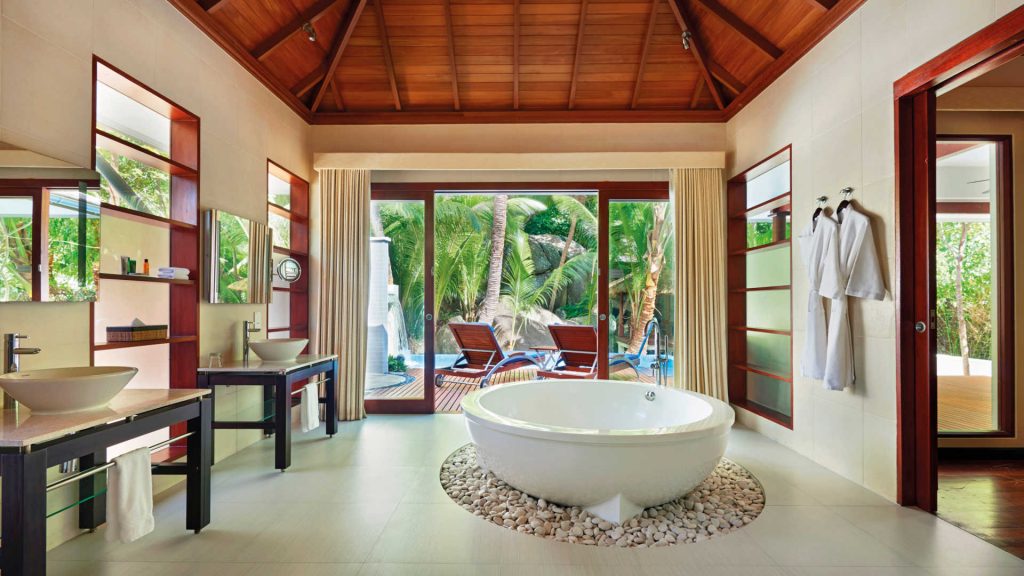 Beachfront Villa 101sqm in size and offers stunning views of the turquoise Indian ocean with the beach just at your doorstep. These villas have spacious bedrooms, a private patio overlooking the sea, an outdoor rain shower and elegant and spacious bathrooms with a separate bathtub and a walk-in shower.
Beachfront Pool Villa – As beachfront villa with a the luxury of a private plunge pool
Deluxe Hillside Pool Villa – 185sqm in size and nestled among lush tropical forests and open onto a private garden with a cascading 6x3m pool and an outdoor rain shower. The elegant bathrooms feature a special walk-in double shower and a large bathtub and ample space for two.
Deluxe Beachfront Pool Villa 185sqm – offers sun-kissed decks, a cascading 6x3m private pool and an outdoor rain shower just steps away from the shore.
Restaurants & Bars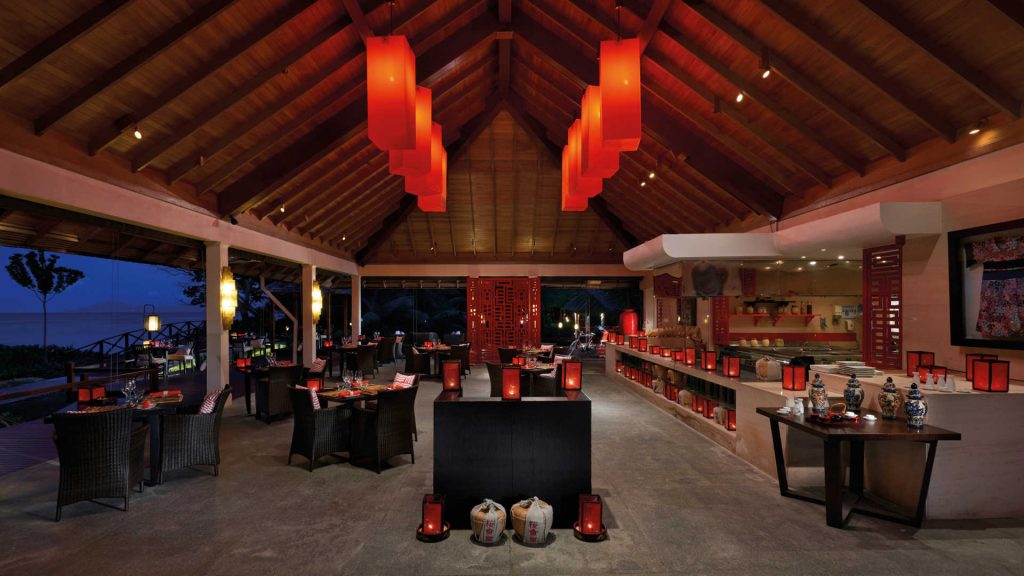 Be spoiled for choice at this Seychelles Resort hotel, which features 7 elegant restaurants and bars. Sip one of our island-inspired cocktails before dining on the finest seafood by the ocean shore or savor colorful Creole cuisine in our unique restored plantation house.
Portobello – Indulge in a fine dining experience in the elegant Portobello at the Hilton Seychelles Labriz Resort & Spa. Savor modern Italian cuisine and a choice of specially selected wines as you enjoy stunning views of Mount Dauban. Dine in air-conditioned comfort, or sit on the outdoor terrace set by the tranquil lake.
Sakura – just steps away from the white sandy beach and featuring a vibrant open kitchen and sushi bar, Sakura at the Hilton Seychelles Labriz Resort & Spa is the perfect place to enjoy the finest in Japanese fuzion cuisine. Dine al fresco under the moonlight or in the shade of rustling palm trees. Please note that Sakura is open for dinner only.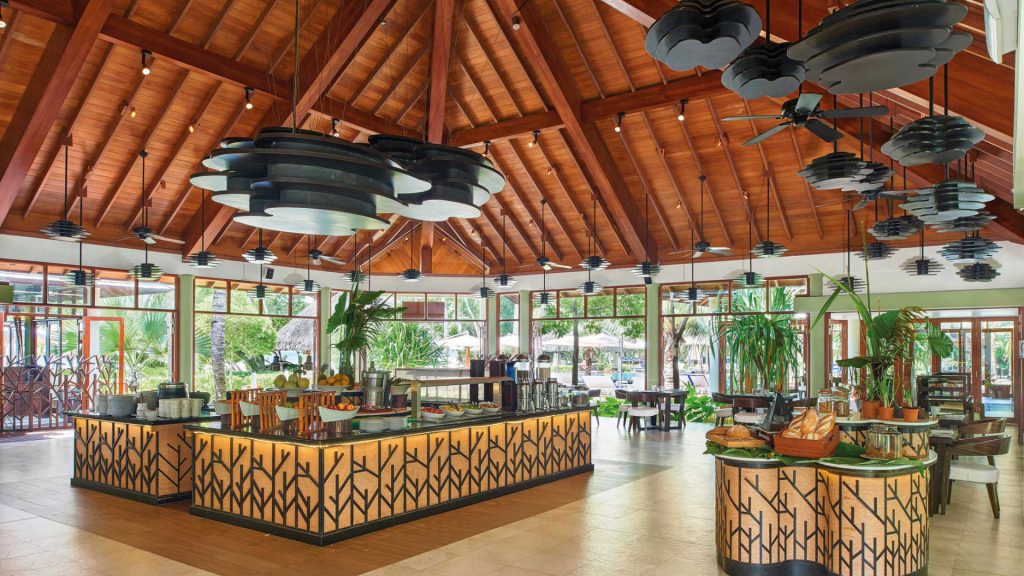 Teppanyaki – a lakeside restaurant with an exciting central show kitchen preparing freshly grilled seafood in the uniquely Japanese teppanyaki style. Sip sake with friends as you marvel at glorious mountain and lake views. Please note that Teppanyaki is open for dinner only.
Grann Kaz – A perfect venue for a special occasion or intimate meal, Grann Kaz is set in a plantation house; the restored home of the Dauban family, the former owners of the island. A blend of modern Seychellois spirit and the island's English and French heritage, this intimate restaurant is located in its own secluded enclave 5 minutes' walk from the resort.
Lo Brizan – Enjoy a variety of light snacks and live entertainment in Lo Brizan, at the Hilton Seychelles Labriz Resort & Spa. Sip New World wines and island-inspired cocktails by the poolside and the ocean shore as you soak up views of the deep green forest-covered slopes of Mount Dauban in the distance.
La Pizzeria – Savor a freshly made gourmet pizza and a variety of delicious snacks in the relaxed, island-style atmosphere of La Pizzeria at the Hilton Seychelles Labriz Resort & Spa.
Cafe Dauban – Overlooking the pool and Mount Dauban on one side and the Indian Ocean on the other, Cafe Dauban offers local Creole specialties and international favorites and is open for breakfast, lunch and dinner. Enjoy a choice of gourmet set menus, a la carte menus and assorted buffets.
Leisure & Sports Facilities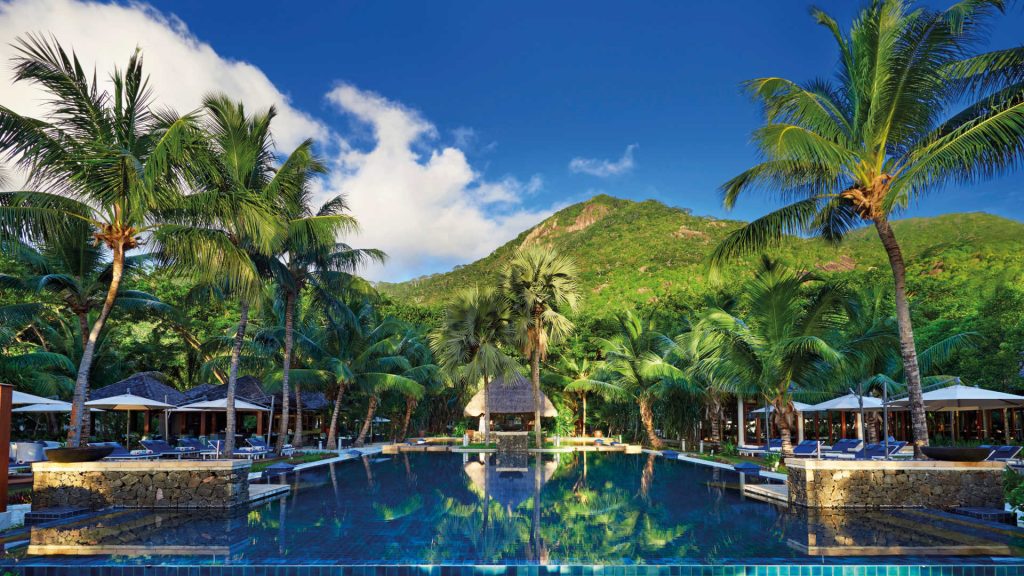 Swimming Pool
Fitness Centre
Tennis
Dive Centre
Watersports
Childrens Activities & Babysitting Service
Gift Shop
Games Room
Snorkeling
Spa
For more information or to book, please contact the reservations team.
Call 01928 246 243
Online Enquiries: Click Here