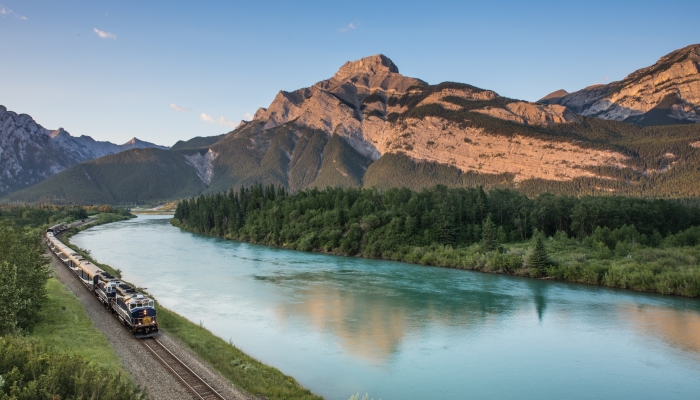 Deluxe Alaskan Voyage and Rocky Mountaineer
Captivating vistas unfold on every turn of this trip through some of Canada and Alaska's most mesmerising scenery. Magnificent mountains, lakes and national parks fill our first few days in Banff and Jasper. The iconic Rocky Mountaineer railway transports you through forested valleys and over mountain passes. Then on a week-long cruise, spot harbour seals, humpback whales, swooping eagles and more as you sail past the monumental glaciers and snow-dusted mountains of the Alaskan fjords. Finally, we wrap up in Vancouver, one of the most liveable cities in the world.
Departure Date: 8 May 2020, Departs: London Heathrow
Your Holiday Includes: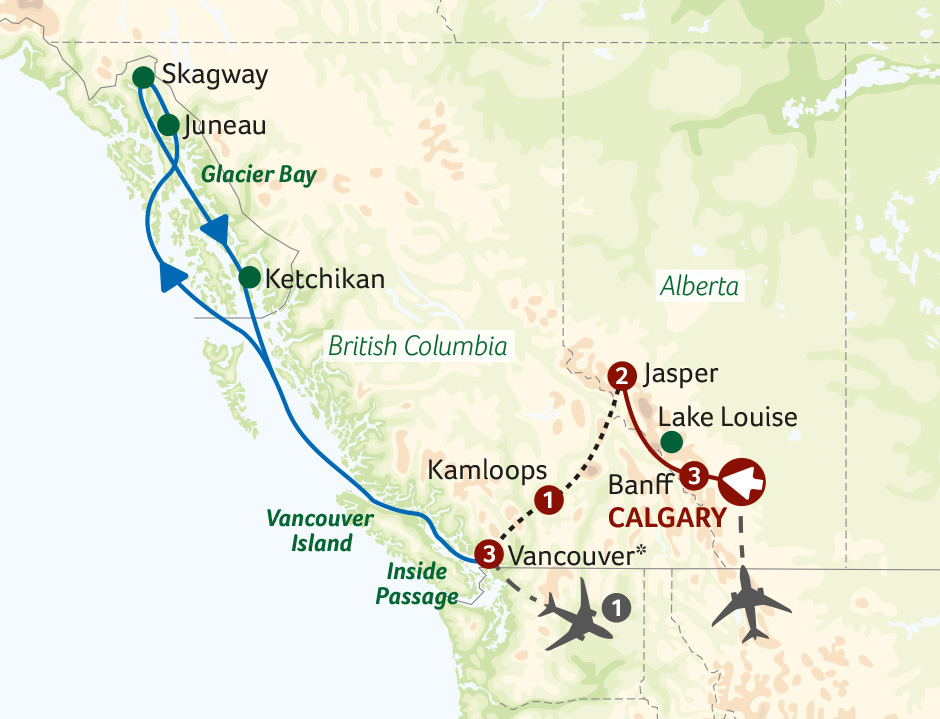 5 excursions and visits
Tours of Banff surrounds (with Lake Louise) and Jasper National Park
Columbia Icefield Glacier Adventure
Interpretative talk during dinner in Jasper
City tour in Vancouver
Summary of Itinerary:
Fly Air Canada from Heathrow
9 nights in hotels
7 nights cruise on Holland America's stunning cruise ship, the Koningsdam
1 Night/2 Days Rocky Mountaineer SilverLeaf Service
26 meals: 9 breakfasts (days 6, 7, 9-15) 9 lunches (days 6-14) 8 dinners (days 5, 8-14)
Exclusive cocktail party on board Koningsdam
Home VIP door-to-door travel service
Porterage
Full Itinerary
Day 1 UK – Calgary – Banff
VIP Home Departure Service, door-to-door travel service collects you from home for your flight to Calgary. Upon arrival, we transfer to Banff, in the heart of the Rocky Mountains.
Day 2 Banff (Lake Louise)
Banff is regarded as one of North America's loveliest small towns, and makes a wonderful base for exploring the scenic surrounding area. With a charming and friendly atmosphere, you'll want to spend the day exploring on foot – but we have bigger plans. Today we head out on an excursion to Lake Louise – known as 'the jewel of the Rockies'. Named after Queen Victoria's fourth daughter, Lake Louise is one of Canada's most beloved attractions and perhaps the most picturesque body of water in the world. The best view is from the chateau on the eastern shore, where you can snap a postcard-pretty view of snow-capped mountains and picturesque pin forests. This is just a sample of the natural glory of Banff National Park.
Day 3 Banff
Take a day to yourself to browse the craft shops, boutiques, cafés and restaurants of Banff. Or you could join an optional gondola ride to Sulphur Mountain for an amazing bird's-eye view of six mountain ranges.
Day 4 Columbia Icefield – Jasper
We journey north through the Rockies to Jasper, with captivating vistas unfolding at every turn of the road. En route we make a stop at the Columbia Icefield for a unique Ice Explorer ride on the surface of the Athabasca Glacier (weather permitting). The vehicle's expert driver teaches us about glaciers, icefields and the environment. There's also a chance to safely hop off and stand on this icy giant. We'll arrive in Jasper later this afternoon.
Day 5 Jasper
Jasper National Park is one of Canada's oldest and largest, brimming with cultural treasures and miracles of nature. Our guide will take us deep into the park, where we'll gawp at the dramatic Maligne Canyon, pause for a moment of peace at Medicine Lake and – another icon of world travel – Maligne Lake. Surrounded by mountains and glaciers, you'll really get the feeling of being in the middle of this great wilderness. We'll enjoy an interpretative talk at dinner this evening.
Day 6 Rocky Mountaineer (Jasper – Kamloops)
Step on board the renowned Rocky Mountaineer train today for a railway ride unlike any you've taken before. Sink back into your seat and get ready for the breathtaking scenes that await as we wind our way through the Canadian Rockies over the next two days. This exhilarating journey between Jasper and Vancouver is punctuated with an overnight in Kamloops. We'll dart between valleys and lake shores, over mountain passes, through forests and remarkable tunnels hewn from the rock. On this part of the journey, look out for the towering peak of Mount Robson, the Albreda Icefields' expansive glaciers, the Pyramid Falls and the snow-capped Monashee peaks.
Day 7 Rocky Mountaineer (Kamloops – Vancouver)
On the menu for today's scenic feast: the lush green fields of Fraser Valley, Coast and Cascade mountains, the steep slopes of the Thompson River and tumbling waters of Hell's Gate in the Fraser Canyon. After all that you'll want a rest, so you have the afternoon at leisure in Vancouver.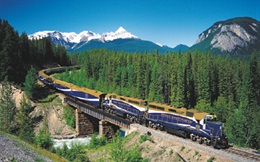 Day 8 Vancouver
There'll be more time to explore Vancouver at the end of our cruise, but this morning is at leisure to gather memorable first impressions of a city before we board our ship. You'll have some time to get acquainted with the ship before we set sail late afternoon.
Day 9 Canada's Inside Passage
Today we intrepidly explore the awe-inspiring panoramas of Canada's Inside Passage, a peaceful and picturesque 'marine highway' between British Columbia's islands and mainland. Look out for intricate fjords, dense forests and snow-topped mountains. There's plenty of wildlife to spot, too. Harbour seals, humpback whales and swooping eagles call this beautiful area home.
Day 10 Juneau
Sightings of whales, seals and sure-footed mountain goats are likely today as the ship makes its way through narrow waterways to Juneau, Alaska's state capital since 1906. Though it covers a large area, this cosmopolitan city has a surprisingly small population. Juneau's location, in the heart of the Tongass National Forest and at the foot of the towering mountains that overlook Gastineau Channel, makes it a memorable visit.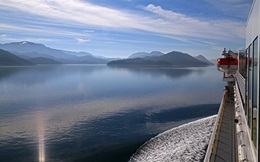 Day 11 Skagway
Skagway was the coastal gateway to the goldfields of the Klondike during the 'rush' of the late 1890s and this 'boom town' owes its size and prominence to those thousands of fortune-seekers on the Chilkoot Trail. In its boardwalks, pebble streets and turn-of-the-century buildings, the town has captured an ambience of those frantic times. You can discover more of the town's history on an optional 'Trail of 98' excursion by coach into Yukon Territory, or take the White Pass and Yukon narrow-gauge railroad that was once the supply line for the goldfields.
Day 12 Glacier Bay National Park
There can be few more inspiring sights to greet you on waking than Glacier Bay National Park. This morning, you'll find yourself in the midst of towering mountains, magnificent tidewater glaciers, vast icebergs and an abundance of wildlife – a paradise for photographers, artists, birdwatchers and anyone who appreciates the majesty and beauty of the natural world.
Day 13 Ketchikan
Beautifully located, Ketchikan stretches like a ribbon along the shoreline below Deer Mountain – so remote that it may only be reached by sea or air. Echoes of pioneer days still haunt the historic Creek Street area. But these days, Ketchikan is better known for its extraordinary collection of tribal totems and its salmon production. As 'the salmon capital of the world', it is the perfect place to sample the freshest and most delicious wild fish.
Day 14 Canada's Inside Passage
We return southwards through Canada's Inside Passage on a last full day at sea, with more epic views from the deck or time to enjoy the ship's fine facilities.
Day 15 Vancouver
Lapped by the Pacific Ocean on one side and overlooked by mountains on the other, Vancouver isn't your average grid-iron sprawl. Both historically interesting and cutting edge – with the most dramatic setting you could think of, there's a reason why we save this Canadian city until last. We hop off the ship this morning and head straight into our orientation tour of the city for all the standout highlights. This afternoon is free for you to explore independently.
Day 16 Vancouver
Today is also free to make your own discoveries in Vancouver, or join an excursion to Vancouver Island. View Butchart Gardens with its display of flowering trees and shrubs, and also explore Victoria, one of Canada's most beautiful cities. Amongst its many attractions are the British Columbia Museum, Thunderbird Park and the Parliament Buildings.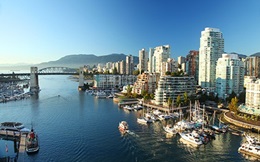 Day 17 Vancouver – In flight
Enjoy a further leisurely morning, with some time for shopping, before we transfer to the airport for your return overnight flight to the UK.
Day 18 UK
VIP Home Departure Service upon arrival your vehicle will be waiting for the journey home.
For more information or to book, please contact the reservations team.
Call 01928 246 243
Online Enquiries: Click Here