As I was already travelling in Chile, this trip started with a 3-hour flight from Santiago to La Paz with LATAM, possibly my favourite South-American airline. My friend and I landed into La Paz around 10am, however I almost fainted on arrival due to the altitude change!
Santiago sits at sea level however La Paz, the highest capital city in the world, sits at 3640m. After some water and a sit down, we left the very small airport and spotted the tourist bus, which we were told cost 40 bolivianos (approx. £4.40). As we both speak Spanish, we were able to ask a local man where the ATM was.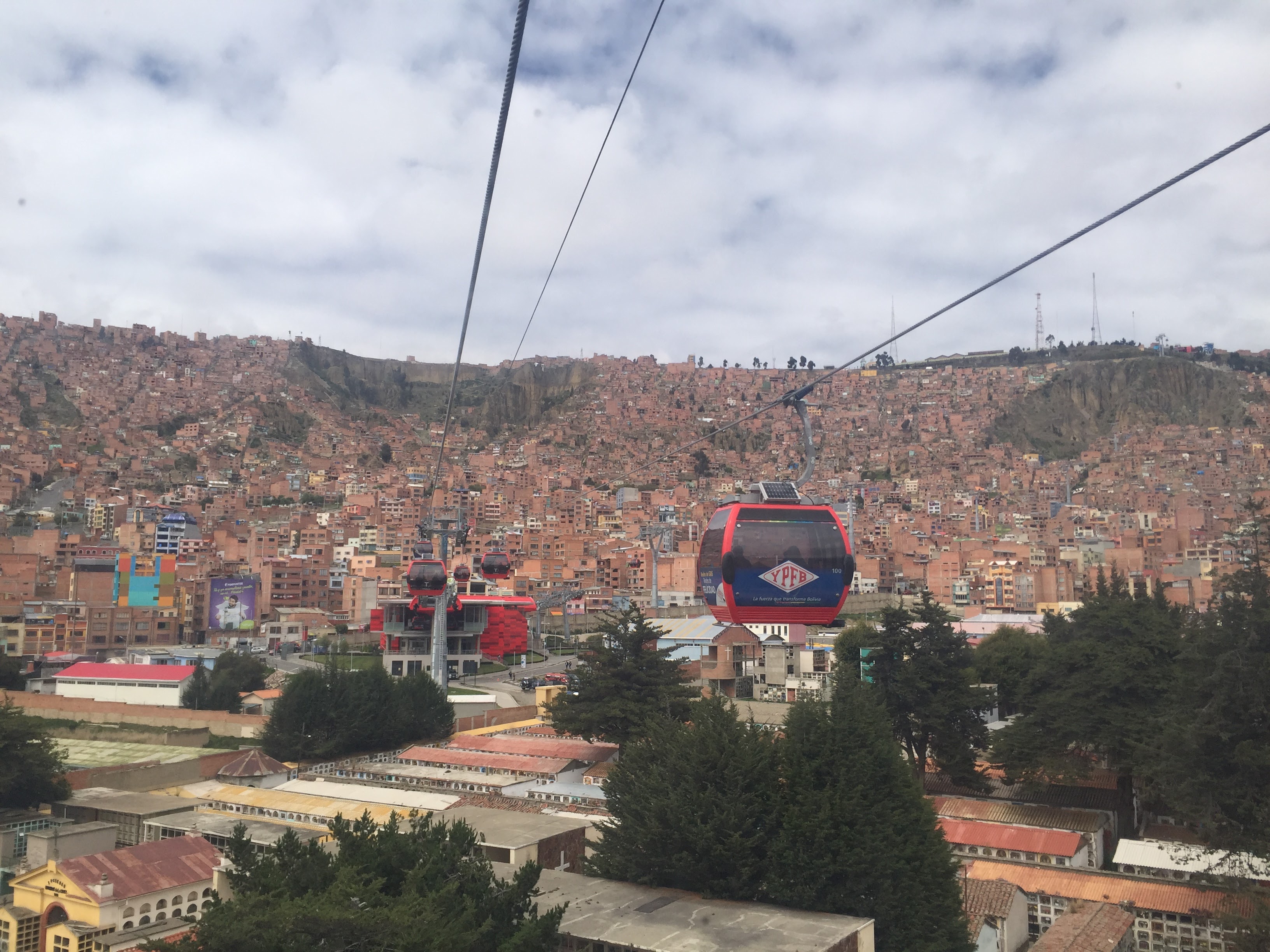 After a brief chat, he advised us to get the local bus as it was much cheaper. We walked out to the makeshift bus stop to see a minibus with long queue of Bolivians, but the line moved quickly. Our luggage was thrown on top of the bus and held down with ropes. I thought that was the last time I was going to see my backpack, so I said my goodbyes to it and got into the bus. I expected about 12 people to ride per mini-bus, but it seemed more like 20 people squeezed their way in. We sat at the back, the only non-locals on the bus, and began talking to a man and woman about our travels and explained that it was our first time in Bolivia. They gave us some handy recommendations and were welcoming. The man even paid for our bus ride! It was only 2 bolivianos, but it was a very kind gesture considering Bolivia the poorest country in South America.
We left the bus and made our way to our hostel where we had to wait about an hour to check-in. As we were travelling with large backpacks we decided to wait and had a quick nap on the sofas in the entrance hall. Once we had checked in, showered and changed, we went out to explore the city. La Paz is nothing like any place I have ever been before; a city constructed mostly of slums, it is a very poor area with an Indigenous population who are polite but usually do not interact much with tourists.
We headed to the market or 'El Mercado' for some lunch as we had heard this is where the locals eat so prices would be lower. For just £1.20 we ate 2 courses which consisted of soup for starter followed by rice, plantain and egg for main and a Fanta to drink. It was a small and busy café, but it had a lot of local charm to it. Due to it being January and typically a cold place, we went to the local street markets to buy jumpers hand-woven by a local 'Cholita' from llama's wool. One jumper cost just 80 bolivianos (£8.80) and to this day is the warmest jumper I own. We spent the rest of the day wandering the streets around the main square before heading to bed.
27th Jan 2017
On our first full day we did a walking tour which we found out about through our hostel. This was a chance to meet other backpackers and learn about the infamous witches' market which sells potions such as 'love dust' and dried alpaca fetus. These are valuable items in Bolivian tradition, for example the dried alpaca fetus is sometimes buried in the earth to construct a house along with other whimsical goods. It is believed that if this ritual is not done, then the house will collapse.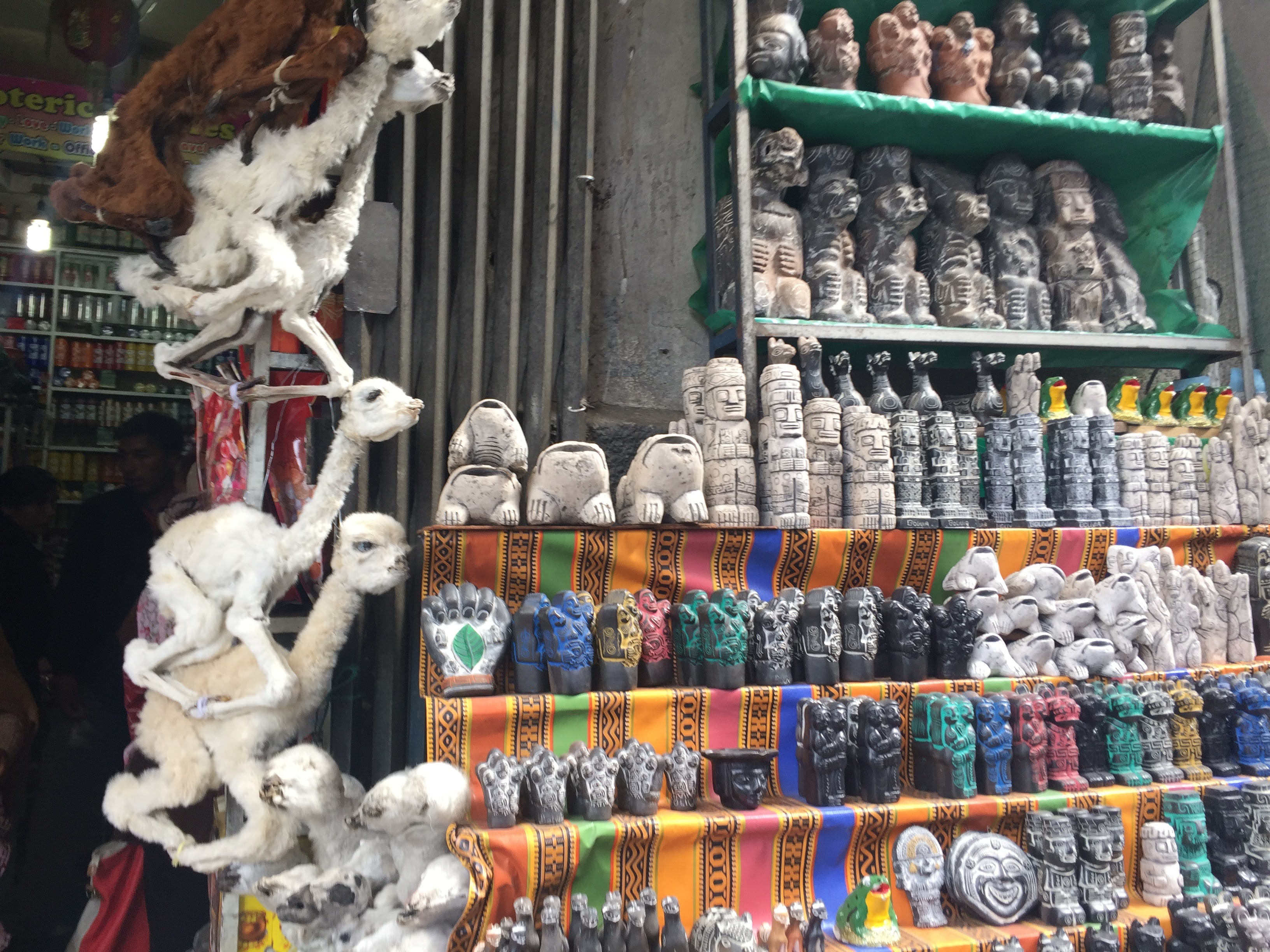 After the walking tour we went to a local bar and had a drink. We made friends with some travellers and headed for lunch in a nearby pizzeria. We then split up from our new friends as we wanted to take the cable car back to our hostel. I had found a map that told us to take a certain route which required a change of lines. The cable car or 'Teleférico' is a very cheap way of getting around the city however as we quickly discovered it had not yet been fully completed. We got half way through our journey before we realized we were stuck in El Alto, an area of La Paz that is situated at the highest point of the city (4150m). I recommend visiting this area in the day as it has many markets however at night it is considered the most dangerous area of the city. Despite this, I absolutely loved the chaos of it all; seeing old women play table football with young men in the streets, it all seemed a bit bizarre. We managed to find our way to the right bus line to take us back down the mountain without trying to stick out too much as tourists. We made it back to the hostel and shortly went to bed.
28th Jan 2017
On our final day in La Paz, we took a bus out towards Lake Titicaca to see the old Inca ruins in Tiwanaku, an ancient archaeological complex in the Andes of Western Bolivia that is designated as a UNESCO World Heritage Site. This is a great way to learn more about the Indigenous history of the land and also a great escape from the hustle and bustle of the city. We then headed back to La Paz and explored more of the city itself. We ate at a Mexican restaurant before heading to the bus station for a 12-hour overnight journey to Uyuni in the South.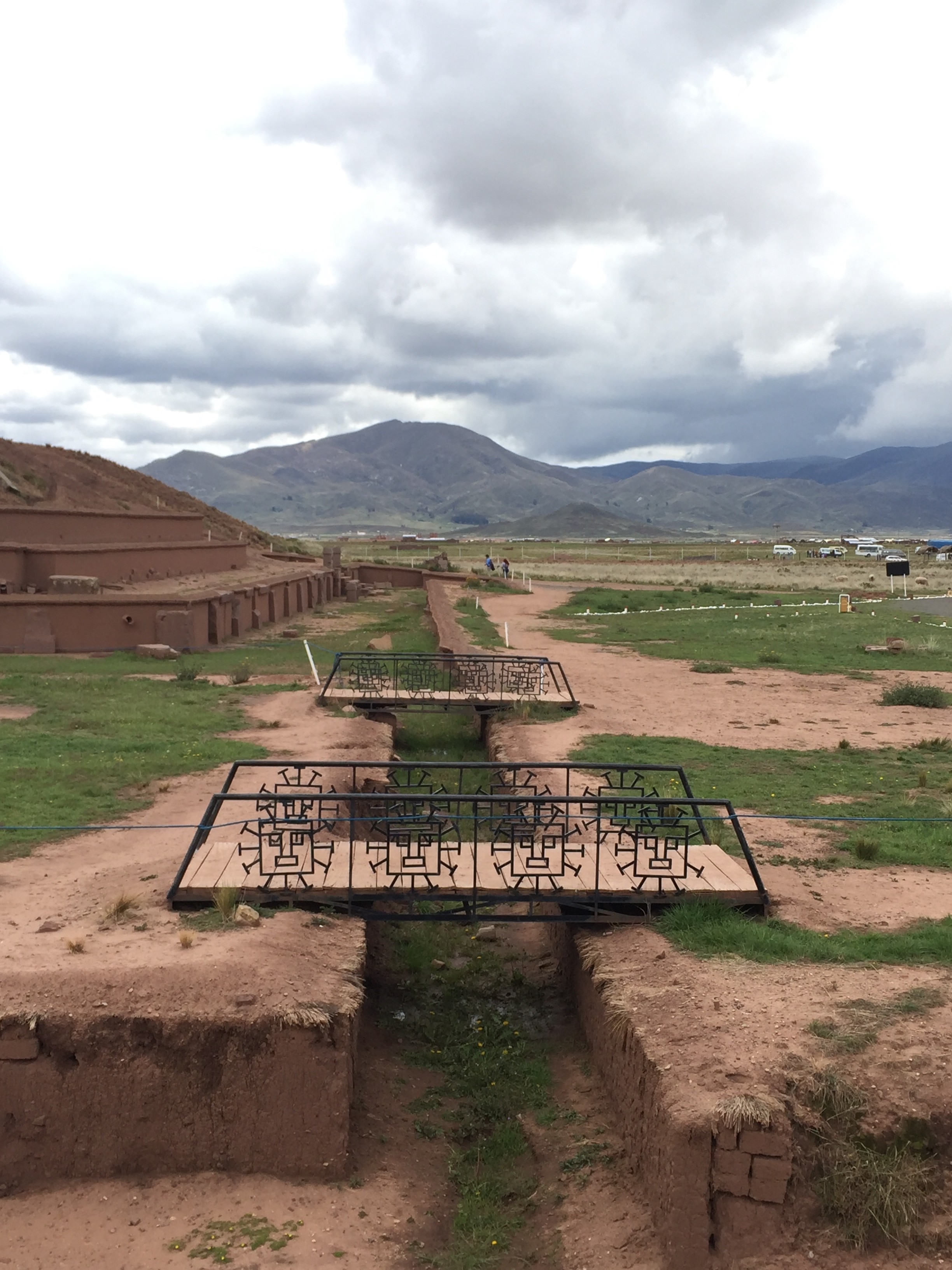 29th Jan 2017
We arrived into Uyuni around 8am, which gave us enough time to get breakfast and stretch our legs before heading to the tour office for the 10:30am start. We were about to embark on a 4×4 tour from Uyuni to the famous Salt Flats over the course of 2 nights and 3 days. We had booked with a company called Perla de Bolivia which a friend had recommended, however there are plenty of tour companies running in this area with different packages available. We had booked online prior to arrival at a cost of 190$USD (£145 approx) and were a group of 6 with an English-speaking guide – all food was included in the cost.
The first stop on the tour was the 'Train Cemetery', an area of land that has vast amounts of abandoned trains from a failed project that hoped to install a national rail system. The trains have since rusted from the salt winds and are now used as climbing frames by most visitors. It is a regular stop on all tours, so it was busy when we visited it around 11am. If you would prefer to capture more of the abandoned feel it's best to go in the evening, as it is a short taxi or walk away from the town of Uyuni. We then visited a local salt producer and learnt about the importance of the resource in the area. Here, they compact the salt into bricks and construct houses with it. After this we drove out onto the salt flats. The landscape is breathtaking and is well worth the drive. This was one of my highlights of the tour as I have never seen anything quite like it. We spent a while taking photos and taking in the scenery before heading off. That night we stayed in Hotel De Sal Nuevo Amanacer which is literally a hotel made of salt!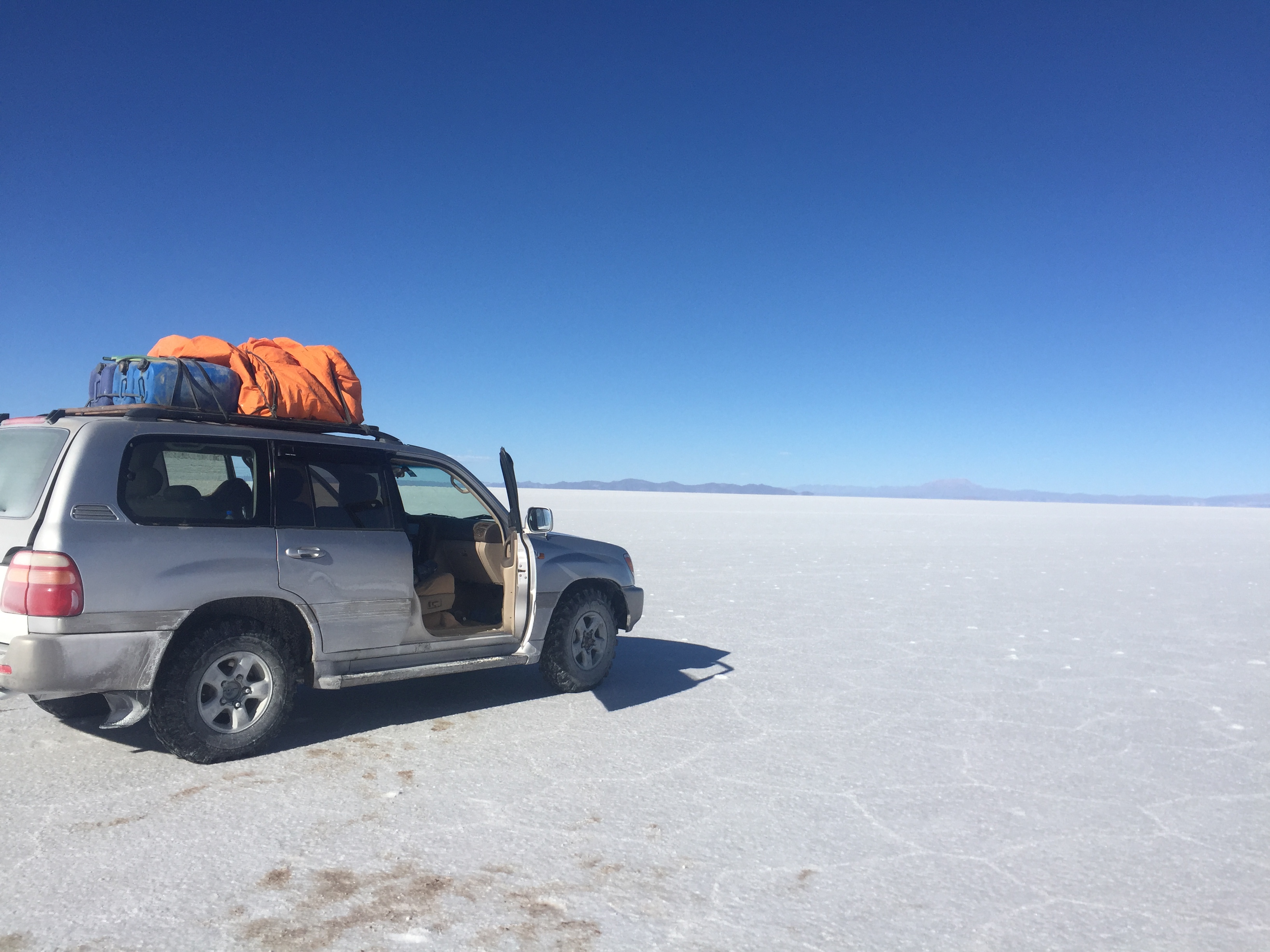 30th Jan 2017
On the second day of the tour we headed West towards the Chilean border, visiting several lakes to see plenty of wildlife. This included Los Flamencos Eco Hotel as this is situated on a lake where you can see flamingos. Again, we saw more beautiful scenery and enjoyed watching the sunset over the mountains. That night we slept in very basic accommodation in Laguna Colorada Simple Mountain Lodge. We had arrived late due to difficulties with the car (tours like these involve mostly off-road driving so technical difficulties can happen from time to time). We had a small dinner served to us by the kitchen staff before heading to bed.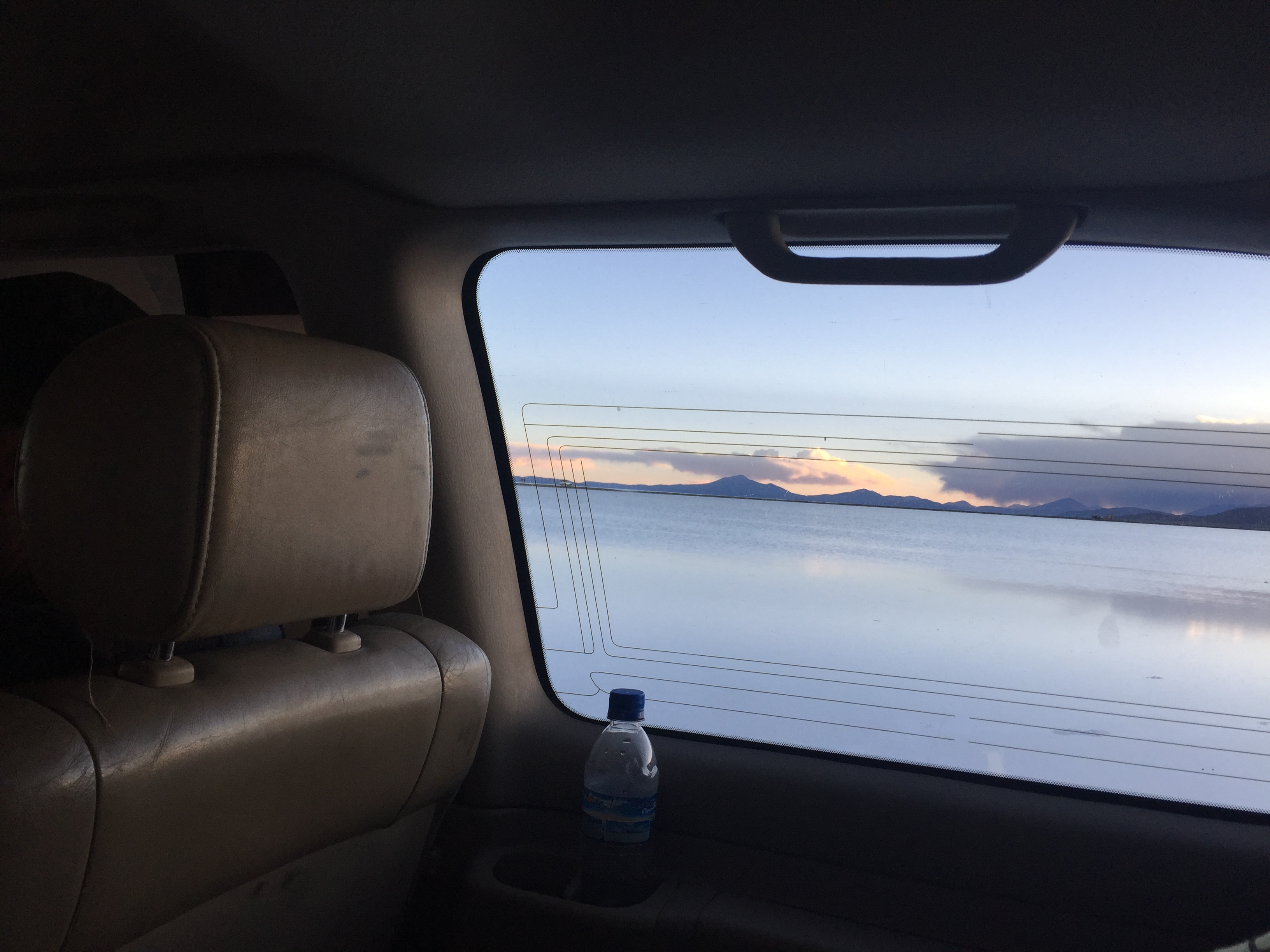 31st Jan 2017
We woke up early, before sunrise, and despite feeling tired it was definitely worth it thanks to the view. Staying in a village of only 10 or so houses in the middle of nowhere, there was no light pollution nor high rise buildings (in fact all the houses were bungalows), so we were able to star gaze at one of the clearest skies I have witnessed. This was a magical start to the day and made me appreciate the distances we had travelled to get here. We watched the sunrise over the Laguna Colorada and even stood among local wildlife such as llamas.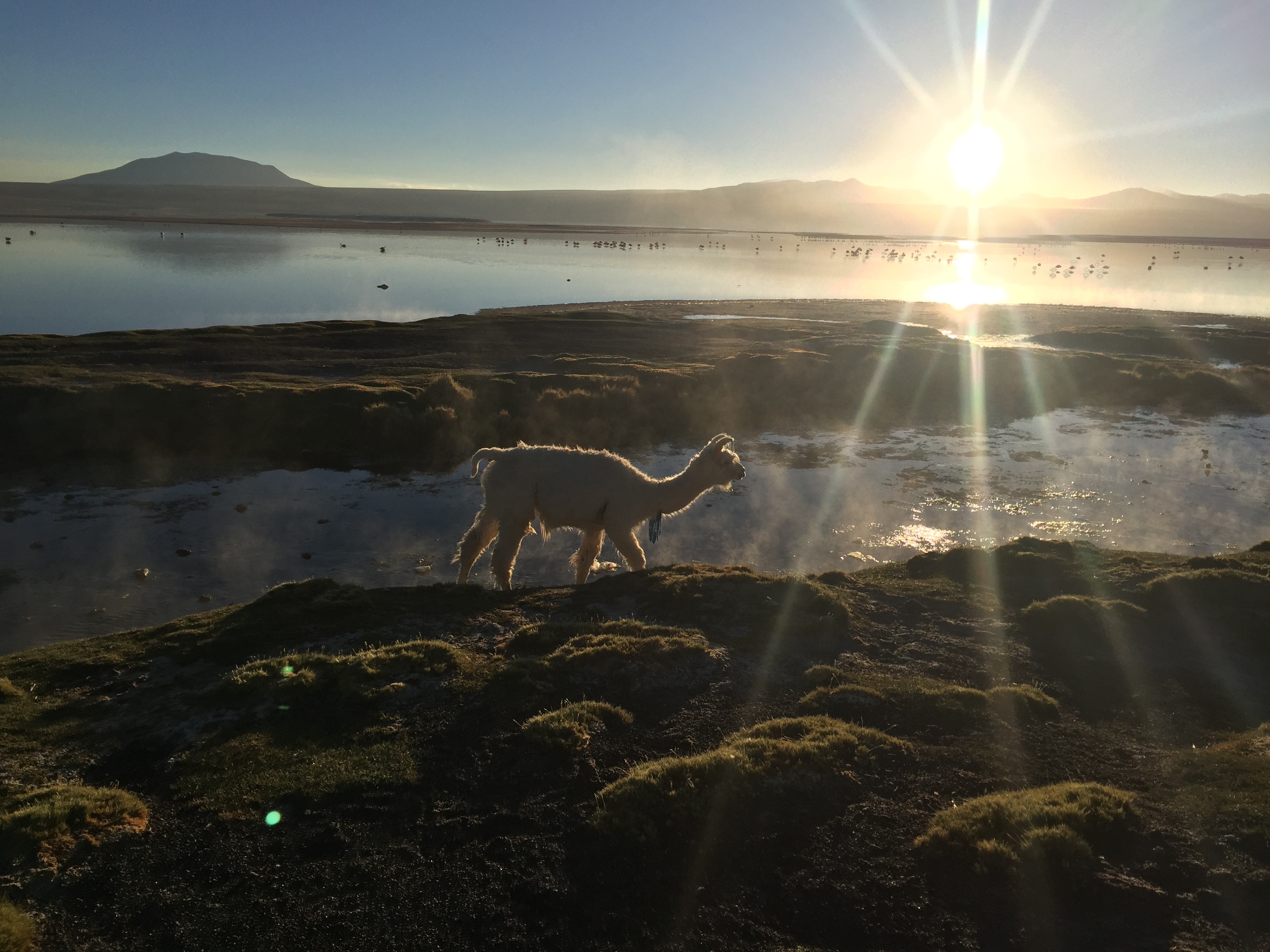 After this we entered the Eduardo Avaroa National Reserve of Andean Fauna and drove to the Sol de la Mañana Geyser, a geothermal area with geysers, bubbling mud pots and a strong smell of sulphur! We then visited the Laguna Verde before leaving the National Reserve and heading North. The next stop was the Laguna Negra, another personal highlight for me; this area had some of the most incredible landscape. We completed our journey North to Uyuni, stopping at a canyon on the way and climbing some more rocks. We spent the night in a hostel in Uyuni before getting the bus to Potosí the following day.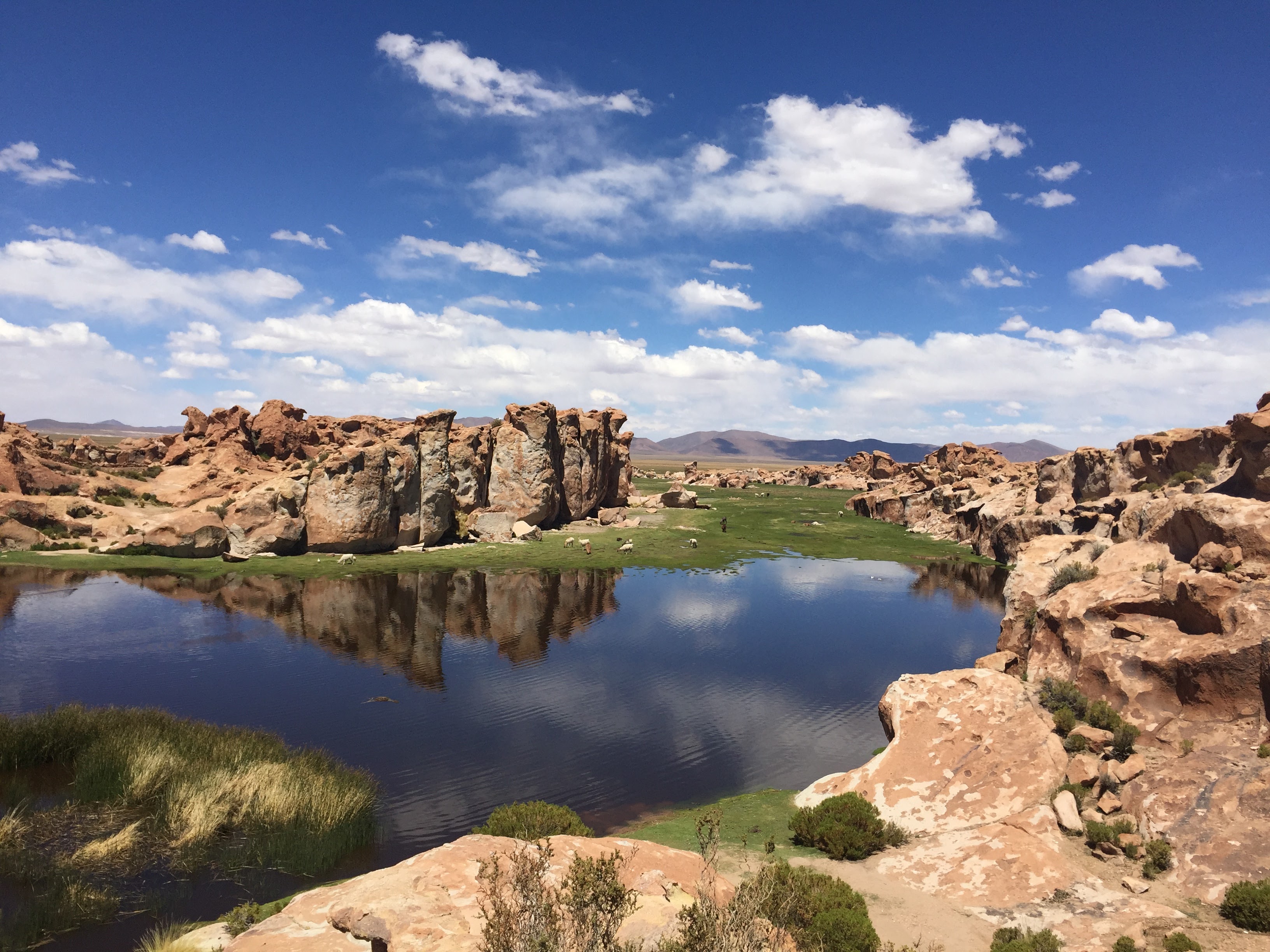 1st February 2017
Potosí is a small mining town North East of Uyuni. We visited the National Mint, now a museum, as well as the local square and cathedral. Unless you are planning to visit the mines, I would recommend skipping Potosí as there isn't a great number of things to do. The sunset was incredible in this location, and the Guesthouse we stayed at, La Vicuña, had a very friendly cat.
2nd February 2017
The next morning, we got the bus to Sucre. Buses in Bolivia are cheap and straightforward however I would certainly recommend reserving your ticket as soon as you arrive in the location rather than waiting until the day of departure. Here we stayed in Hostal CasArte Takubamba, a lovely hostel that felt recently refurbished. Both Potosí and Sucre have a very different feel from La Paz however it is Sucre that feels the most European with it's well-kept squares and generally more commercial environment. We visited both the House of Liberty museum and the Museum of Indigenous Art before enjoying dinner at hilltop restaurant with fantastic views for sunset.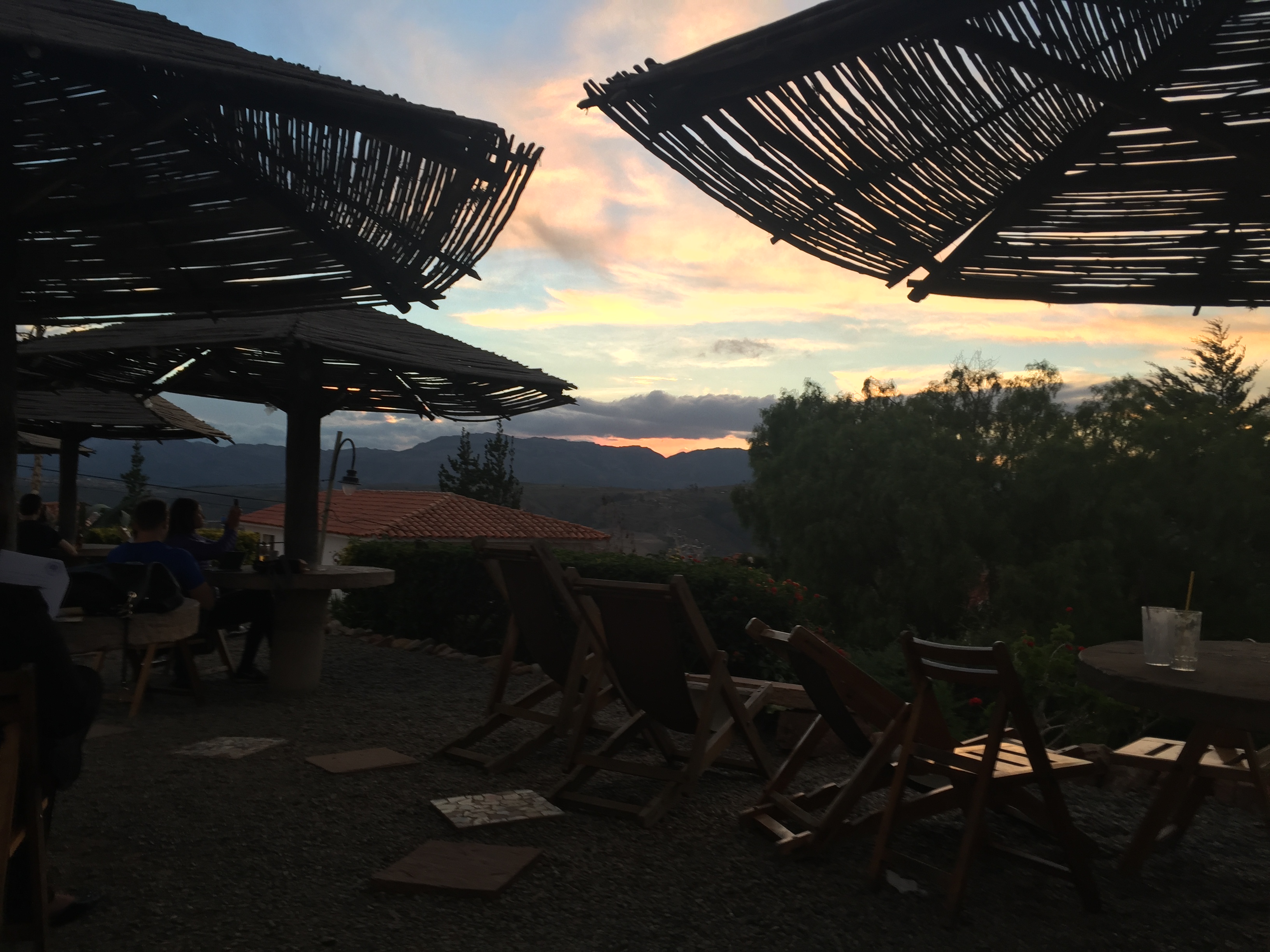 3rd February 2017
Due to distances and a time limit, we flew from Sucre to Santa Cruz de la Sierra, a city further East into Bolivia. Having spent the last 6 days in small villages and towns, it felt strange arriving in a large city. Despite it's size, there was not much to do as tourists. We explored the park and climbed the Cathedral tower for nice views over the city. However, we had come to Santa Cruz as we had a flight booked from here. I would instead recommend heading North from Sucre to Cochabamba and flying from either there or La Paz. Our hostel was modern and clean and had recently been refurbished.
This trip was by no means luxurious; however, it was one of the best experiences I have had! It exposed me to landscapes I had never imagined and brought me to such a fascinating part of the world. I loved learning about Bolivian culture and their Indigenous history as it seems so different to a lot of South America I had previously seen. This trip is great to customise too; had I had the time, I would've liked to have visited the Atacama Desert in Chile or even crossed Lake Titicaca into Peru.
If you'd like to find out more about Amelia's trip to Bolivia – get in touch today!