Queuing to have our bags scanned on arrival at an airport was a new experience for both. It wasn't just any queue either; it was disorganised, hot and long. But for once we didn't care, this was our first time in Africa and we'd just arrived in the Gambia!
We had chosen to stay at the Footsteps eco-lodge, located about 40 minutes' drive from the airport, who had sent out a driver – Lamin – to meet us. I will never forget that journey, the smells and sights of local people and random cows going about their daily business as the sun set over the Gambian countryside.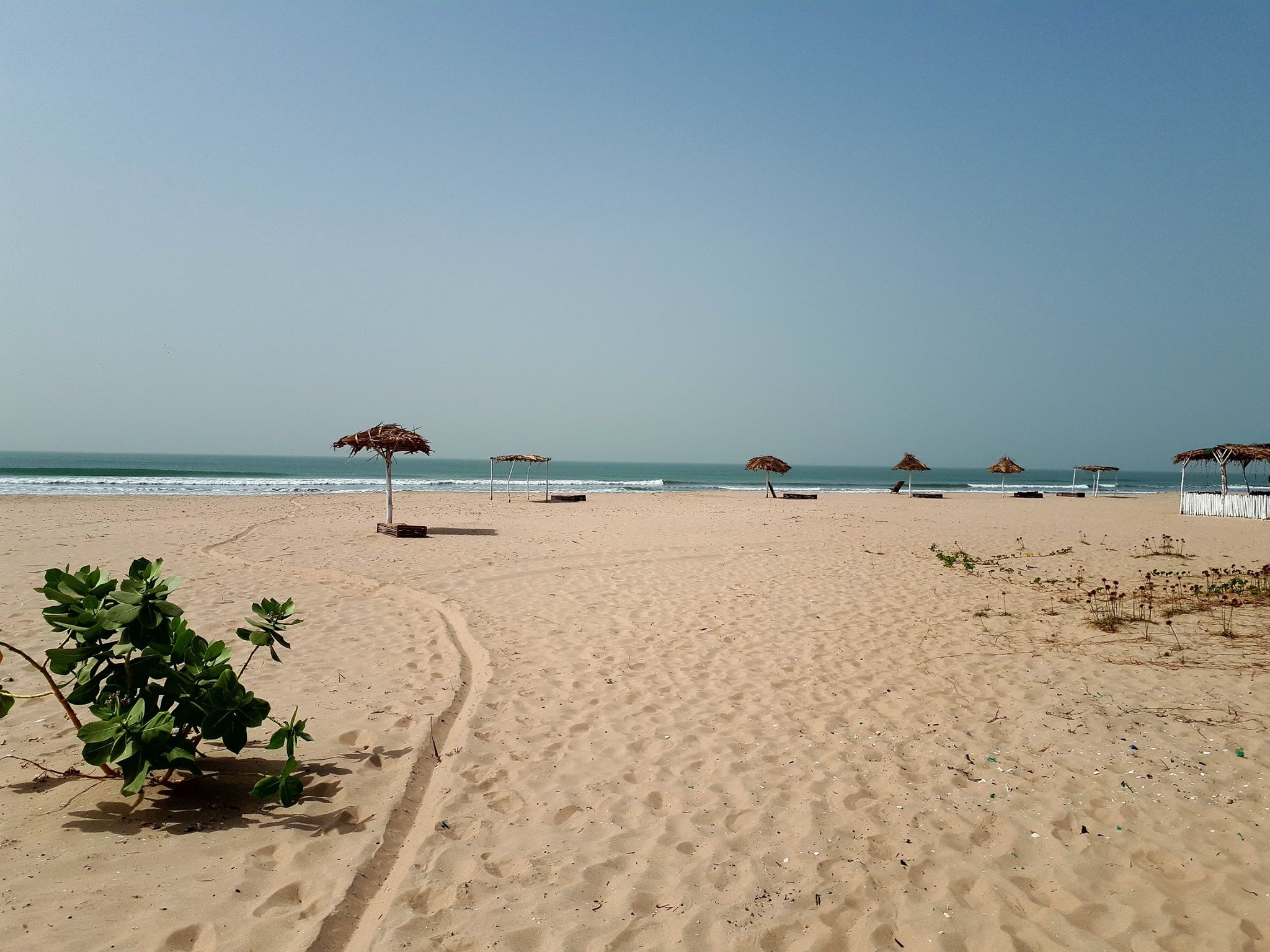 I hadn't known what to expect from an eco-lodge however on arrival the owner, David, showed us around and we immediately felt at home. Our room was spacious, clean and comfortable, the shower – heated by the sun and fed to us via the magic of gravity – was ample for our needs and the composting toilet was not nearly as scary as feared. The facilities around the lodge included a small bar and reception, a freshwater pool to attract wildlife, gardens growing the fruit and vegetables we would later eat and numerous places to relax.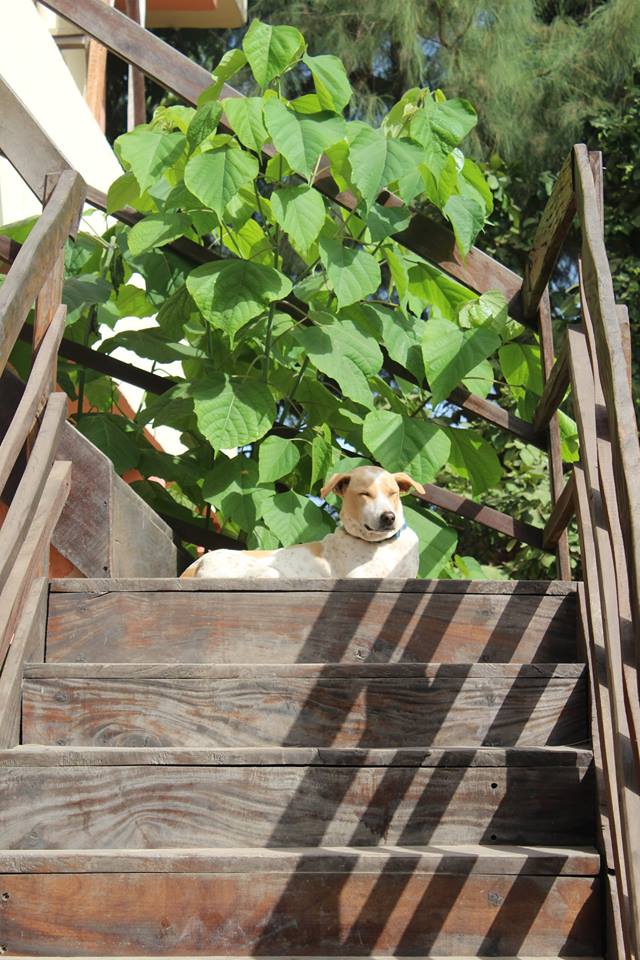 The lodge was located a 20-minute walk from the beach. The walk there, led by Seven the lodge Dog, took us down sandy tracks, past several fruit juice huts and lots of friendly locals. Seven would watch our belongings as we swam in the sea – although there really was no need given that only one other tourist and two very basic beach bars could be seen along the miles upon miles of sand. Due to not having electricity the guys who ran the bars would retrieve the beer from a fridge 10 minutes' walk away and even provided some very basic but incredibly tasty food.
We took advantage of several of the excursions offered by the lodge, each led by our local guide Sarani;
We walked to the local village of Gunjur and were immediately mobbed by the local kids, Sarani took us to his home and passed us fresh Oranges plucked straight from his tree as we let the kids play with our cameras.
We visited the local state school where we learned that, due to a lack of teaching staff and a lot of children to teach, the children only attended for half a day – spilt into mornings and afternoon groups.
After a morning exploring the hustle and bustle of the markets and beaches of Banjul, Sarani took us to Lamin lodge – a multi-level wooden structure set by a picturesque river where we enjoyed a lovely lunch, followed by a fight with a monkey over a beer. We also enjoyed seeing the 'yellow pages tree' nearby where locals proudly display their services.
A river cruise, spotting both the largest and smallest kingfishers in the world and a trek through mangroves, over rickety wooden bridges into Senegal was certainly a highlight. Again, we were provided with a basic but amazingly tasty lunch and had the chance to explore some of the nearest villages.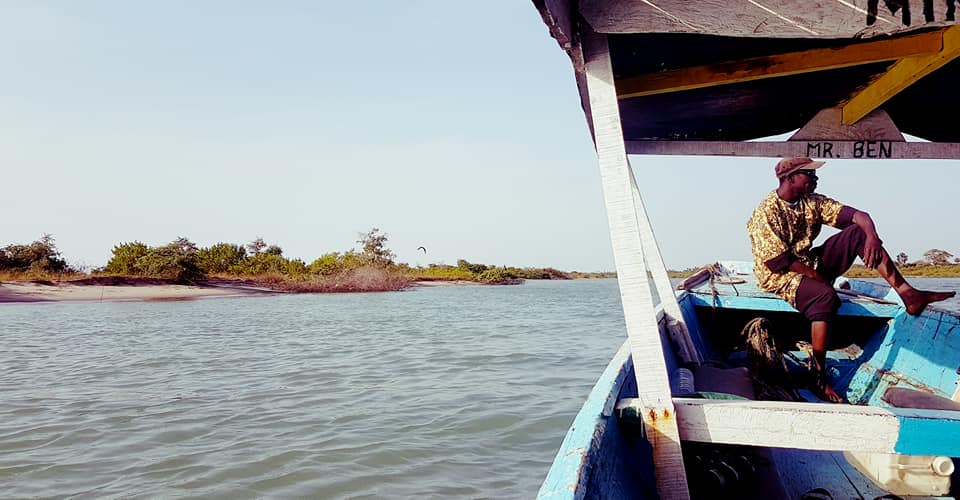 Perhaps the most memorable experience was whilst walking back from the beach one day, as ever lead by Seven, a local called us over and invited us into his garden. He proceeded to proudly show off the vegetables and fruits he had planted and grown by himself and then insisted we come inside his home; inside we found a small, featureless and windowless concrete room filled only with a simple bed, a small table and a fridge – there were no obvious signs of electricity. Back outside he forced 6 of his home-grown oranges into our arms, feeling quite humbled by his unexpected generosity we tried to offer some money in exchange, he refused this simply by saying "it would not make me happy".
It was evident why they call Gambia the smiling coast, everyone we met was incredibly welcoming and friendly. Throughout our time in Gambia we noticed that nobody wanted anything from us, there were no elaborate tourist traps, in our experience people simply wanted to meet us and proudly show us their homes, culture and country.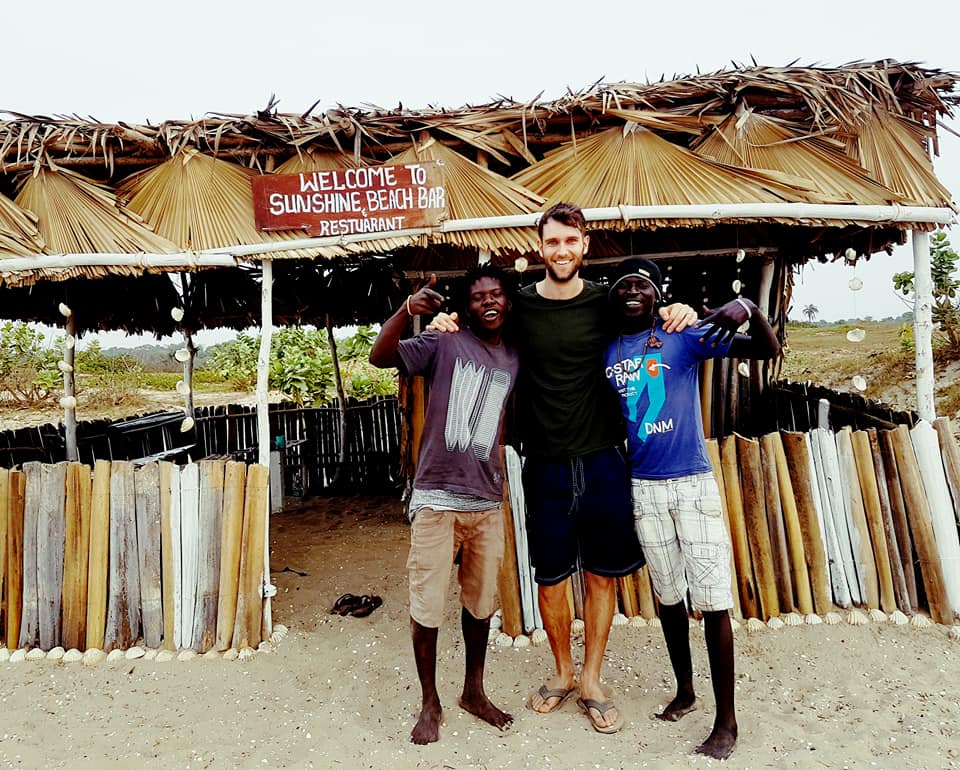 Know before you go;
There are a lot of Lamin's in the Gambia, it seemed as though half of the men we met had this name!
It is a huge destination for bird watchers, almost everyone we met at the lodge shared this interest.
Mosquitoes are present, although they were not too active when we visited in December.
You won't be able to see any Lions, Giraffes of Wildebeest but it is possible to see Hippo's, Crocs, Baboons and a multitude of birds.
English is the main language.
Fancy checking out this incredible, unique resort? Visit our destination page for Footsteps Eco-Lodge and submit an enquiry, and one of our expert team (probably Andy!) will be in touch soon – https://www.travellab.co.uk/holidays/footsteps-eco-lodge/