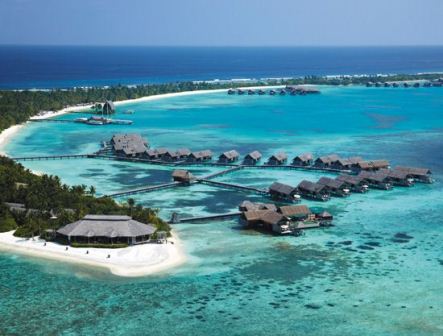 Shangri La Villingili
The Shangri-La Villingili is a stylish and luxurious resort with a feast of fine facilities, forests of evocative banyans and coconut palms and nearly one and a half miles of white sand beaches. Savour discreet service with Shangri-La's renowned hospitality and a rare opportunity to experience both complete opulence and authentic Maldivian culture. Shangri-La Villingilli is the finest luxury resort south of the equator.
Board Basis: Bed & Breakfast, All Inclusive, Half Board, Full Board, Departure Date: Low Season, Departs: London Gatwick Manchester
Our Opinion
This stunning island is one of the first eco-resorts in the Maldives. Combined with the class and elegance you can expect from Shangri-La standards this has become a firm favourite of ours and we can recommend anyone who would like luxury and style at the forefront of their holiday. Debra has stayed at this resort and can offer insider knowledge and advice.
Location
Located at the southernmost tip of the Addu Atoll and is reached by a 90 minute seaplane transfer from Malé.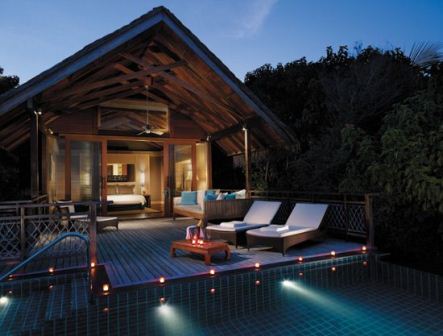 Pool Villas
Surrounded by lush forest and offering an intimate coral beach front with views of the gentle rolling ocean through tropical foliage, Pool Villa guests would be forgiven for imagining themselves happily marooned in a forest in the middle of the Indian Ocean. The luxury resorts 133-square-metre Pool Villas overlook Shangri-Las Villingili Resort and Spas lush vegetation, and feature their own private pool, terrace and open-air shower.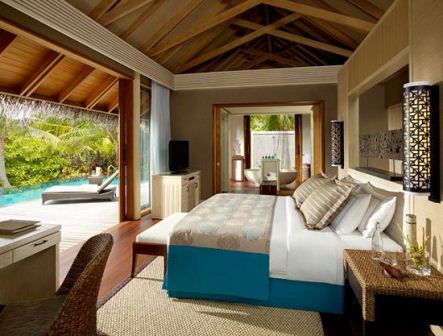 Deluxe Pool Villas
Located in sumptuous tranquillity on the eastern side of Villingili island, all eight Deluxe Pool Villas have their own spacious garden and intimate coral beach front, offering unbeatable seclusion and second-to-none privacy. Nestled in rich vegetation, Deluxe Pool Villa guests can enjoy the stunning views of the gentle rolling ocean from their own infinity pool and wooden sun deck. The bedroom and bathroom look out to the sea, while the spacious patio features outdoor furniture designed for dining under the stars on a balmy evening.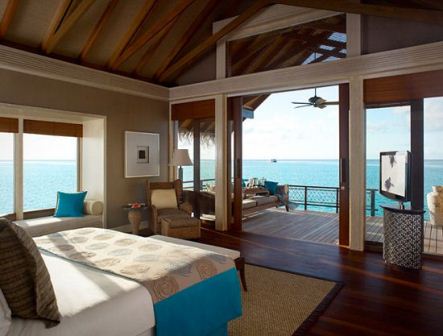 Water Villas
As you laze in your Water Villa on a brilliant tropical afternoon, enjoy the subtle breeze as you reflect upon the distant horizon, where the azure waters meet a sapphire-coloured sky. Built on stilts in the resorts lagoon and connected to the island by a timber walkway, each Water Villa has an open and airy atmosphere. Access to this private haven is via a walkway over turquoise water that teems with marine life.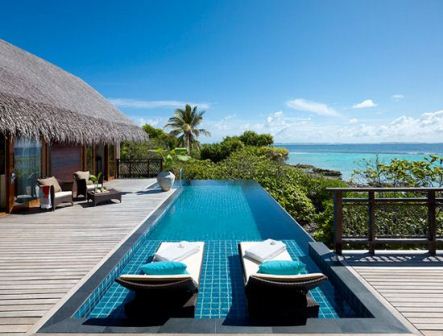 Ocean View Villas
Perched on stilts three meters above the ground, this luxury accommodation offers guests stunning views of the ocean. Guests can swim-up to the edge of their infinity pool and unwind while contemplating the horizon, or choose to recline on their sun beds and enjoy a heightened sensation of elevation. Rocked by the natural sound of the ocean, guests can also enjoy al fresco dining on the villas wooden sun deck.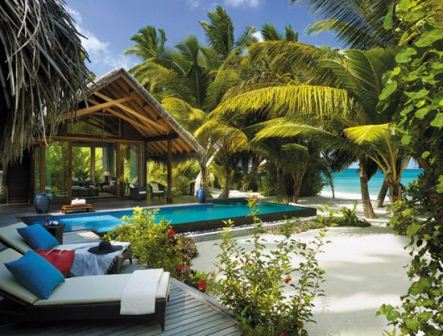 Beach Villas
Luxurious Beach Villas provide a private haven in splendid isolation on a white-sand beach. Set over two separate pavilions, to one side is a living pavilion, and on the other the bedroom pavilion. Entry is via a thatched-roof entry gate to a landscaped courtyard leading to the rustic timber door of the villa's entrance. Every Beach Villa features a private terrace leading to the beach.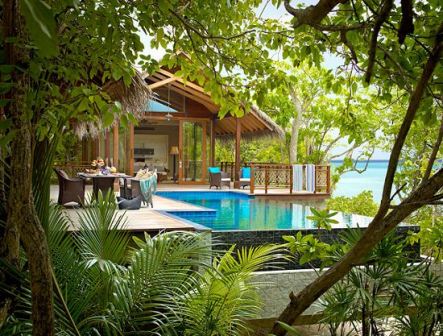 Tree House Villas
With marvellous views of the ocean, Tree House Villas are secluded, private island hideaways. Perched on stilts among the treetops, amidst dense vegetation, these luxury accommodations provide guests with a memorable stay in a tropical tree house. At this elevation, privacy is assured as the beautiful, panoramic views unfold like a living canvas of sparkling surf, languid lagoons and verdant vegetation that is home to colourful indigenous bird life.
Two Bedroom Beach Villas
Relax in the spaciousness of one of 10 Two-Bedroom Beach Villas. These luxurious and tastefully decorated villas are located adjacent to one another, making them ideal for families or travelling companions wanting both privacy and proximity. The Two-Bedroom Beach Villas are set in beautiful grounds and share a large patio and sun deck, complete with an infinity pool.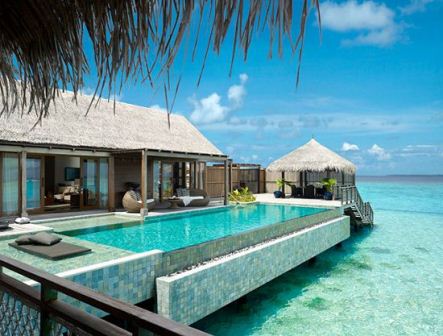 Villa Muthee
Villa Muthee is nestled in its own luxurious environment. From the choicest of decor to the stunning seascapes that surround it, Villa Muthee promises a truly sensational experience. The only one of its kind at Shangri-Las Villingili Resort and Spa, Villa Muthee is appropriately named. Muthee, which means 'pearl' in the local Dhivehi language, is a villa for those craving sanctuary from the fast-paced world in an ambience that offers stunning vistas and absolutely everything necessary for a perfect getaway.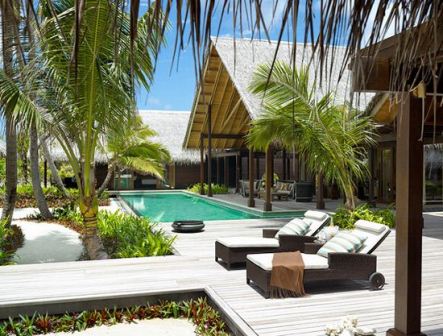 Villa Laalu
Spacious, stylish and thoughtfully designed, Villa Laalu is the jewel in the resorts crown, with two large, high-ceilinged bedrooms, an extensive garden and everything the discerning guest could possibly require. Round-the-clock, in-villa dining can be enjoyed in the living room with timber-decked verandas, or in air-conditioned or al fresco dining pavilions.
Restaurants and Bars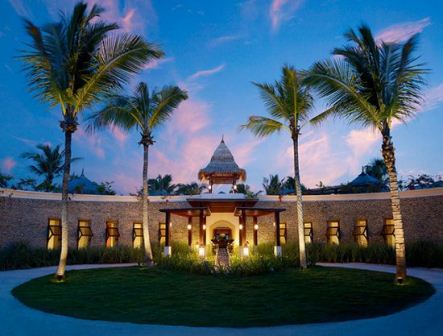 Dr. Alis
The exceptional Dr. Alis has three distinctive, Eastern-style living rooms representing the different cultures and cuisines of the Indian Ocean, the South China Sea and the Arabian Gulf.
Fashala
Located on the northern tip of the island, Fashala boasts spectacular views of the ocean. The restaurants elegant, contemporary and stylish atmosphere sets the perfect mood for a romantic gourmet evening. Fashala serves fine dining cuisine featuring local produce from the surrounding waters and neighbouring farms.
Javvu
Javvu is the resorts all-day-dining restaurant, featuring quality cafe dining in the day and refined Western cuisine in the evening, including prime steaks and seafood, with a touch of the Mediterranean.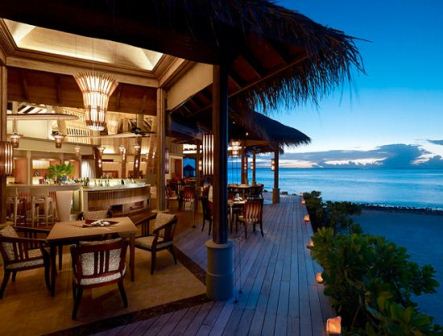 Endheri Pool Bar
Very much the heart of the resort, the Endheri Pool Bar is a stylish spot that offers guests a comfortable and relaxed atmosphere. Located right on the beach, Endheri is the perfect venue for a complete chill-out, and guests are never more than a few steps away from the ocean. This is the main entertainment area of the resort, with acoustic and semi-acoustic sets progressing to more upbeat electronic and DJ music later in the evening.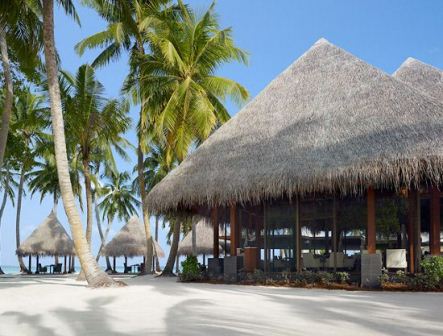 Manzara
Manzaru Bar is the perfect spot to people-watch and relax to some chill-out music. Open, exposed rafters and a limestone carved feature wall with intricate motifs particular to the region give the venue a chic, contemporary feel. With swaying palm trees casting shadows on the stone-clad columns and the contemporary lounge furniture, this is the resorts most lively bar.
Leisure and Sports Facilities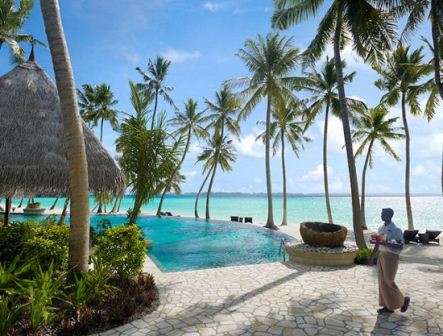 CHI Spa
Swimming pool
Gym
Snorkelling
Diving
Tennis
Nature trails
Boutiques
For more information or to book, please contact the reservations team.
Call 01928 246 243
Online Enquiries: Click Here