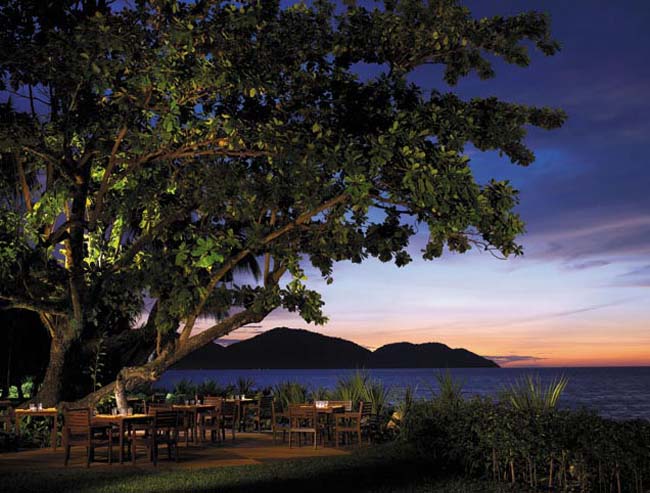 Shangri-La's Rasa Sayang Resort
Board Basis: Bed & Breakfast, Half Board, Full Board, Departure Date: Low Season, Departs: London Heathrow
Our Opinion
A stunning resort and one of Asia's finest family resorts. If you're a couple don't worry, it's perfect for anyone looking for luxury, excellent facilities and fabulous rooms.
Location
Shangri La's Rasa Sayang is located on the beachfront on Batu Ferringhi, about 45 minutes from Penang Airport
Accommodation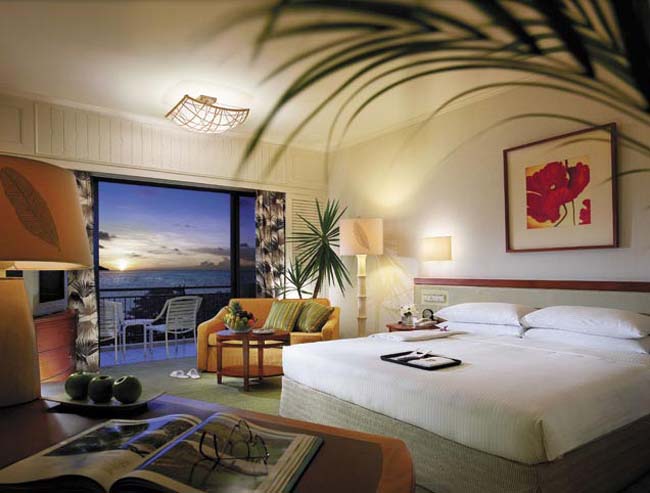 Rasa Sayang Resort and Spa has 304 luxurious, expansive guest rooms and suites in two wings: the deluxe Garden Wing and the exclusive Rasa Wing.
Room are decorated in a traditional Minangkabau style, which creates an inviting atmosphere of warmth and serenity through the extensive use of carved wood, traditional textures, and colourful fabrics. Rooms include air-conditioning, satellite TV, minibar, coffee/tea facilities, separate bath & shower and private terrace/balcony. See further below for Rasa Wing extras.
Garden Wing Room types:
Deluxe Garden View 42sqm – features a balcony overlooking the lush tropical gardens of the resort.
Deluxe Seafacing 42sqm – facing the sea with views of the tropical landscapes of Penang Island.
Deluxe Seaview 42sqm – overlook lush gardens with an unobstructed view of the sea and the sandy beach & are situated on the top floors of the Garden Wing.
Superior Seafacing Family Room 50sqm – ideal for families with an additional cosy bed which comfortably accommodates a third person.
Deluxe Seafacing Family Room 60sqm – larger family room accommodates a family of four with a king bed and two single beds.
Higher Categories available.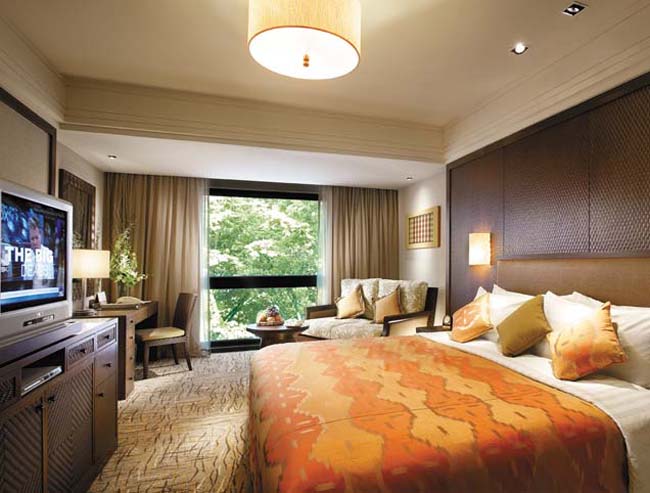 Rasa Wing Room Types:
The exclusive Rasa Wing has a separate driveway and entrance. The Rasa Wing features some of the most elegant and spacious accommodations in Penang. Benefits include complimentary breakfast, Rasa Lounge Access, afternoon tea/cakes, Pre-dinner canape selected sparkling wines, a dedicated host, dedicated adult pool, a welcome gift for all female guests, separate lavish bath tub and walk-in shower, marble bathrooms, and complimentary high speed broadband internet access.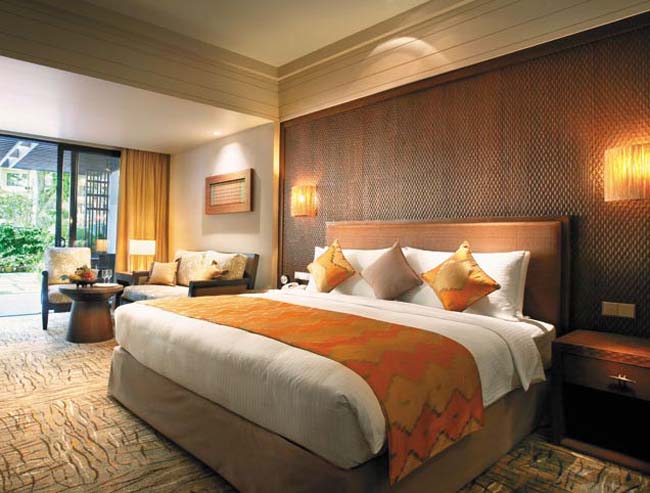 Deluxe Rooms 44sqm – with a private garden with direct access to the resort's luxuriant gardens and swimming pools.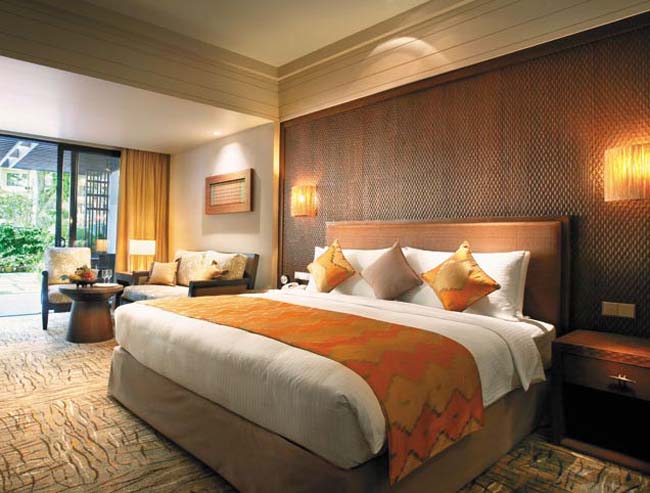 Premier Rooms 62sqm – are more spacious and luxurious, opening out to a private balcony and soaking tub with views of the resort's magnificent gardens or ocean.
Restaurants & Bars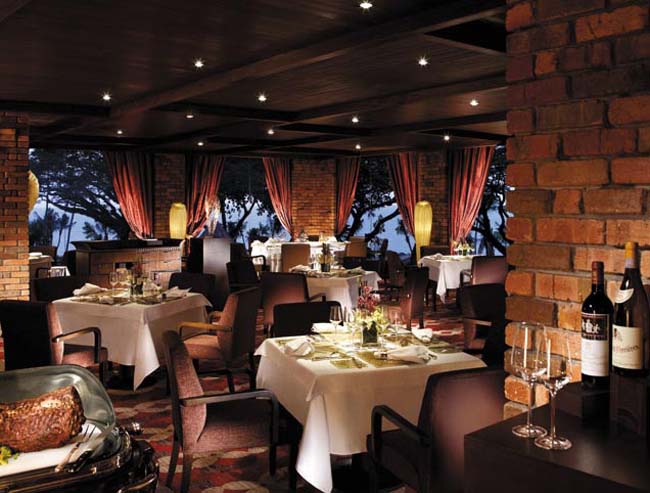 Shangri-La's Rasa Sayang Resort and Spa brings world-class, award-winning dining to the shores of Batu Feringgi.
Feringgi Grill – offers diners a birds eye view of the resort's lush tropical greenery. Cuisine served is impeccable, where gourmands savour exquisitely-prepared modern grill cuisine, complemented by attentive service amidst a warm and cosy ambience.
The Spice Market Cafe an informal buffet-style restaurant that offers authentic cuisines from diverse cultures that reflect Penang's heritage as a cultural crossroads: Chinese, Indian, Nyonya-Baba, Japanese, Thai, Western and international. The cafes right beside the unique free-form swimming pools, under a canopy of century-old rain trees that echo with the delightful sounds of chirping tropical birds.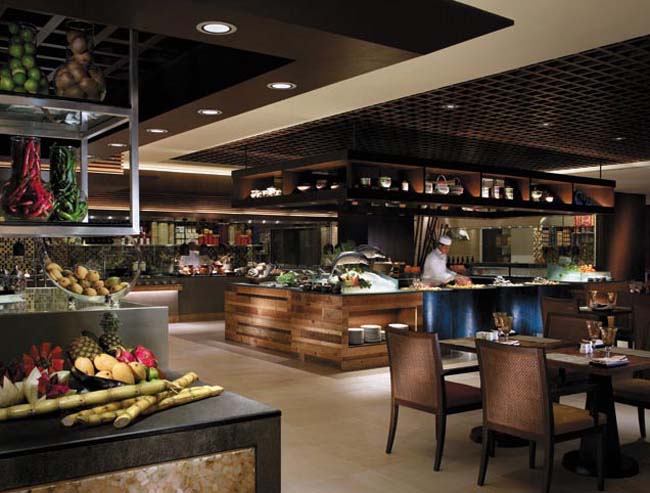 The Spice Boutique – At the entrance to the cafe you'll find the Spice Boutique, where you can learn about and purchase some of the most exotic spices in Asia. The boutique features over 100 varieties of dried herbs and spices, with varieties of curry powders and other ingredients for you to take home.
The Feringgi Bar – adjacent to the Feringgi Grill, makes for an ideal place to relax before and after dinner with cocktails and champagne. The bar also offers live entertainment.
Pinang Restaurant & Bar – when the sun begins to set, it's time to head to Pinang, a poolside bar that offers al fresco dining at its finest. Located beside the beach, the bar's picturesque timber decks extend to the edge of the swimming pool, overlooking a scenic stretch of Batu Feringgi Beach.
'Tepi Laut' means seashore, aptly named for a bar and restaurant located just 30 feet away from gently rolling waves. The roof architecture recalls old palaces of Malay Sultans. The resort's Par 3 Executive Golf Course is also just a tee away.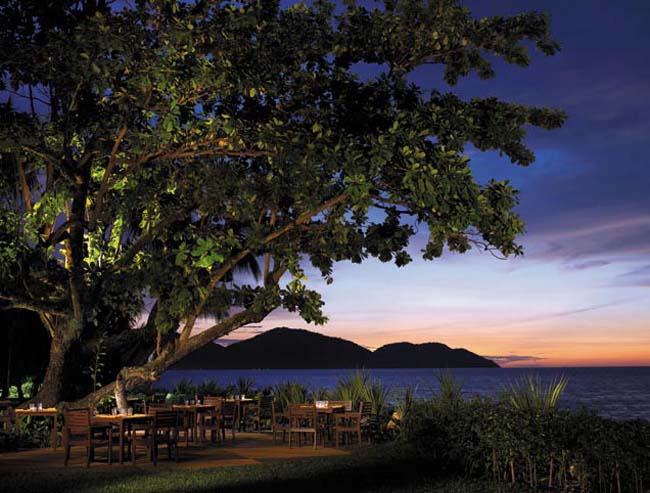 Lobby Lounge – This elegantly designed lounge provides a refreshing meeting venue for casual conversation, or just to relax on comfortable sofas over cocktails
Leisure & Sports Facilities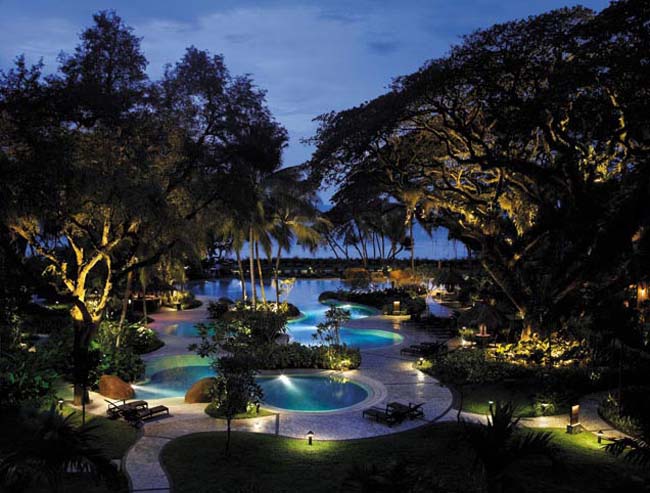 Swimming Pools
Children's Pool
Fitness Centre
Hydropool/Jacuzzi
Water Sports
Steam Room
Sunset Cruise
Games Room
Tennis Courts
The Spa at Rasa Sayang Resort offers a holistic form of rejuvenation and relaxation. Inspired by traditional Asian healing philosophies, our treatments are based upon the principles of restoring balance and harmony to mind and body.
For more information or to book, please contact the reservations team.
Call 01928 246 243
Online Enquiries: Click Here