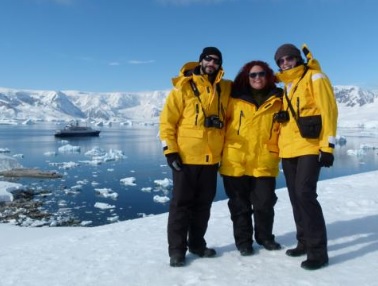 Peninsula in Depth
Be delighted by penguins, seals and whales on our most comprehensive expedition of Antarctica yet. After making shore visits at Elephant Island and crossing the Weddell Sea, arrive at the Antarctic Peninsula and be immediately dazzled by some of the most dramatic scenery to be found anywhere on Earth. Head onwards to the South Shetland Islands and explore the caldera surrounding Deception Island. Sailing aboard your well-appointed expedition vessel, witness Antarctic nature in all its glory. Take the chance to kayak across unspoiled Antarctic waters or even spend a night camping out on the Antarctic Peninsula.
Board Basis: Mixed Meal Plan, Departure Date: Low Season, Departs: London Heathrow
Our Opinion
This is an all-encompassing tour around one of the most unique environments in the world. Discover some of the most awe-inspiring landscapes and amazing wildlife on this once in a lifetime experience.
Tour Highlights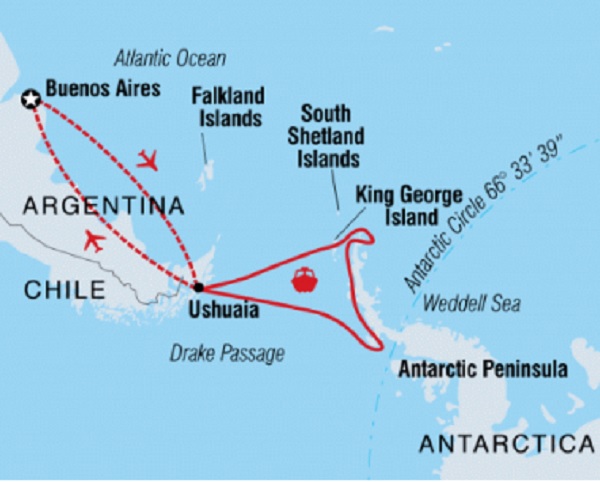 Contrast the sophisticated Argentinian capital of Buenos Aires with the Patagonian outpost of Ushuaia – two totally different locations.
Take the chance to kayak, stand-up paddle board or even camp overnight in Antarctica with an active twist on your adventure.
South Georgia Island is incredibly rich in rare wildlife and history. See over 30 species of birds, including four penguin species, and visit the grave of the great explorer, Sir Ernest Shackleton.
Encounter whales, seals and penguins on regular Zodiac excursions along the plunging coastline of the Antarctic Peninsula.
On-board lectures by polar experts provide great insight into the unique history, geology and wildlife of the region.
Few people ever get the opportunity to set foot on the Great White Continent, but you'll be one of them.
A diversity of possible landing sites and activities allows you to see the spectacular Antarctic Peninsula from multiple perspectives.
Itinerary In Brief
Buenos Aires – 1 night
Cruise Ship – 1 night
Cruise Ship (Drake Passage) – 2 nights
Cruise Ship (Elephant Island) – 1 night
Cruise Ship (The Weddell Sea) – 3 nights
Cruise Ship (Antarctic Peninsula) – 7 nights
Cruise Ship (South Shetland Islands) – 2 nights
Cruise Ship (Drake Passage) – 2 nights
Full Itinerary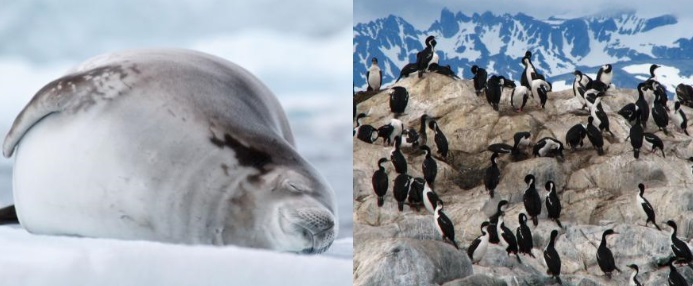 Day 1 
Arrive Buenos Aires – You may arrive in Buenos Aires at any time during Day 1 of your itinerary. Upon arriving in this splendid city, known for its soaring architecture and rich European heritage, you will independently transfer to the group hotel (pre-night hotel included).
Meals Included: There are no meals included on this day.
Special Information: Airport arrival transfer is not included. There will be pre-departure briefing this evening at the joining hotel.
Day 2
Fly Buenos Aires to Ushuaia and embark – After breakfast at the hotel, the group will transfer to the airport and board our private charter flight to Ushuaia, Argentina. Upon arrival, you will have a little time to explore this quaint port town before heading to the pier. Embarkation will occur in the late afternoon, after which your vessel will sail down the historic Beagle Channel. This famous channel transects the Tierra del Fuego archipelago in the extreme south of South America. Expect an air of anticipation as you depart – the next time you'll see land you'll be in the world's most southern continent!
Meals Included: Breakfast / Dinner
Days 3-4
Crossing the Drake Passage: The waters of the Drake Passage are unpredictable, so hope for clear skies and a calm ocean. You'll have plenty of time to gaze out at the sea, get to know your fellow shipmates and chat with your Expedition Team. You will spend this time preparing for the exciting days ahead, with numerous educational and informative lectures presented by your Expedition Team.
You'll learn about everything from safety procedures to the history of whaling in Antarctica.
Meals Included: Breakfast (2) / Lunch (2) / Dinner (2)
Day 5
Elephant Island: Mountainous and ice-covered Elephant Island is the first land you'll visit following the crossing. Named by early explorers for the elephant seals that dotted its shoreline, the island is best known as the refuge for Ernest Shackleton's crew. Point Wild, the site of the crew's camp, is an Antarctic Historic site.
There are also a wide variety of inclusive and additional activities available to all passengers (some may have to be booked in advance), including; kayaking, cross-country skiing, camping, paddleboarding, snowshoeing and photography.
Meals Included: Breakfast / Lunch / Dinner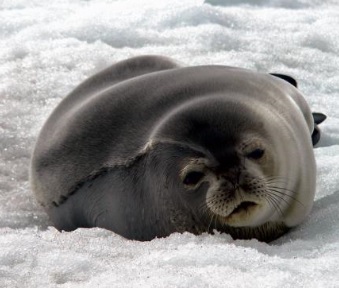 Days 6-8
The Weddell Sea – Battered with ocean currents all year long, the remote east side of the Antarctic Peninsula is completely different to the more commonly visited west coast. Here, you'll see mile-long tabular icebergs formed over hundreds or even thousands of years and broken off of ice shelves further south. Paulet Island is volcanic and thermal heat keeps part of it ice free. Over 100,000 pairs of Adelie penguins make it a popular visiting point. The wooden hut on Snow Hill Island was built in February 1902 by the main party of the Swedish South Polar Expedition led by Otto Nordenskjold. This historic hut contains original objects from the expedition and functions as a living museum. Brown Bluff, formed by a single volcanic vent, is the perfect place to experience Antarctic flora and fauna.
Meals Included: Breakfast (3) / Lunch (3) / Dinner (3)
Days 9-15
Antarctic Peninsula and Antarctic Circle – Travel around the Peninsula includes a variety of experiences, including Cuverville Island and the largest colony of gentoo penguins in the region – more than 6,500 breeding pairs. Other possible landing sites include Melchiors, Cuverville Island and Orne Harbour. Glaciers, penguin colonies and breaching humpback whales will highlight your days, while friendly seals are plentiful in these waters. You can also expect to encounter what is arguably the most formidable Antarctic predator, the leopard seal. You'll have drinks to celebrate crossing the Antarctic Circle, and you may visit the Vernadsky Lounge, the Peninsula's southernmost bar. A sure highlight is Wilhelmina Bay – one of our expeditions once spotted 50 whales in three hours! We'll spend a full seven days exploring as many sites as we can, ensuring you the most comprehensive Antarctic experience possible.
There are a huge number of possible landing sites which you may experience over the course of these days. Please contact us if you want to receive more information about all the possible sites.
Meals Included: Breakfast (7) / Lunch (7) / Dinner (7)
Days 16-17
South Shetland Islands – In 1819, the British explorer William Smith described the South Shetland Islands as 'barren and covered with snow, with seals in abundance.' Places such as Half Moon Island or Livingston Island support huge numbers of nesting chinstrap, gentoo and even some macaroni penguins. Giant and cape petrels, blue-eyed shags and kelp gulls nest in the cliffs. Mosses, lichens and Antarctica's only two flowering plants thrive during the short summer on the low-lying peninsulas of these rugged maritime islands. You will explore the busy penguin and seabird rookeries and marvel at the huge elephant seals that wallow along the shore. Deception Island is the caldera of an active volcano, where sealing and whaling operations were based in the past. Several microclimates can get quite warm, and there is a large colony of chinstrap penguins. Half Moon Island is a significant area for birds and it features a 2,200 yard (2 km) walking track to give you a close view of the wildlife.
There are a huge number of possible landing sites which you may experience over the course of these days. Please contact us if you want to receive more information about all the possible sites.
Meals Included: Breakfast (2) / Lunch (2) / Dinner (2)
Days 18-19
Crossing the Drake Passage – Use your second passage across the Drake to put your newfound Antarctic knowledge to use; spend time on deck, spot icebergs and name seabirds. Enjoy presentations by our onboard experts and bond with your shipmates.
Meals Included: Breakfast (2) / Lunch (2) / Dinner (2)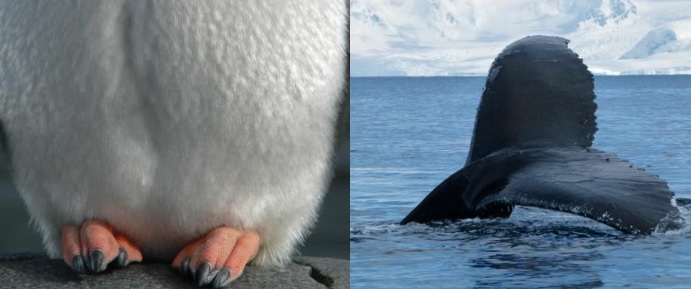 Day 20
Disembark in Ushuaia and fly to Buenos Aires – We will arrive in Ushuaia in the morning, after breakfast. After disembarking, you will get a little taste of Patagonia, touring Tierra del Fuego National Park before transferring to the airport for the return group charter flight to Buenos Aires.
Meals Included: Breakfast
Special Information: The charter flight is scheduled to arrive in Buenos Aires Ministro Pistarini (EZE) airport at approximately 5.00pm. We recommend that you do not book onward flights out of EZE until at least 8.00pm and later if you need to transfer to Jorge Newbury AEP airport which is on the other side of Buenos Aires. Additional accommodation at the same hotel as your first night can be requested if required.
Extensions
If you're not ready to go home just yet, please feel free to contact us and our travel concierges can look into possible extenstions, whether that's a week on a beach in Brazil, the Caribbean or even a short stay in the United States – the choice is yours!
Need to Know
This all-encompassing trip includes everything you need for peace of mind on your journey, such as your return flights from Buenos Aires to Ushuaia, pre-expedition hotel accommodation, transfers to and from your ship, full meals and drinks on-board, waterproof expedition boots for shore landings (on loan) and emergency evacuation insurance.
Although our ice strengthened ships are big and sturdy, Antarctic waters can be unpredictable and rough. Some people may experience seasickness, especially through the Drake Passage and other open water crossings. Please be prepared with medications to combat this. There is also a doctor on-board should you need further assistance.
As you'd expect, temperatures in the Antarctic are freezing. A warm parka will be provided along with waterproof boots and unlimited hot drinks, but you should also bring base layers and lots of warm clothing. Please see the trip notes for further important information about what to bring.
Weather depending, you will be making regular excursions in a Zodiac boat to explore the local area and look for wildlife. It can get very cold and wet on the Zodiac, so make sure you are dressed appropriately and that you keep your camera safe and dry. Sturdy sea legs are needed as you make wet and dry landings from the boat, and on steep terrain, snow and other uneven surfaces. Some ships have a lot of stairs, so please hold on to the handrails if seas are rough.
The weather plays a pivotal part in this adventure and although there's an itinerary in place, there are no guarantees that you'll be able to do everything that is planned for. A level of flexibility and openness to embracing the unexpected are important in expedition travel, especially to such a remote area. There are nearly 200 recognised sites in the Antarctic Peninsula and South Shetlands; the places mentioned in the itinerary may need to be changed to others (which are equally as interesting). We may also be confined to the ship during rough weather. The on-board library and educational lectures are ideal ways for keeping entertained.
For more information or to book, please contact the reservations team.
Call 01928 246 243
Online Enquiries: Click Here