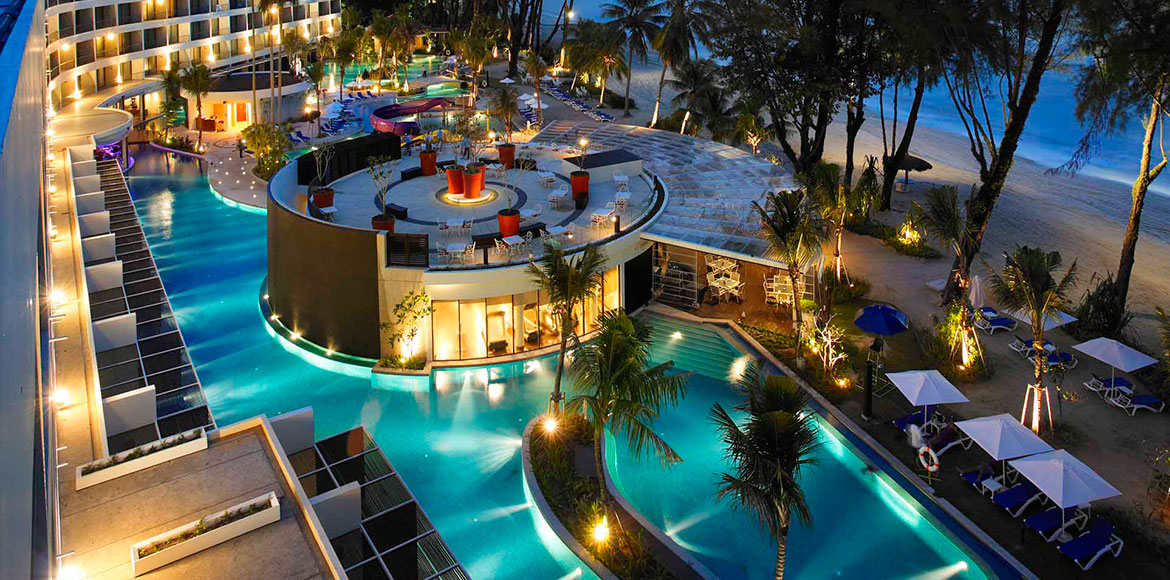 Hard Rock Hotel Penang
Board Basis: Bed & Breakfast, Departure Date: Low Season, Departs: London Heathrow
Our Opinion
A fun-filled resort, boasting the synonymous iconic Hard Rock luxuries and surprisingly suitable for families and couples alike.
Location
Hard Rock Hotel Penang is a luxury resort situated along the famous beaches of Batu Ferringhi.
Accommodation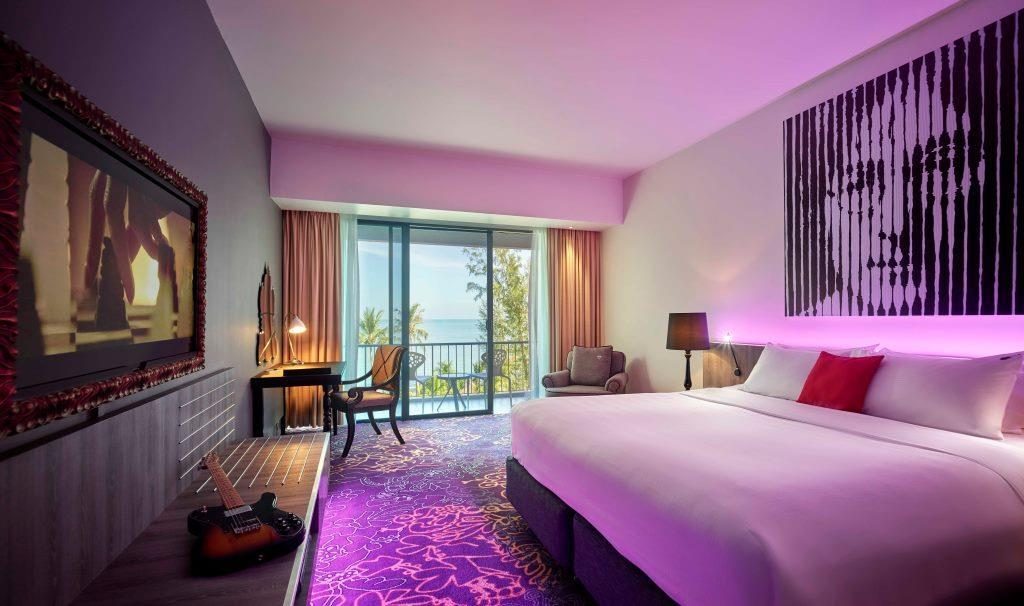 With a total of 250 guestrooms of contemporary feel, all rooms are well-designed with guests in mind. With free Wi-Fi connection, BOSE Sound System, 50-inch LED screen TV and free HD Blockbuster movies on demand, you can stay connected with your loved ones and be entertained 24 hours.
Hillview Deluxe Room – A chic space features tricked up rockin rooms with a panoramic view of the hills. Every room is fully equipped with modern amenities. This is the only room category that has a cosy reading nook with comfortable cushioned window seat, which gives you an outdoor view while you unwind with a book or a cuppa
Seaview Deluxe Room – Break away from yet another classic sea-view room and check out our sexy design, where style meets substance. Sleep like a rock and wake up to an unprecedented view of the sea and the largest free-form swimming pool in northern Malaysia. Be enthralled by an opened or closed bathroom wall and modern amenities such as a BOSE Sound System and free HD blockbuster movies on demand, you would not want to end your rockin vacation.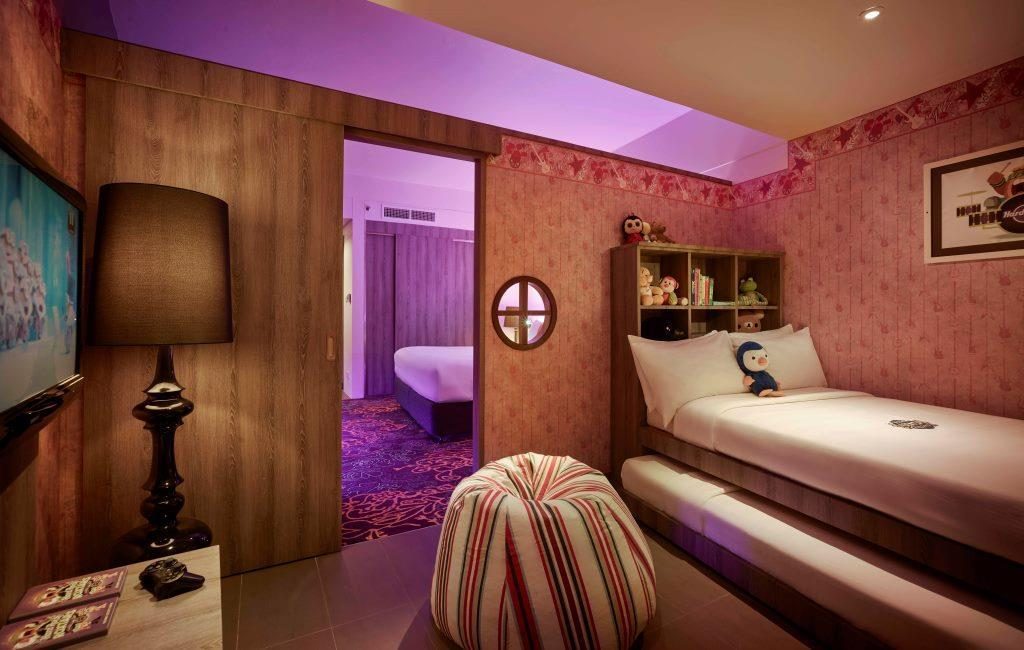 Seaview Deluxe Terrace – Bask in the sun with this latest addition that offers a playful private terrace overlooking an unprecedented view of the sea and the largest free-form swimming pool in Penang. Situated on Level 2, the Seaview Deluxe Terrace room features a full range of modern amenities designed for rock stars looking for thorough rest and relaxation in the comfort of their own room. Complete with sun loungers and a large sofa on the terrace, you can be assured that you will be immersed in an inspiring ambience that creates an energetic yet soothing vibe. Go ahead, just plug in and enjoy the sun.
Lagoon Deluxe Room – First of its kind in Penang, the Lagoon Deluxe features a deck which allows you to dive right into the largest free-form swimming pool in northern Malaysia. Not up for a swim? Give yourself a tan on the sun bed without leaving your room. Treat yourself to a few drinks and our band member will swim up to your deck with your refreshments. Turn your vacation into a rockin one and be among the first few guests to experience it.
Roxity Kids Suite – Going on a vacation with children? Excite the Lil Rockers with the newly revamped family suite; the Roxity Kids Suite. A one-of-a-kind room, designed with the young rock stars in mind, family can enjoy more space, glamour, and grandeur. With awesome amenities such as their very own TV, Playstation 3, soft toys, kids books, kids-focused mini-bar, and special kids in-room dining menu, you can be certain that your Lil' Rockers will have a blast. Besides a serene hill view, the suite also comes with one single bed with a trundle in the kids' room, and one king-sized bed in the adults room. Because we care about your Lil Rockers, a non-smoking policy in implemented in all the Roxity Kids Suite.
Roxity Kids Suite with Courtyard – A super star family vacation needs a spacious room for the mom and dad and the young ones. Designed to give your children the ultimate rock star experience, this suite is equipped with and an additional TV for the kids, PlayStation 3, music videos, special kid's in-room dining menu, and a mini bar full of snacks. Open the sliding doors to an awesome outdoor mini playground. This kids-focused suite comes with a king size bed and one single bed with a trundle. Because we love your kids, we also implemented a Non-smoking policy in all the Roxity Kids Suites.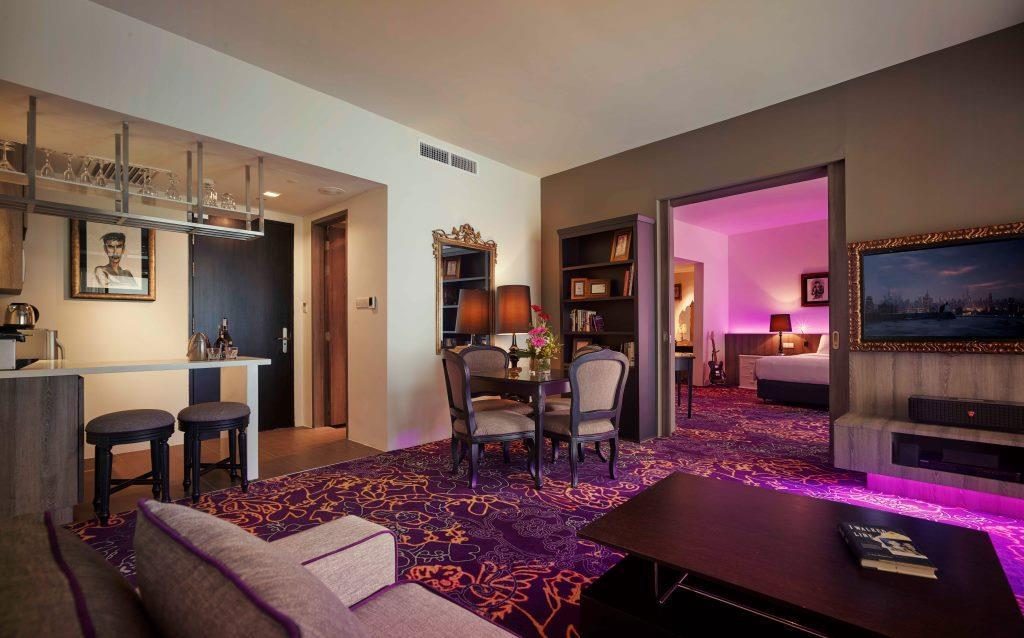 Rock Royalty Seaview Deluxe – Sometimes, a star needs to escape from the limelight too. Here, you will be able to sneak a little more privacy during your stay and enjoy special access to the Rock Royalty Lounge. Only 10 units are available at Level 6 – the highest floor, where you can just plug in and enjoy a stunning sea view from your room.
Seaview Studio Suite– Enthused by space and comfort? Step into our contemporary, rock-inspired suite that will have you vacationing like a star. Draw the curtains and be greeted by the sound of waves and a spectacular view of the sea. Share a meal or a conversation with your loved ones in your very own dining area. From VIP Rock Spa bathroom amenities and nightly turn downs, to a private breakfast and evening cocktails and canapes in the Rock Royalty Level Lounge, you will feel like a royalty throughout your stay.
Rock Star Suite – With only one Rock Star Suite, expect VIP treatment, a first class experience and live a life that is over the top! The Rock Star Suite is all about attitude and brazen sophistication. With a touch of rock flavour and stylish decor, this inspiring suite connects a private living space and one bedroom, giving plenty of space for you. Funky design meets super stars lifestyle.
King Suite – Living the dream to be the next King of Rock. Extraordinary design that combines two individual bedrooms and a private living room into a little dream haven. The bedroom comes with a Hollywood King sized bed in one and a standard king sized bed in another. Take a break from all the exhilaration and soak in the couple's bathtub overlooking the pool. The Kings Suite is located at the ground floor where one can enjoy direct pool access from the room, a private entrance and a double car park porch.
Restaurants & Bars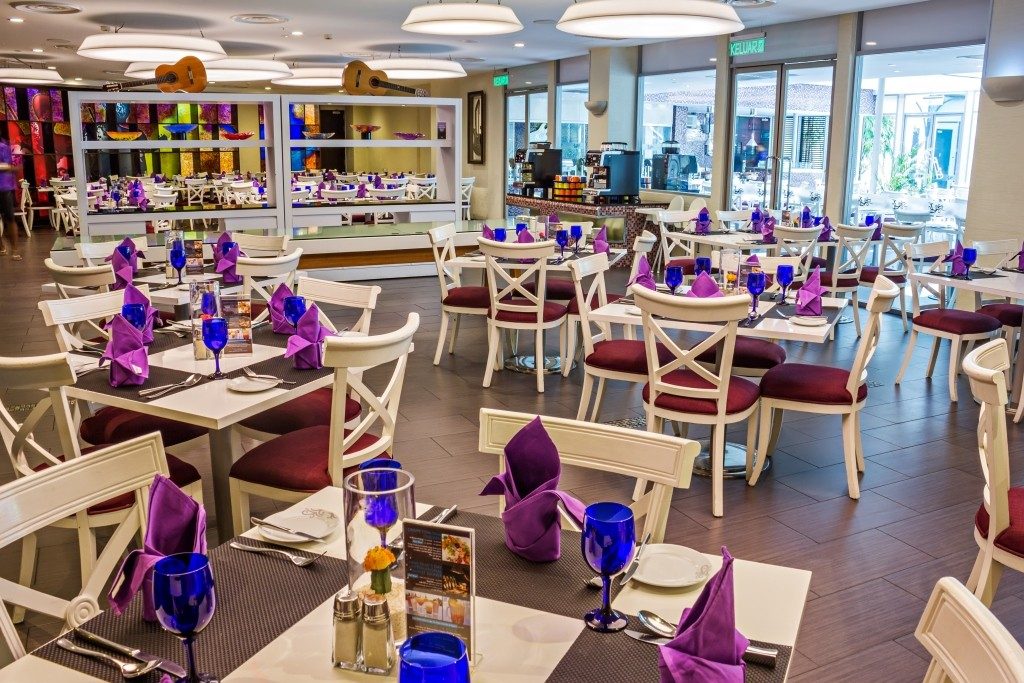 For dining in Penang, Hard Rock is synonymous with music, good fun and great food. Hard Rock Hotel Penang offers a plethora of food options to suit everyone.
Hard Rock Cafe – Located at the Ground Floor of the hotel, the Hard Rock Cafe Penang is the place to jam any time of the day in Penang. The cafe features a live band stage and a Rock Shop which offers Hard Rock's latest and limited edition merchandise. The Hard Rock Cafe Penang adapts a classy and stylish concept adorned with red-painted walls and splashes of gold. The walls of the cafe are decorated with authentic memorabilia of artists from different decades. In June 2009, Ella and Zainal Abidin became the first Malaysians to donate their memorabilia to Hard Rock  International. Their memorabilia is currently displayed at the mezzanine floor of the Hard Rock Cafe Penang. This world famous cafe serves authentic American cuisine such as Nachos, Fajitas, Legendary 8oz Burgers, Hickory-Smoked Beef Ribs, Hot Fudge Brownie and special Cocktails, Red Berry Press, Triple Platinum Margarita, Air Mexico, Fruitapalooza and Hurricane. Not forgetting the essence of Hard Rock Cafe, the music, the heart and soul of Hard Rock. Enjoy everyday Rockin Hours from 05.00pm till 08.00pm and daily band performance from 10.30pm till 2.00am. Designed in a contemporary and simple setting, boasting a capacity of 200, Starz Diner is open for breakfast and dinner serving Asian and International cuisine. The restaurant features two show kitchens, where one can enjoy watching chefs in action and food served straight from the pan. Featuring two show kitchen, enjoy food served straight from the pan and watch our fun chefs in action.
Starz Diner – The Starz Diner is known specially for its Asian selections of Malaysian delicacies. The restaurant offers some of Penangs best street food, Fried Flat Rice Noodles Char Koay Teow, Rockin Prawn Noodles, Penang Laksa and many more. One to die for from the Asian selection is the Hard Rock Fried Rice Nasi Goreng, fried rice with eggs, prawns, kataifi prawn, chicken satays, fish crackers and pickled fruit. Some of the best Western selections at The Starz Diner are the Atlantic Salmon, grilled salmon with sauteed baby potatoes, caper salsa and glazed with lemon butter sauce, Spaghetti Aglio E Olio, served with shrimps, garlic olive oil emulsion, sweet basil and chili flakes, homemade Mince Pies and Apple Pie.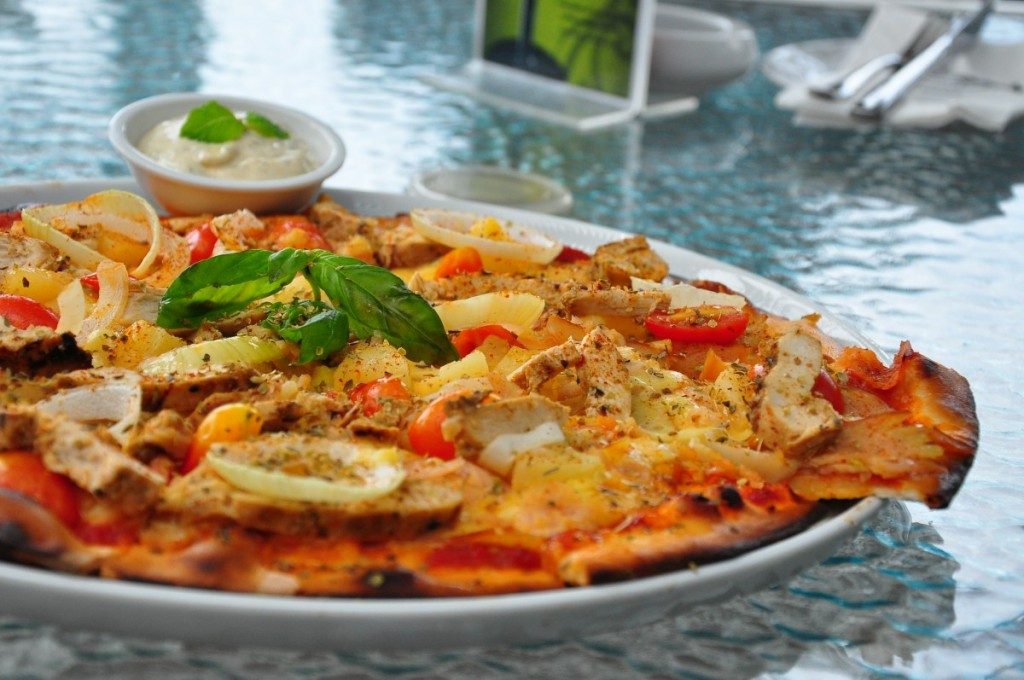 Pizzeria – For delicious Italian inspired food in a relaxing setting, head on over to the Pizzeria! Pizzeria offers a friendly and comfortable atmosphere where one can enjoy the sea breeze while overlooking the pool. Sit by the poolside or beachside and savour on a widespread of pizzas and pastas. In addition to that, a variety of finger food like popcorn chicken, calamari salad, homemade dips and others are also available here. Relish on a local flavoured pizza, gourmet burger, delicious pasta and sandwiches with extensive choice of beverages at one of the best pizza joint in Penang.
Lobby Lounge – A great place to chill! With a unique Reception and bar concept, guests can enjoy a drink while checking in. Commanding an unsurpassed panoramic view of the Andaman Sea, sit back, relax and enjoy the stunning sunset view of Penang from the lounge. Featuring great live music every Friday, Saturday and Sunday! The Jazzhats, The Brackets, Jayzel and Somebody Who are some of the local bands that plays here. Check out our Gig Guide to find out who's playing and when!
Sand Bar – Located by the Pizzeria, this rustic beach bar overlooks a stunning sunset. There's no better way to end a day than a beer in hand and feet in the sand. The Sand Bar is full of music and zest all day long, making it the perfect chill out place.
The Shack – Enjoy a cocktail while half submerged in the pool. The Shack, a swim-up bar serves a variety of international and local beverages in a unique setting. If you are staying in the Lagoon Deluxe Room, be surprised as our servers bring your food and drinks to your private deck from the pool.
Leisure Activities & Facilities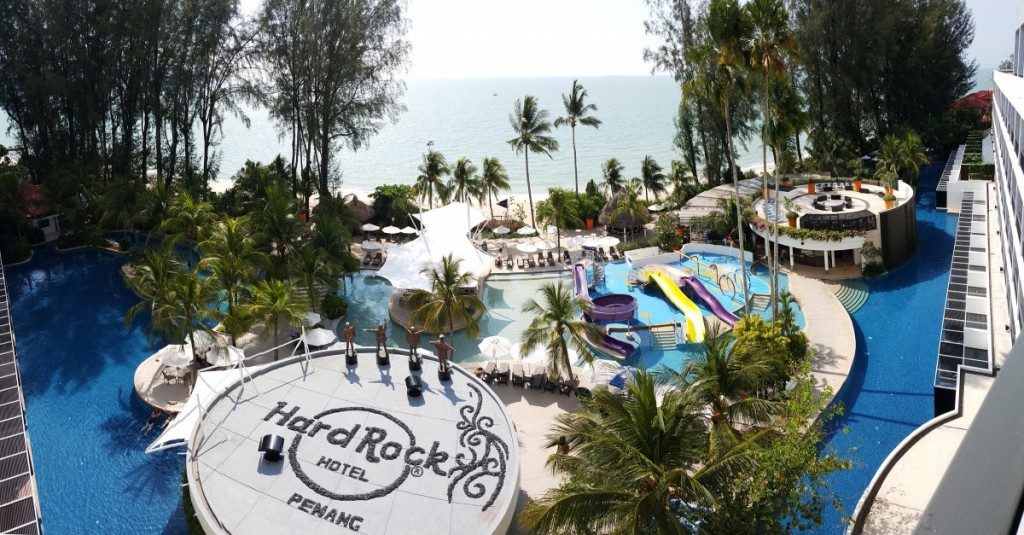 Swimming Pool – Featuring the largest free-form pool in Northern Malaysia, which is effortlessly integrated into the Hotel's landscaping. There is always something going on at the poolside where our Rock Agents will keep you entertained or you can simply enjoy the music and drinks served at the swim up bar. It is also fun to try the water slides or reserve a private cabana.
Rock Spa – Rejuvenate your body and soul at the Rock Spa where treatments are done in the spa bungalow or in the private villas by the sea. Offering four luxurious Spa Villas. Two of them are walled for privacy and come with an outdoor shower and a bath tub making it the perfect setting for restoration. Enjoy the sound of waves and sea view while being pampered by our team of skilled therapists. Rock Spa offers a diverse selection of services such as massages, body scrubs, body wraps, facials, manicure & pedicure and hair removal with a full host of amenities
Body Rock Gym – Remember to pack your gym gear on your visit to Hard Rock Hotel Penang. No excuses. With an extensive range of equipment and stunning poolside views, you will love rocking hard and exercising harder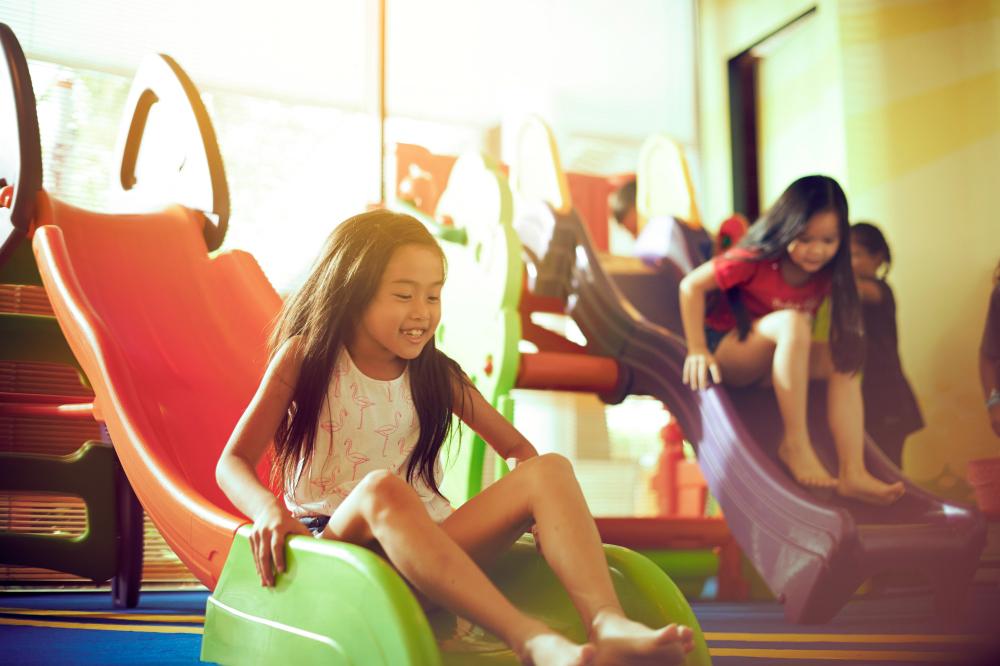 Infants Club – Lil Rockers Infants Club is an indoor play area located in the TABU Teens Club that is exclusively designed for Rockstars ages 3 years old and below. The little ones will be kept busy with educational toys and games, soft toys, mini playhouse and a mini slide.
Roxity Kids Club – Gives little ones a chance to hang with the coolest crew around, the Roxtars. These colorful characters bring an undeniably awesome mix of personality and pep to our world. From Skiddley the lead singer with a sax to Styler the punk princess with a killer fashion sense, they invite you to let you own originality shine. Roxity Kids Club is the ultimate Hard Rock hang-out for kids aged 4-12 years old. And the Roxtars are always ready to play.
Tabu Teens Club – As one of the coolest family-friendly hotels in Malaysia, Hard Rock Penang has a dedicated Tabu Teens Club to keep teenagers entertained during their holidays here. Tabu Teens Club offers an exclusive space with a cool contemporary element for youngsters to connect. During the day, explore Batu Ferringhi by hiring a bicycle or have fun indoor playing pool and foosball.
For more information or to book, please contact the reservations team.
Call 01928 246 243
Online Enquiries: Click Here