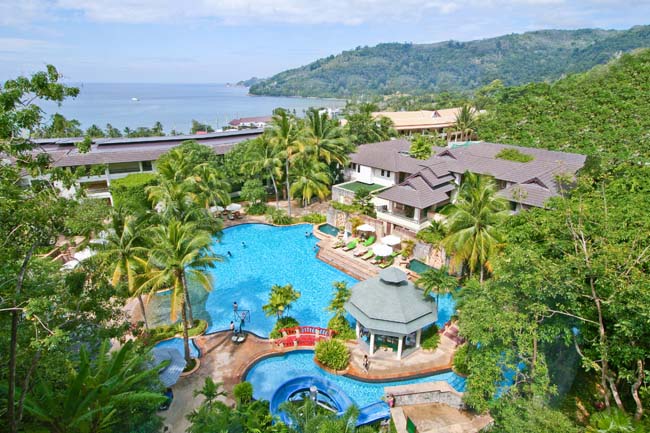 Diamond Cliff
Board Basis: Room Only, Bed & Breakfast, Departure Date: Low Season, Departs: London Heathrow
Our Opinion
I stayed at the Diamond Cliff and I have to say if anyone ever complained about service here there is something wrong with them! I have never seen such lovely down to earth service. The resort itself feels like what a classic Thai resort should be. I had a room near the top of the resort and it was very peaceful and thanks to the golf cart service – easy to get to! Everything is traditional here so no fibre optics in the bathtubs, and you'll learn to fall into its charms pretty quick. I liked the location away from the craziness of Patong but only a 5 minute ride away on a tuk-tuk.
Location
The Diamond Cliff Resort & Spa is located at the northern end of Patong and nestles into the hillside above the town.
Accommodation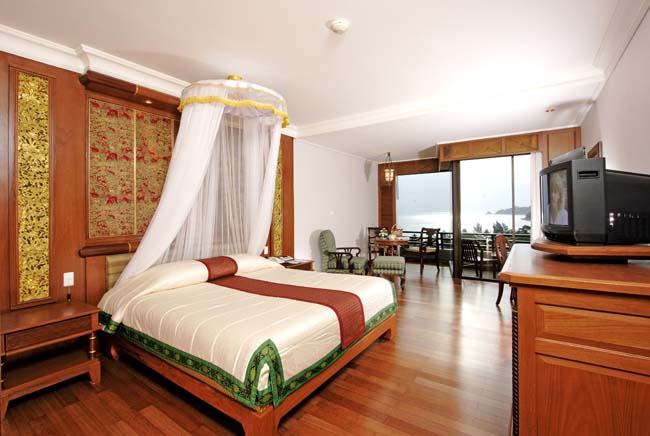 Diamond Cliff has 333 rooms each with air-conditioning, minibar, TV, tea/coffee facilities, bath, shower and balcony with partial sea views.
Room Types:
Super Deluxe 40sqm -are decorated with stylish wooden finish featuring wide balcony overlooking the azure Andaman Sea in the distance.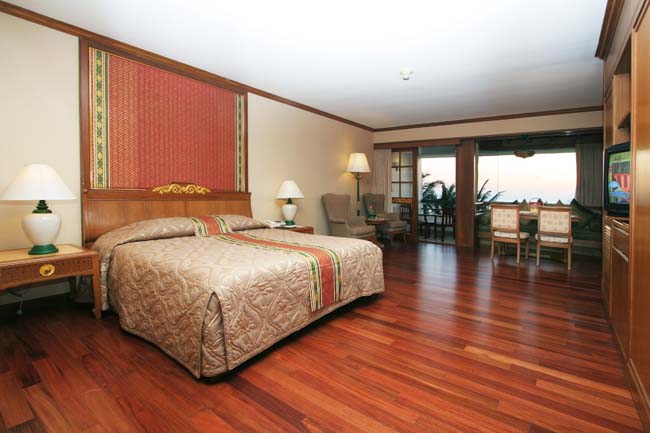 Diamond Rooms 45sqm – are in a separate wing with separate check-in and are slightly larger with a small lounging/dining area.
Diamond Suites 70sqm – are larger rooms living area & with superior furnishings, with a walk-in closet.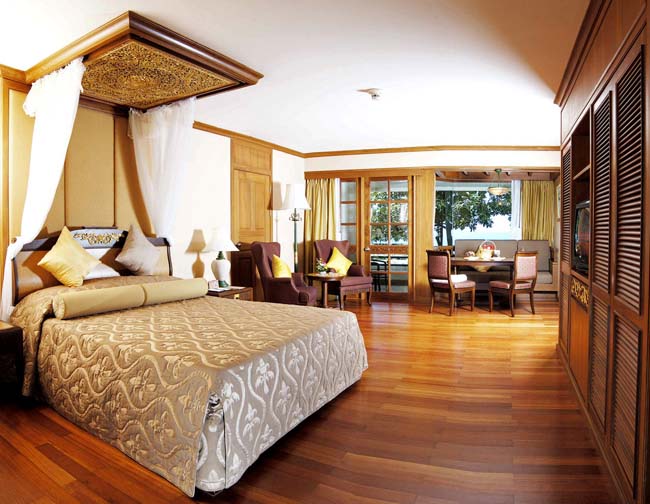 Ocean Suite 70sqm – decorated with fine wooden elements and have a private Jacuzzi Bathtub overlooking the Indian Ocean. They have additional amenities such as complementary water.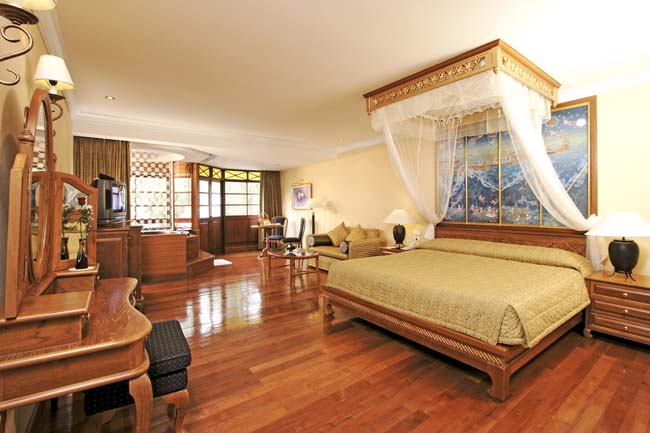 Ocean Front Suite 60sqm – provide a beautiful outlook over The stunning Andaman sea, with a Jacuzzi overlooking the ocean, plus living/dining area & a sundeck Terrace over looking the Sea.
Higher Villas categories are available on request
Restaurants & Bars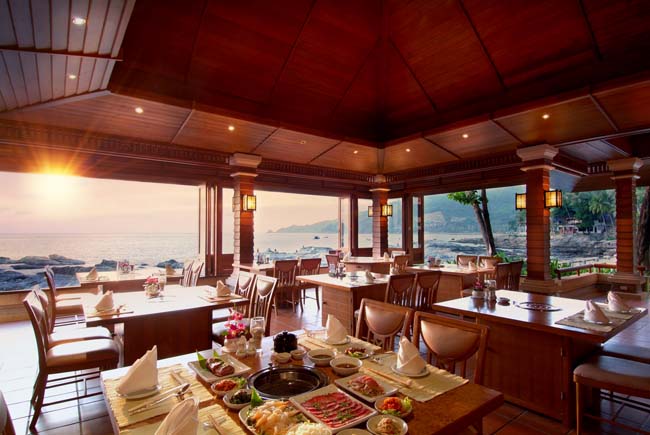 Guests can sample different types and styles of cuisine every night. Buffet and a la carte selections of Western and Asian foods are organized on a daily basis. There is an abundance of fresh seafood at the Diamond Hut Restaurant, or simply try the sushi, sashimi, teppanyaki and other authentic Japanese foods.
Diamond Hut – scenically located on a terrace overlooking the Andaman Sea, serving the freshest fish barbecued to perfection.
Kiko Japanese Restaurant – Kiko was the first authentic Japanese restaurant to reach the southern of Thailand. The restaurant offers the wide selection of Japanese cuisine include Sushi, shaimi and Tappanyaki which are finely prepared with a strong emphasis on freshness by experienced Japanese Chef using quality ingredients directly imported from Japan to preserve authentic tastes.
Korean Hut – by-the-sea offering beef Korea style and Kimchi, and tasty Korean BBQ cooked by guests in a pleasant atmosphere..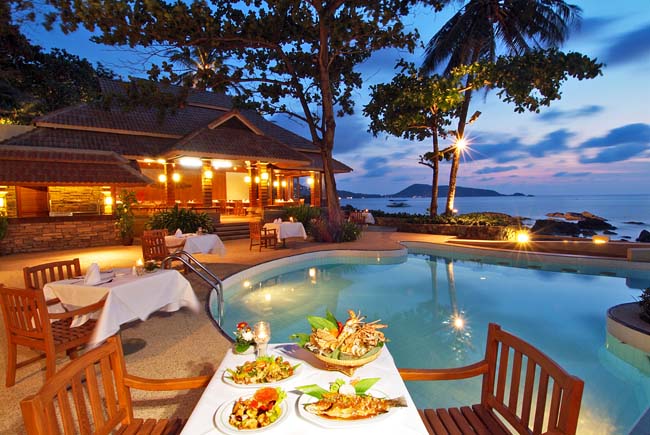 Ocean View Coffee Shop – located by the crystal-clear poolside overlooking the sparkling Andaman Sea & offers the international and Thai cuisine lovingly prepared by Master Chefs. Enjoy a relaxed breakfast, buffet lunch or extravagant barbecue dinner as the sun goes down.
Thai Orchid Restaurant – is a fragrant and colourful experience offering Royal Thai cuisine from the Kingdom's four regions.
The SEA – located next to the ground floor lobby for guests to enjoy a cup of tea and coffee, or their favourite cocktail.
Leisure & Sports Facilities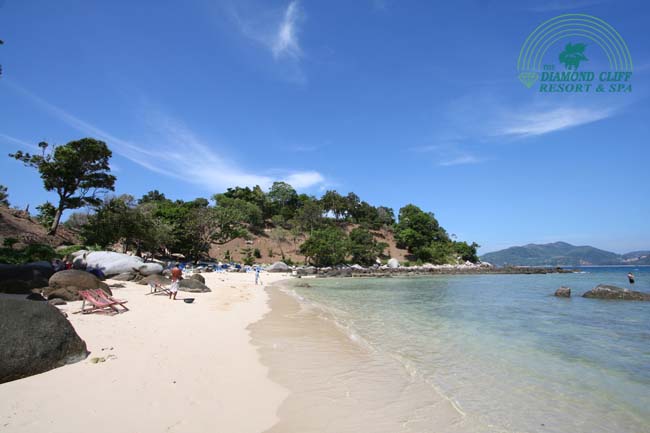 Three outdoor swimming pools
Ocean view waterfall
Beach and pool volleyball
Tennis court
Fitness Centre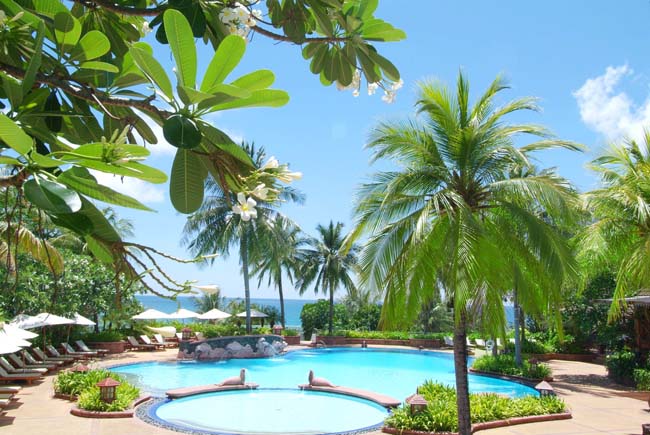 Private Beach at Paradise Beach – Diamond Cliff Resort & Spa guests can take a shuttle boat to aprivate beach without disturbance. Exclusively for Diamond Cliff's guests only. Reservation in advance is needed. Equipped with sun-launchers and beach umbrellas for hotel guests.
The Spa at Diamond Cliff was designed as a refuge from today's fast-paced and highly stressed world, a place where you can relax and concentrate on restoring and rejuvenating your body, your mind and soul.
For more information or to book, please contact the reservations team.
Call 01928 246 243
Online Enquiries: Click Here