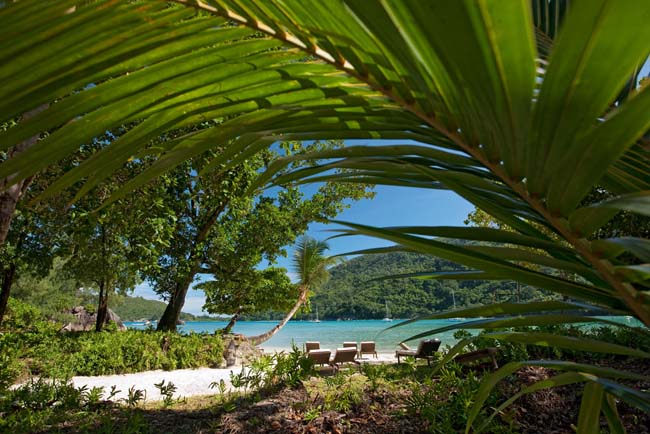 Constance Ephelia
Situated on two of the most beautiful beaches on the island of Mahe overlooking the marine national park of Port Launay, Constance Epheila Resort enjoys a unique location set within 120 hectares of land with luxuriant and rare vegetation. Since opening in 2010, Constance Ephelia has become one of the most sought after resorts in the Seychelles.
Board Basis: Half Board, Full Board, Departure Date: Low Season , Departs: London Heathrow
Special Offers
Save Over £1,100pp!
Save over £1,100pp with this fantastic last minute deal to the incredible Constance Ephelia Resort, Seychelles. Jai has recently stayed here and absolutely LOVED it.
Return International Flights
Return Private Transfers
7 Nights | Junior Suite
Breakfast & Dinner Included
Selected June & July Dates
From £2,049pp
A number of our team have been to the Seychelles, so if you'd like to find out more, or to book today, contact our expert team who will be happy to help.
Amazing Last Minute Savings
Not all offers can be combined with other promotions, and other terms & conditions may apply.
Please contact us for more information on the latest special offers.
01928 246 243
Our Opinion
A superb all around resort, especially if you are after a larger room where to really relax and unwind. It is one a pristine beach overlooking a national marine park. Beautiful!
Location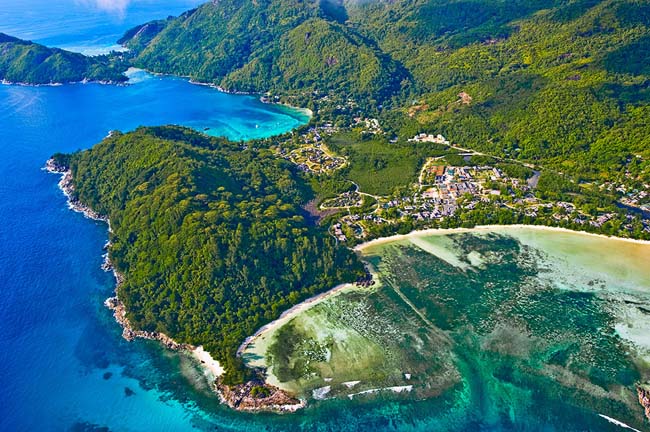 Located on two of Mahes most beautiful beaches approximately 40 minutes from the airport.
Accommodation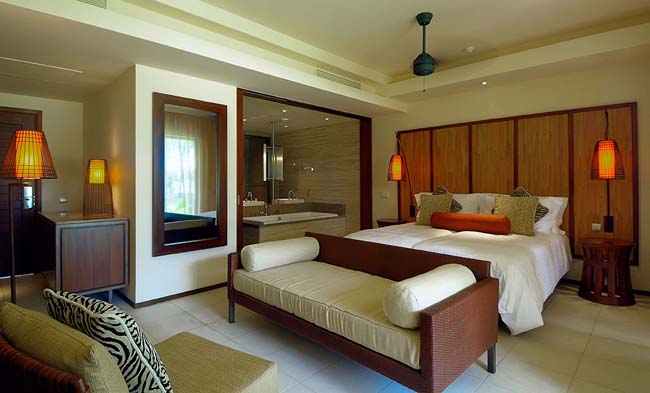 Constance Ephelia has 267 stunning villas and suites with a excellent array of amenities.
Junior Suites – 62sqm in size and feature air-conditioning, ceiling fan, bathroom with bath tub, double vanities, separate shower, WC, hairdryer, sitting area, complimentary WIFI, LCD TV, mac mini (iPod connection, CD & DVD), telephone, mini-bar and safe
Senior Suites – 80sqm in size and feature air-conditioning, ceiling fan, bathroom with bath tub, double vanities, separate shower, WC, hairdryer, sitting area, complimentary WIFI, LCD TV, mac mini (iPod connection, CD & DVD), telephone, mini-bar and safe.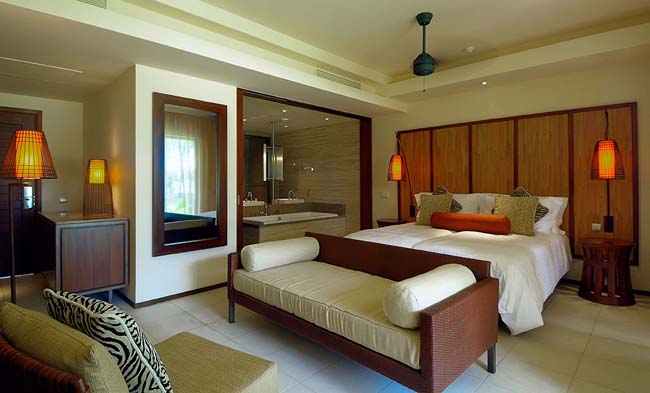 Family Villas – 350sqm in size and spaciously designed and stylishly decorated consist of two or three bedrooms (one master bedroom with an en suite bathroom and two other bedrooms sharing one bathroom). In the courtyard a private swimming pool as well as an outside dining area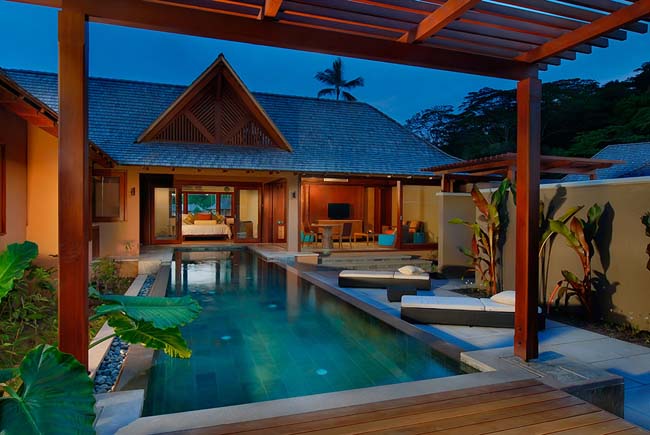 Beach Villas – 120sqm or 370sqm 1 or 2 bedroom villas with private pool. Situated on the North beach of Port Launay these villas offer the ultimate beachside accommodation. Each is spaciously designed and stylishly decorated with large en-suite bathrooms, private swimming pool, pergola for relaxation and aperitifs.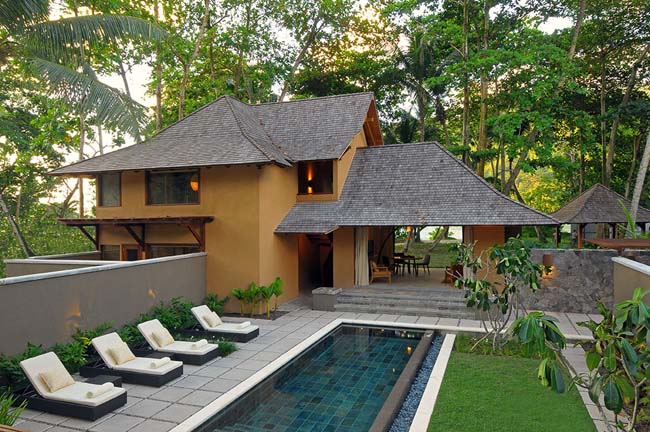 Hillside Villas 120sqm or 220sqm – Overlooking the Port Launay Marine Park, the hillside villas (either one or two bedrooms) feature their own private pool and have been constructed and adapted to the granitic rocks on the site creating a unique accommodation concept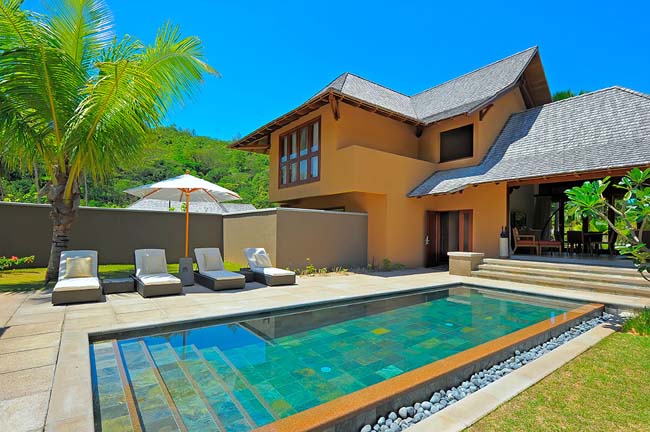 Spa Villas – 330sqm in size Villas of one bedroom with spacious en-suite bathroom, private swimming pool, pergola for relaxation and aperitifs, The bathroom is the main focal point as it features both the treatment area and the bath area. The meditation and calm zones of the villa are ideal for relaxation and reading.
Restaurants & Bars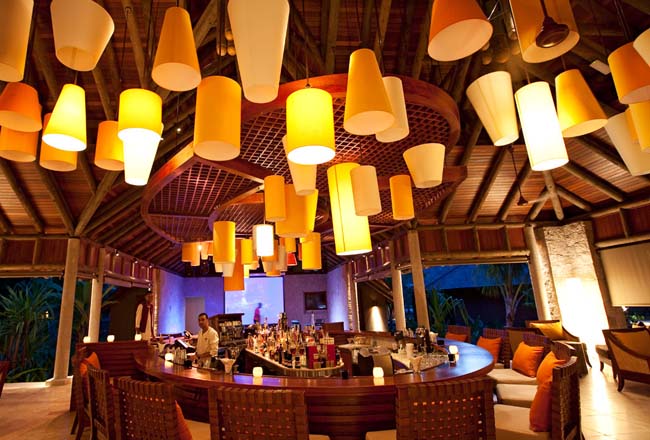 Constance Ephelia Resort of Seychelles has five restaurants and bars. Each outlet has its own individual concept, design, thereby optimising the possibilities in terms of culinary and bar experiences. The designs reflect elegance and functionality along with a subtle touch of African influence. Each restaurant name has a subtitle, reinforcing the concept in just a few words. The resort is very much child friendly and offers different menus to appeal to different ages – including gourmet baby food throughout the resort.
Corossol Live – Main restaurant serving international food in a buffet style. The main focus is the live cuisine creating interaction between the chefs and the guests with an Asian station with wok and tandoori action, as well as Asian noodles, central station featuring a beautiful pizza oven, pasta station, grill and plancha, to name just a few. Desserts in Corossol are not to be missed!
Helios – Mediterranean, casual chic restaurant on the South beach, with its main feature being a large wood-burning oven. Open for lunch and based on a buffet service with influences from the South of France, Italy, Spain, Morocco, Lebanon, etc. Tapas, mezze, antipasti, are followed by thin and crispy pizzas, whole fish and dishes baked in the oven in cast iron PANS. A wide range of creative pasta is also on offer.
Adam & Eve Ethnic Grill – The a la carte restaurant on the South Beach with a very relaxed and cool atmosphere with its sand flooring and design inspired by Africa and the granite rocks of the Seychelles. Its open kitchen offers a selection of creative salads, a large selection of skewers and quality meats and fish dishes grilled or cooked a la plancha in front of the guests. Another speciality of this restaurant is the native breads that are prepared and cooked on site and served with the resorts signature chutney.
Cyann Signature Cuisine – The haute cuisine restaurant of the resort, unique in its concept and design. Casual chic for lunch, the restaurant turns into an elegant and refined venue in the evening, and proposes a selection of signature dishes, that combine the precision of French culinary techniques with the lightness and flavours of local and Asian influences.
Seselwa Cuisine des Iles – A casual outlet with a lively ambiance and facing the gorgeous North Beach. Breakfast is served buffet style. At lunch and dinner, Creole specialties and the freshest seafood is grilled in front of the guests on the central grill.
Zee BAR – The main bar features three distinctive ambiances, and offers an extensive selection of drinks as well as a very creative range of cocktails, specially designed by our mixologist.
Helios Bar – Located next to pool, facing the beach and adjacent to Helios restaurant
Adam & Eve Bar- situated next to pool 3, facing the beach and adjacent to the Adam & Eve Ethnic grill. It specialises in fresh fruit and vegetable juices, smoothies, natural and healthy drinks, as well as local drinks served in green coconuts.
Cyann Bar – the most elegant in the resort, it features a unique selection of aged rums from around the world and single malt whiskies, as well as rare spirits, and sophisticated range of cocktails. Guests can also enjoy a glass of wine, especially selected by our sommelier and served from the glass cellar.
Seselwa Bar – located right on beautiful North Beach, and casually surrounded by relaxed seating, Seselwa bar is the place to enjoy a chilled beer or a tropical cocktail while listening to Creole tunes and socializing with other guests. Seselwa bar is lively and busy.
Leisure & Sports Facilities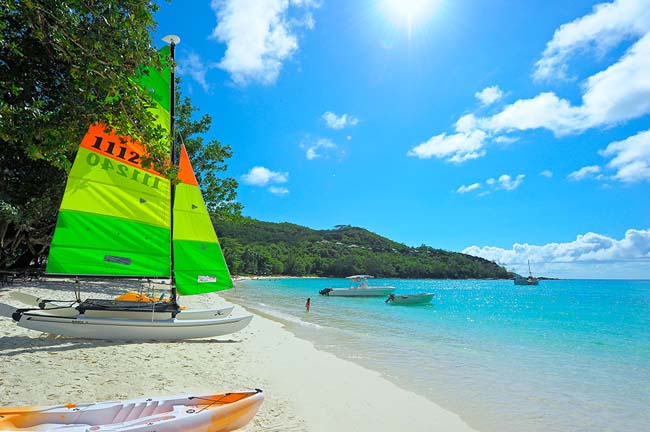 4 pools
Fitness Centre
Tennis
Squash
Boutiques
Bicycles
Watersports
Diving (PADI) with supplement
Yoga lessons on request
Spa de Constance Ephelia – A heavenly tropical Spa Village based on the nature and magic energy of Port Launay. A site of peaceful tranquility to re-energize soul, body and mind.
For more information or to book, please contact the reservations team.
Call 01928 246 243
Online Enquiries: Click Here