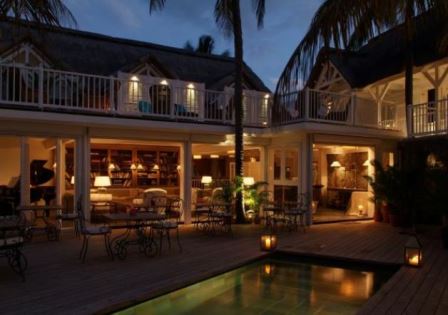 20 Degrees Sud
Hidden from view behind an impressive carriage entrance door in oak and concealed within an old coconut grove bordering the waters edge, lies one of the best kept secrets of Mauritius, the Hotel 20 Degrees Sud, the first on the island to offer both the luxury and excellence within the dimensions of an attractive, privately run hotel. true haven of refinement and exclusivity: this small, intimate hotel comprises 35 bedrooms decorated with antiques as well as stunning furniture and furnishings. This is an adult only hotel. Plus 20 Degrees Sud is affiliated with the prestigious Relaix & Chateaux so you are in good hands.
Board Basis: Half Board, Departure Date: Low Season, Departs: London Heathrow
Our Opinion
We love this small hotel. There is nothing really anything similar in Mauritius. It is a bit of Mauritius meets Cuban Cigar Room, meets Cape Cod Beach house, meets timeless luxury, meets boutique, meets small B&B.
This is a great place to recharge but if you are after a big hotel with things going on everywhere, endless activities and bars – it won't be right for you! But perhaps do a twin-centre and stay here to relax and soak up the intimate atmosphere and the head off to a larger resort (or vice versa). But all the same, it would be a lovely place for longer durations too.
Like their website states, it is 'not ostentatious luxury but far more: elegance and refinement which really give you the feeling of being in a world apart, of belonging to a club of the initiated!'
Location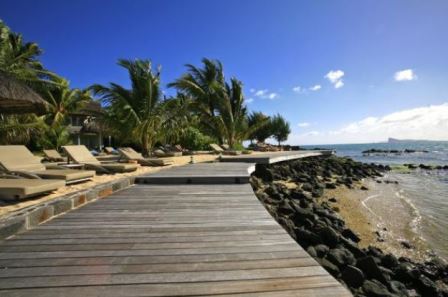 20 Degrees Sud is situated in exceptional surroundings not far from the Pointe aux Canonniers at the mouth of the beautiful bay of Grand Baie.
Accommodation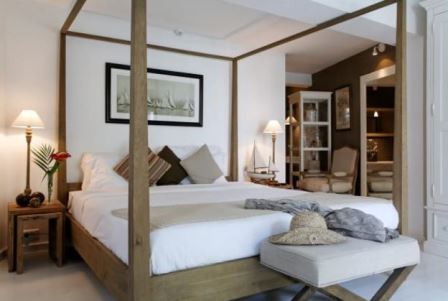 20 Degrees Sud has 30 rooms and 6 suites, some of which are less than 10m from the beach. All the bedrooms are different.
All the rooms are air-conditioned and are tastefully furnished and equipped with queen-size bed, safe, plasma extra flat screen television (17 channels), multimedia system giving access to more than 160 movies, telephone and free access to WIFI internet. NB : (for those wishing to download heavy files, a very high speed pay connection is also available)
A minibar and tea – and coffee-making facilities are at your disposal. The 'Beachfront' rooms, the 'Suites' and the 'Austral Suites' are equipped with a Nespresso machine. Those rooms provide also Ipod/Iphone docks.
Each bathroom is equipped with an old style bath, a separate shower and two wash basins built into a beautiful wooden surround. The suites additionally have either an outdoor jacuzzi or a small private swimming pool.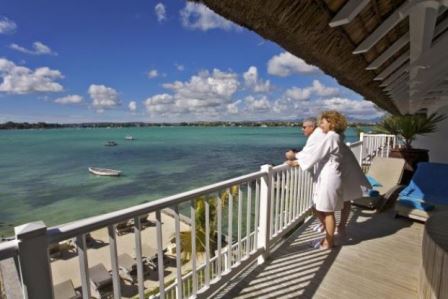 Charm Rooms – these range in size and face the pool with limited views.
Beachfront Rooms – These nine very beautiful rooms, five of which are located on the first floor, are bright, on the waterfront and offer a stunning view of the bay.
Suites – Two suites (including one triple), look out onto the bay in a truly, exceptional setting! The suites additionally have either an outdoor hot tub or a small private swimming pool. They are 20m from the water and each has an outdoor jacuzzi. The view from their terraces alone justifies their
Austral Suites – these are all different, offering a surface area of more than 80m2. They are each equipped with a small private plunge pool overlooking the sea, for those on the ground floor and for those on the first floor, with a large jacuzzi. Their terraces are less than 2m from the water and the breathtaking view gives you the impression of literally being on board a boat. The blue of the sea is so omnipresent that it, alone, creates an exceptional setting.
Restaurants and Bars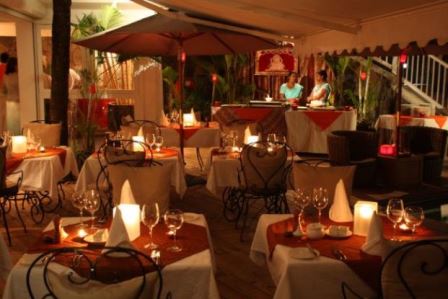 20 Degrees Sud offers three totally exclusive restaurant spaces, with the Main restaurant facing the beach, another on an island off the coast and the third on a beautiful old boat renovated by the hotel: the MS Lady Lisbeth.
Main Restaurant – The kitchen offers superb cuisine such as fresh fish, succulent South African beef along with an excellent wine menu. The restaurant is situated just 10 metres from the sea. Several different dining areas are at your disposal: at the edge of the main swimming pool, inside or on the seashore.
Lady Lisbeth is a 17m vintage boat in teak built in 1929. Every evening she sets sail on a gastronomic cruise around the bay. Welcome drinks are served on the deck before the boat leaves its mooring at the hotel and heads towards the calm waters of the Grand Baie where it anchors, just off the town, for dinner.
Flat Island – The hotel has an extraordinary site at its disposal on Flat Island. Housed within an old ruin dating from the 19th century, now a listed building is a little restaurant we have fitted out in the middle of nowhere: Just a few tables, a magical setting on a wild beach looking out to sea within lush and protected surroundings. Every effort is made to respect the natural environment, even your shower water is desalinated using solar energy. Fresh fish, lobster and Australian meat kebabs are on the menu. The hotel's private Catamaran will take you to the island, a journey of 1.15 hours, and is also available for private hire for cruises around the island, drinks at sunset etc
Leisure and Sports Facilities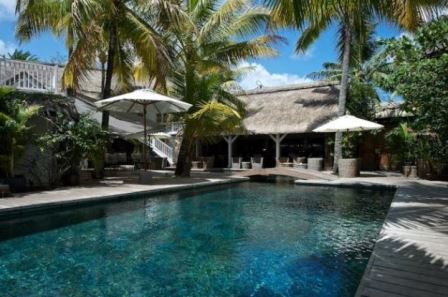 Swimming Pool
Beach & Lounge Area
Billiards Room
Spa
Boats
Excursions, Diving, Sailing, Golf all can be arranged.
For more information or to book, please contact the reservations team.
Call 01928 246 243
Online Enquiries: Click Here