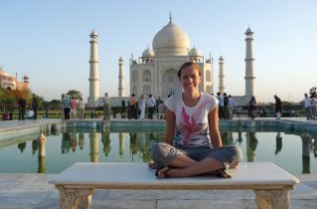 Indian Getaway Tour
Board Basis: Mixed Meal Plan, Departure Date: Low Season, Departs: London Manchester
Escape the everyday and discover a country that contrasts itself more than the comforts of home. From the spiritual city of Varanasi to the chaotic capital of Delhi – this is an adventure that brings with it an overwhelming encounter of culture and diversity that's sure to stir the soul. Witness the glistening beauty of the Taj Mahal, feel enlightened on a boat trip along the River Ganges, reflect at the pavilion of mirrors in Amber Fort and get the royal treatment during a 16th-century heritage stay, bring an open mind and an open heart as you plunge head first into this utterly captivating destination.
Tour Highlights
Your expert leader navigate you through the vibrant, bustling capital of Delhi.

The majesty and story of the Taj Mahal is a big part of India's allure. Prepare to have all expectations exceeded when you witness the morning light shimmering off its white marble surface.

Spend sunrise along the holy Ganges River in Varanasi, watch thousands of Hindu pilgrims cleanse their sins in the holy water as the sun bathes the surrounds in glorious shades of amber and orange.

The village of Tordi Garh is a place few travellers get to see. Get a glimpse of the real Rajasthan on a walk through the town, then spend the night in a heritage-listed palace.

Travelling across India wouldn't be complete without a journey on a sleeper train. With padded bunks and vendors selling chai and samosas, they're a quintessential Indian experience.
Our Opinion
This is a fantastic tour offering the classic 'Golden Triangle' tour with the extension of Varanasi, giving a true flavour of Rajasthan. In addition, you'll experience the overnight train experience, which is so quintessential to travelling in India. A brilliant, affordable option for anyone wanting to get an authentic Indian experience.
Itinerary In Brief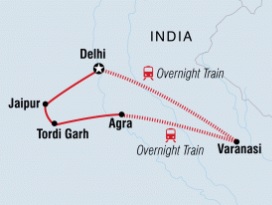 Delhi – 1 night
Overnight Train – 1 night
Varanasi – 2 nights
Overnight Train – 1 night
Agra – 1 night
Tardi Garh – 1 night
Jaipur – 2 nights
Delhi – 1 night
Full Itinerary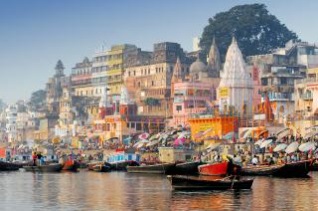 Day 1: Delhi
Honk-honk! Beep-beep! Welcome to Delhi, a fabulously chaotic capital city that will warm your heart and overwhelm your senses. The air is thick with the smell of spices and the sound of mayhem as vendors whip up masala chai on the side-streets, locals barter at bazaars for the best bargain, bhangra music blasts from the alleyways and the honking horns of cycle-rickshaws resonate through vast crowds of colourful sari-clad women. With no activities planned until your welcome meeting at 6 pm, why not head out and explore the streets. After the meeting, perhaps get to know your new travel buddies over an optional group dinner.
 
Day 2: Delhi – Overnight train
This morning, check out the sights and sounds of Old Delhi on a leader-led tour of this enchanting quarter of the capital. Take a ride on the city's modern metro system, get a taste of India's famed public transport with an optional cycle rickshaw ride through chaotic streets (such as the famous Chandni Chowk), perhaps make a visit to the Jama Masjid – Delhi's oldest mosque and one of its most impressive buildings – then stop by the Sheeshganj Gurudwara (Sikh Temple) to learn about the Sikh religion. In the evening, board an overnight sleeper train bound for Varanasi (approximately 13 hours).
 
Day 3: Varanasi
On arrival into Varanasi this morning, check in to your hotel and freshen up before heading out on a guided walking tour of the Old City. Set along the banks of the holy Ganges River, Varanasi is the ultimate destination for Hindu pilgrims who travel from far and wide to experience this spiritual city. Overflowing with temples, shrines and devotees, it might not be one of the world's cleanest cities but there's no doubt it's one of the most amazing. It's a unique experience to navigate through Varanasi's maze of narrow alleyways packed full of small shops, stalls and lumbering cows. See pilgrims performing rituals unchanged for hundreds of years and pass chiming temples as wafts of incense fill the air.
 
Day 4: Varanasi
Today's an early start, but it's completely worth it as you take a boat ride down the Ganges to watch the sun rise. Even if you're not the spiritual sort, you can't help but get goosebumps. Pass the many ghats (stairs leading to the water) and temples along the river, and watch thousands of Hindu pilgrims cleanse their sins in the holy water as the sun bathes the surrounds in glorious shades of amber and orange. Witness the rituals of life and death taking place along the riverbank and be prepared for potentially confronting sights and smells, as this is also where families come to cremate deceased loved ones. The rest of the day is free to explore.
 
Day 5: Varanasi – Overnight train
Today there's lots of free time to explore more of Varanasi before you get a unique slice of Indian life on board an overnight sleeper train bound for Agra (approximately 13 hours). You could take a trip to nearby Sarnath, one of the four main Buddhist pilgrimage destinations and the site is where Buddha preached his message of the path to enlightenment. There's also the crumbling 17th-century fort and palace on the eastern bank of the Ganges, Ram Nagar Fort. Varanasi is home to India's silk-making industry, so maybe investigate the many silk markets dotted around the city, otherwise, take the chance to perfect your yoga in the ultimate chakra-balancing place.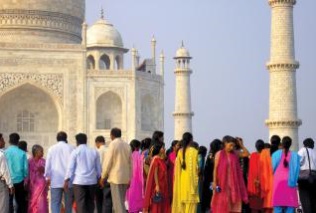 Day 6: Agra
Agra might not be the prettiest city in the world, but the minute you check out its top-notch site that won't matter one bit – of course, we're talking about the glorious Taj Mahal – and you'll head out for a guided tour of this elaborate monument on arrival. Afterwards, enjoy a free day to explore Agra's alternative highlights. An optional trip on a motorised rickshaw takes you to some of the city's best monuments. If you've got the energy, head out to Agra Fort and stroll the palatial gardens of this red sandstone stronghold or check out Akbar's Mausoleum, a beautiful sandstone and marble tomb built for the greatest of the Mughal emperors. In the evening, perhaps try Agra's delicious signature curry – butter chicken.
 
Day 7: Tordi Garh
Jump into private transport and drive through idyllic countryside to Tordi Garh, a village that few travellers venture to (approximately 8 hours). This remote and rarely visited village offers a fantastic glimpse of the real Rajasthan. Once there, meet the locals, visit the old village temple and wander through the markets, gaining an insight into everyday life in this peaceful community. Tonight you'll sleep in heritage accommodation, a 16th-century palace with its owner as your host. Settle in, then savour delicious local flavours in tonight's included dinner.
 
Day 8: Jaipur
Journey to Jaipur by private vehicle (about 3 hours), India's oh-so-pretty Pink City. You'll have plenty of free time here to haggle to your heart's content at the bazaars and backstreets where vendors sell a variety of textiles, precious and semi-precious gems and stunning blue pottery. Enjoy a guided walk on arrival to orientate yourself with the city, then perhaps drop by one of India's finest palaces, the Royal City Palace. Food lovers will want to hit the streets for raj kachori chaat, a big fluffy chaat served with chutney, yoghurt, chilli and potato. Then cool off with a lassi at Jaipur's oldest and most famous lassi shop. Cinema buffs won't want to miss the chance to take in a Bollywood blockbuster at the spectacular Raj Mandir Cinema this evening. Your accommodation for tonight will be in another family-run heritage hotel.
 
Day 9: Jaipur
If you're keen for a different view of the Pink City, an optional early morning hot air balloon ride is a trip highlight for many visitors. For more information please see the 'Important Notes' section of your trip notes. Later in the morning, you'll drop by Hawa Mahal (Palace of the Winds), the impressive five-storey facade with pink and honeycombed windows is it the most photographed building in the country after the Taj Mahal. Then it's out to the old capital of Amber and an exploration of the hilltop fort complex known as the Amber Fort. The rest of the day is free for you to spend as you like.
 
Day 10: Delhi
This morning, take a train ride back to India's capital (5 hours). This exciting city is overflowing with incredible historic sites, museums and galleries, shops and endless bazaars. Watch one of the world's greatest shows unfold as people, cars, rickshaws and cows all work together in a kind of organised chaos. Perhaps sit back with a chai and let it all soak in as you enjoy a free day to explore. Ask your expert leader for their top recommendations on how to make the most of your time here. This evening, enjoy an optional dinner with your group to say goodbye to this incredible country and toast to your adventures.
 
Day 11: Delhi
The trip comes to an end this morning and there are no further activities planned.
Inclusions
Need To Know
As this is a Basix trip, there is plenty of free time built into the itinerary for you to enjoy as you wish in each destination. Your leader will take you on an orientation walk to get your bearings and give you plenty of suggestions, but then what you do next is up to you! Please take into account spending money for optional sightseeing that isn't included in the trip cost when budgeting for your journey.

The regions visited on this trip can be extreme in temperature. It's important to prepare for hot temperatures during the day and cooler climates in the evening. Rajasthan in particular can be very hot, especially in the summer. Layers are the best way to tackle any disparities in weather.

We visit a number of temples on this trip, which requires a certain level of modesty. Please bring clothes that cover the arms and pants or skirts that go past the knees. A light scarf is also a good idea for covering shoulders and arms when it's hot.

This trip involves some long train rides, including a couple of overnight trains. The train journey from Delhi to Varanasi is approximately 13 hours, while the trip from Varanasi to Agra takes 11 hours. While this can be tiresome, train travel is a classic Indian experience. Sleeper trains are clean and air-conditioned and a great way to travel long distances while still getting maximum time in each place. Beds are padded berths with sheets, pillow and blanket provided (although some people prefer to bring their own sleeping sheet). Please note that you may be sharing with locals of the same or opposite gender. For your own security, take a lock for your hand luggage. Sleeper train journeys in and out of Varanasi can be subject to long delays because of weather conditions, including heavy rain or fog.

You will also be travelling by local bus on this trip. While conditions are basic, this is a great way to rub shoulders with the locals while enjoying the passing scenery.
For more information or to book, please contact the reservations team.
Call 01928 246 243
Online Enquiries: Click Here