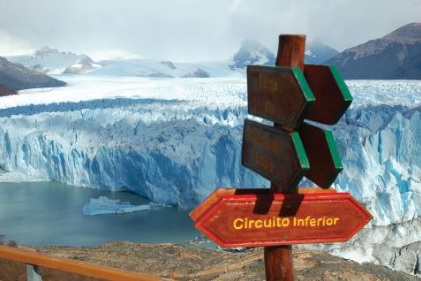 Highlights of Patagonia
Board Basis: Mixed Meal Plan, Departure Date: Low Season, Departs: London Heathrow
Our Opinion
This is a new itinerary which will allow you to explore some of the most stunning scenery in the whole world. Patagonia offers some absolute breathtaking landscapes and wildlife, and the excursions offered on this trip will undoubtedly give you the experience of a lifetime.
Tour Highlights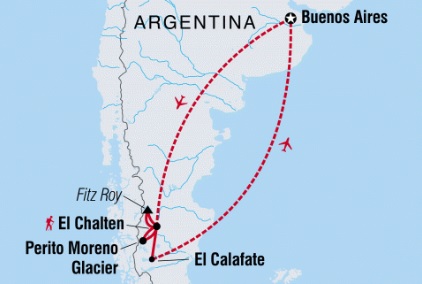 Begin in Buenos Aires, Argentina's sensational and sultry capital.
Hike through the incredible Patagonian wilderness on hikes such as the Laguna de los Tres and Laguna Torre.
Argentina's Perito Moreno Glacier must be seen to be believed. This massive, blue-hued natural wonder is one of Patagonia's real crown jewels.
Cap off the adventure by trying your hand at tango. A workshop and one-hour lesson with professional dancers gives a great introduction to the style.
Itinerary in Brief
Buenos Aires – 1 night
El Chalten – 3 nights
El Calafate – 2 nights
Buenos Aires – 1 night
Full Itinerary
Day 1
Buenos Aires – Welcome to Buenos Aires, the ultimate cosmopolitan city. With Latin passion, European elegance and a distinctive style, it may well steal your heart. Attend a group meeting at 2pm. Your leader will leave a note at reception telling you where the meeting will be. The adventure begins straight after the meeting with a two-hour orientation walk of the city. During the walk we will visit Avenida de Mayo, Cafe Tortoni, Florida Street, Plaza de Mayo (Casa Rosada, Cabildo, Catedral de Buenos Aires) and Plaza Dorrego (San Telmo).
After the orientaion walk we'll take taxi's to Palermo to participate in a Tango class. Get ready to be captivated by Argentina's most famous dance; the Tango. In a private space a professional Tango couple will explain the dance's origin and history, as well as demonstrating the intimately fluid movements for you. You will then be invited to join an hour long beginner's class to learn some of the basic techniques and understand the rhythm.
Following the Tango class you may want to head to one of the many Parilla's (Steak houses) in the area. Transfers back to the hotel are not included however taxi's are easy to find and inexpensive.
Included Activities
Buenos Aires – Orientation Walk
Buenos Aires – Tango class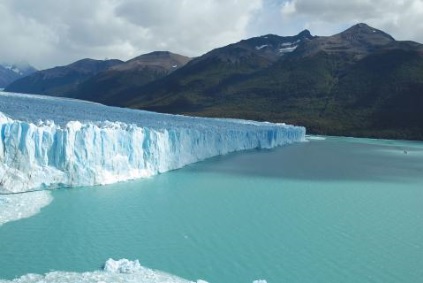 Day 2
El Chalten – Fly south from Buenos Aires to El Calafate (approximately 3 hours), then travel by van to the frontier town of El Chalten, north of Glacier National Park (approximately 3.5 hours). Hikers and climbers from all around the world congregate here; the atmosphere is laidback and outdoors-oriented.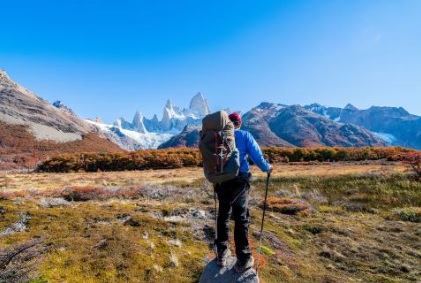 Day 3
El Chalten (Trek) – Over the next two days, take on two of the most popular day treks in the area: Laguna de los Tres and Laguna Torre. While the Laguna de Los Tres offers awesome views of Cerro Fitz Roy (3,405 m) and its two sister peaks, it's moderate to difficult, and involves quite a steep climb in its latter stage. You'll need good fitness for this. On the other hand, the Laguna Torre trail boasts superb views of the Cerro Torre peak (3,102m), and is a touch easier than Laguna de Los Tres. You can expect to walk from six to nine hours on clearly marked and well maintained paths. The terrain itself is not difficult. Wind and rain may be the main challenges you face on these walks. The hikes we trek and the order in which we trek them may change depending on weather conditions.
Included Activities
El Chalten – Day hike to Laguna de los Tres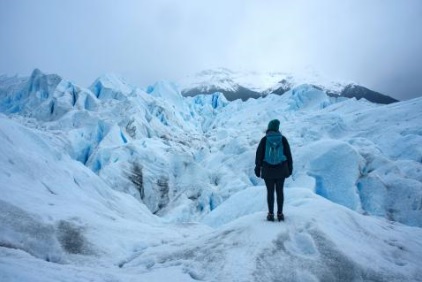 Day 4
El Chalten (Trek) – Complete whichever trek you didn't tackle yesterday.
Included Activities
El Chalten – Day hike to Laguna Torre
Day 5
El Chalten / El Calafate – Take a private transfer from El Chalten to El Calafate. Use the opportunity to relax and unwind after your two days of adventures on foot.
Day 6
El Calafate (Perito Moreno Glacier) – Visit the Perito Moreno Glacier. This is one of the few advancing glaciers in the world and at 3 km (1.8 miles) wide and 35km (21 miles) long is a spectacular sight. Watch and listen to the crack of the ice as it plunges into the waters below. When it's all over, return to El Calafate for the night.
Included Activities
El Calafate – Perito Moreno Glacier visit
Day 7
Buenos Aires – Take an included flight back to Buenos Aires. The afternoon is free to further explore the city.
Day 8
Buenos Aires – The trip ends after breakfast.
Extensions
If you would like to extend your trip, maybe with some additional days in Buenos Aires or elsewhere in South America, then don't hesitate to contact our expert team today to help tailor your dream getaway.
Need to Know
Included:
Meals – 7 breakfasts
Transport – Plane, Private vehicle
Accommodation – Hotel (7 nights)
Activities;

Buenos Aires – Orientation Walk
Buenos Aires – Tango class
El Chalten – Day hike to Laguna de los Tres
El Chalten – Day hike to Laguna Torre
El Calafate – Perito Moreno Glacier visit
For more information or to book, please contact the reservations team.
Call 01928 246 243
Online Enquiries: Click Here