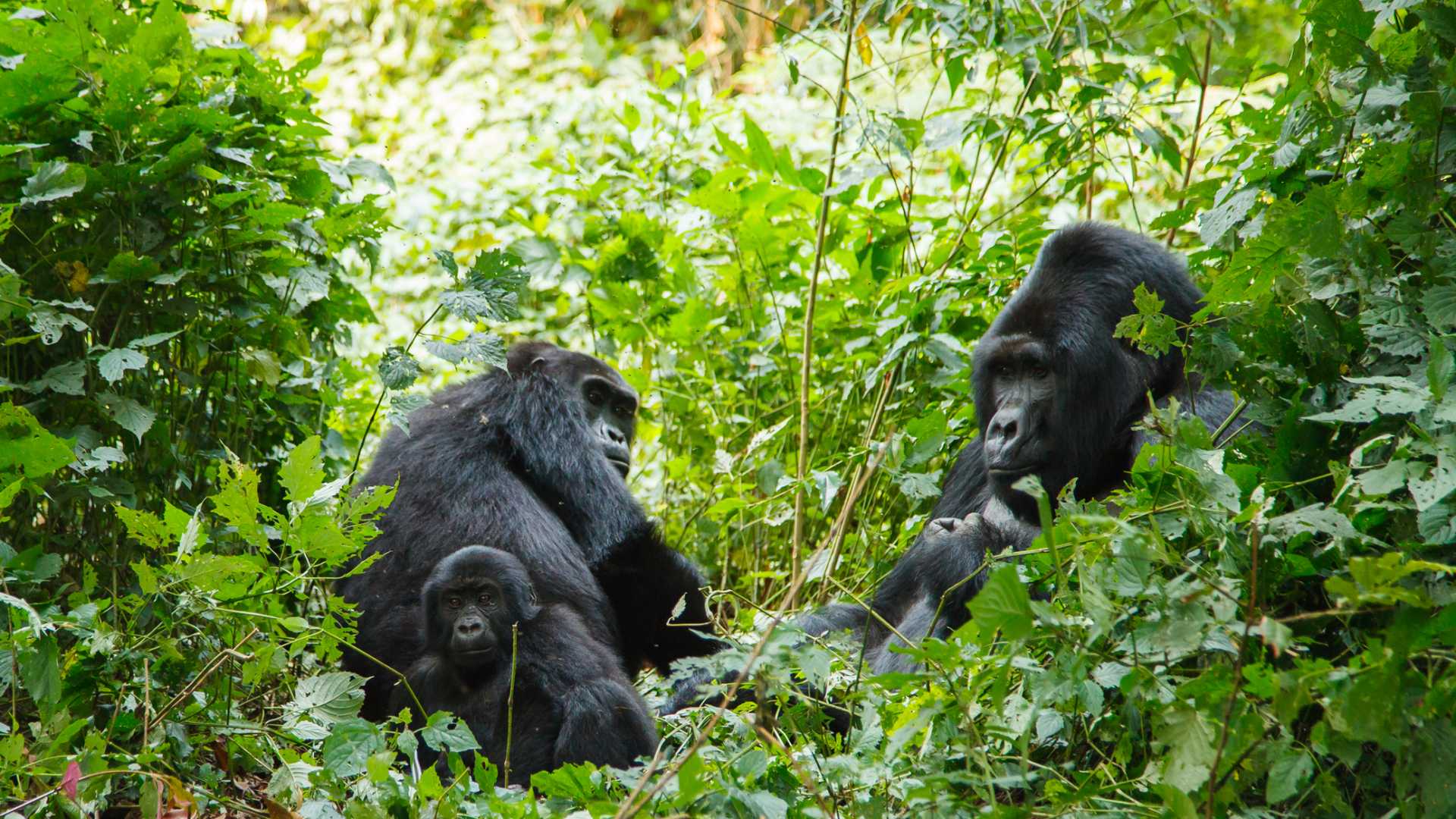 Gorillas & Game Trek Overland Safari
Board Basis: Full Board, Departure Date: Low Season, Departs: London Manchester
Trip Highlights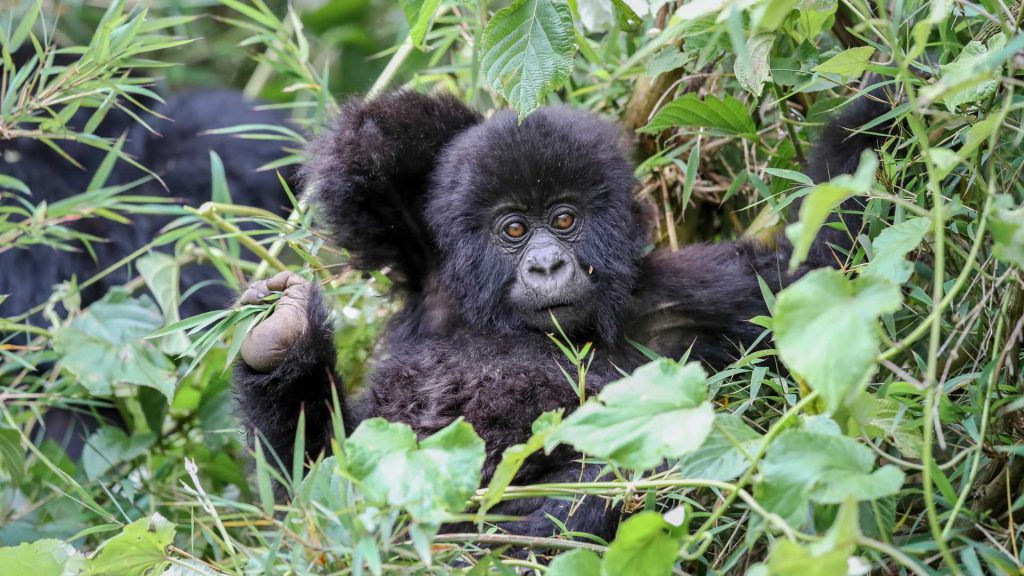 – Lake Nakuru National Park and its lake. Meet local children at the East African Mission Organisation.
– The Equator crossing
– Gorilla Trekking – optional. Bwindi or Mgahinga Gorilla park in Uganda.
– Jinja (famous for its Nile rafting)
– Lake Naivasha, the highest of the Rift Valley lakes
– The Masai Mara, one of Kenya's finest wildlife reserves and the Masai tribal lands
– Kampala, Uganda's capital city
– Lake Bunyoni, spectacular scenery.
– Great Rift Valley system of lakes
Full Itinerary
Welcome to Nairobi! We'll be there to collect you at Nairobi Airport and transfer you to the Kenya Comfort Hotel. Tonight you will stay in shared dorms. There will be a pre departure meeting at 17.00.
Overnight: Nairobi
Nairobi – Masai Mara. Heading west from Nairobi on day 2, we reach possibly Kenya's most famous natural attraction – the Masai Mara National Reserve. The Kenyan section of the wildly beautiful Serengeti Plains teems with wildlife. The highlight of the Mara is no doubt the annual wildebeest migration, when literally millions of these beasts plus zebra and Thomson's gazelle stray north from the Serengeti in neighbouring Tanzania in search of lush grass on the savannah plains. Elephant, lion, cheetah, giraffe and a multitude of hooved herbivores also inhabit the reserve. A game drive through the Mara on day 3 gives us the chance to spot the Big Five. During our stay we can also opt to visit a local Masai tribe.
Overnight: Masai Mara  |  Breakfast x 1, Lunch x 2, Dinner x 2
Masai Mara – Eldoret. Leaving the Masai Mara early on day 4, we head out of Masai Land and pass through the scenic tea plantations of Kericho before descending the Rift Valley Plateau, on our way to Eldoret – our stop for the night of day 4.
Overnight: Eldoret  |  Breakfast, Lunch, Dinner
Eldoret – Kampala (Uganda). This morning we cross the border into Uganda where we overnight it the capital city, Kampala.
Overnight: Kampala  |  Breakfast, Lunch, Dinner
Days 6-9 Lake Bunyoni & Gorilla Trekking
Kampala – Lake Bunyoni. From Kampala we drive to Lake Bunyoni, the deepest Crater Lake in Africa and home to a large and varied number of beautiful birds, which is the base from which the optional Gorilla trek takes place. Dependant on where trekking permits are available, we trek in the Magahinga or Bwindi National Parks in Uganda.
We depart from our base in Bunyoni in small groups over 3-4 days, depending on the group size. We wind our way through arguably some of the most picturesque scenery in Africa en-route to the National Park. Dependant on where permits are available, we may spend a night in Kisoro en route. The following morning, after packing our picnic lunch, we are transferred to a ranger's station where the trek commences. Your rangers will lead you through the cultivated lands and then into the dense rain forest and on to a gorilla family. Trekking can take anywhere from 45 minutes to 8 hours and it can be quite strenuous. To ensure the gorillas do not get too used to the presence of humans and because they share many of our genes (and therefore able to catch our diseases), the maximum time permitted to spend with them is 1 hour. You will have plenty of time to watch their activity and to take photographs. The rangers will be able to provide you with a background to the family you are visiting. Once your hour is up, you trek back out of the rain forest to your meeting point where you will be transferred back to the Lake Bunyoni campsite.
Overnight: Lake Bunyoni  |  Breakfast x 4, Lunch x 4, Dinner x 4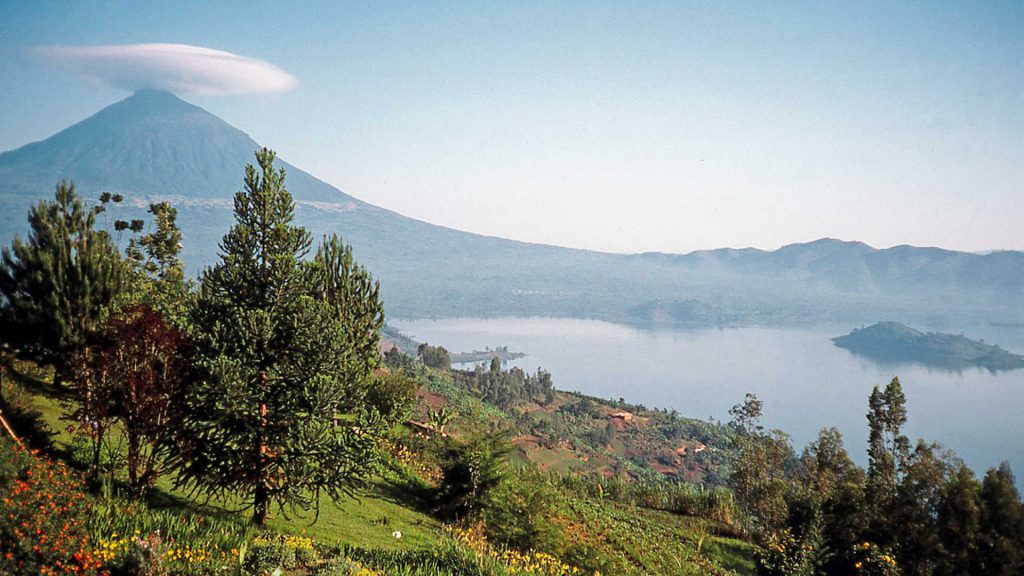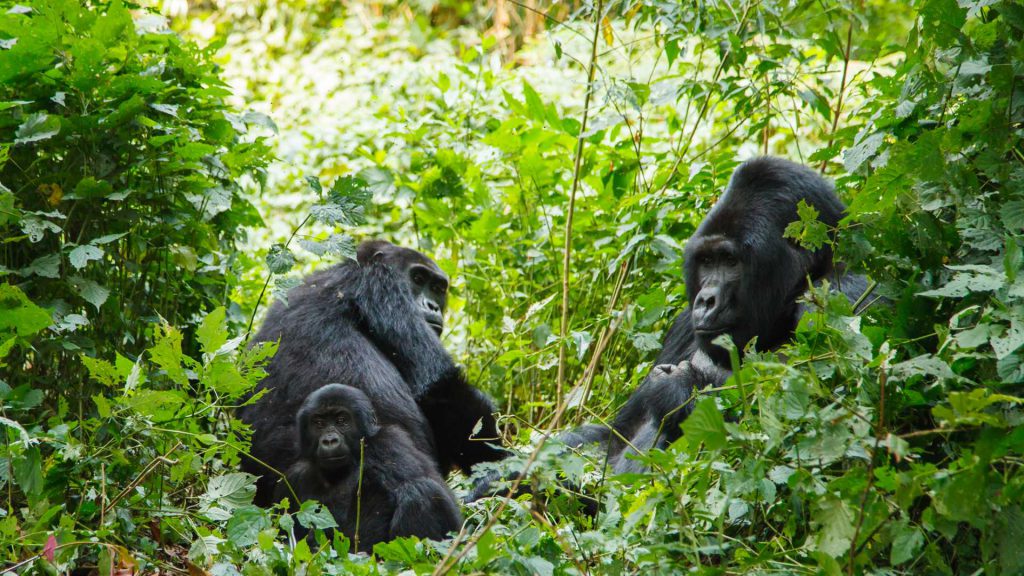 Lake Bunyoni – Kampala. After marvelling at the experience of our gorilla encounters and enjoying the peaceful Lake Bunyoni, we begin our drive back to Kampala. We cross the Equator for the second time and stop for the classic "one foot in each hemisphere" photo opportunity. We overnight in Kampala and have the opportunity to sample its night life!
Overnight: Kampala  |  Breakfast, Lunch, Dinner
Kampala – Jinja. Today we have the option of visiting the Ngamba Island Chimpanzee Sanctuary or heading to Jinja for a selection of adventure activities including white water rafting at the source of the White Nile, quad biking or visiting a volunteer and community project. Spend the afternoon relaxing on the banks of the river, or ticking off the wide variety of water birds in this area.
Overnight: Jinja  |  Breakfast, Lunch, Dinner
Jinja – Nakuru (Kenya). Departing early, we head back to Kenya and spend the night outside Nakuru at a lovely campsite on a local farm. Nakuru is Kenya's 4th largest town and capital of the Rift Valley Province and lies adjacent to the small but wildlife rich Lake Nakuru National Park.
Lake Nakuru National Park is home to a veritable array of wildlife. The park supports a population of black rhino, lion, leopard, zebra, antelope and giraffe not to mention millions of pink flamingos. The lake itself is a shallow soda lake. The following morning we begin our exploration of the national park and after our game drive, we head back to camp.
Overnight: Lake Nakuru  |  Breakfast x 2, Lunch x 2, Dinner x 2
Lake Naivasha, is home to a multitude of bird life, the most magnificent being the African Fish Eagle with his regal cry. At 1880 m, this is the highest of the Rift Valley lakes. We spend the day enjoying optional excursions like Elsamere (former home to Joy & George Adamson of Born Free fame), a boat ride to the Crescent Island Game Sanctuary or a bike ride around Hell's Gate National Park.
Overnight: Lake Naivasha  |  Breakfast, Lunch, Dinner
Saturday. Naivasha – Nairobi. After breakfast today, we head back to Nairobi. On arrival we bid farewell to members of the group.
Breakfast
For more information or to book, please contact the reservations team.
Call 01928 246 243
Online Enquiries: Click Here