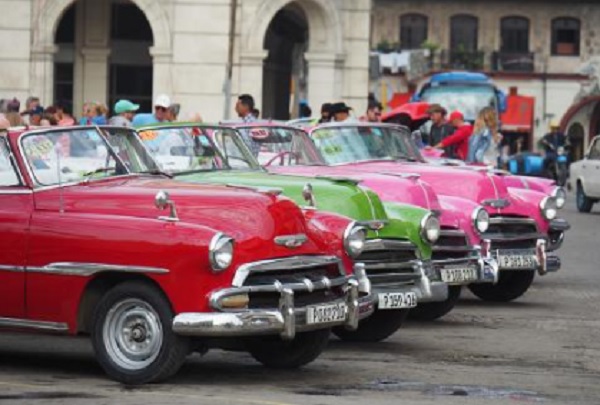 Cuba On A Shoestring
From city to country to coast, this is the perfect taste of Cuba. Begin on the charming streets of Havana, where old-time American automobiles, richly-scented Cuban cigars and an eclectic tapestry of architectures evoke a colourful past. Between the small-village vibes of Vinales and the outstanding charisma of Trinidad, discover Cienfuegos and its heartbreaking blend of Caribbean and Parisian flavours. With plenty of time to swim, snorkel, cycle and hike, this adventure combines Cuba's old-world allure – including a fascinating snapshot of Che Guevara – with some of its best and most scenic destinations for outdoor activities.
Board Basis: Mixed Meal Plan, Departure Date: Low Season, Departs: London Heathrow
Our Opinion
This tour is a really well-reviewed, popular choice for people looking at getting a slightly shorter, cheaper snapshot of Cuba. With a good variety of activities and plenty of optional activities to add in to suit your budget and itinerary, you're guaranteed an amazing experience!
Tour Highlights
Be swept away by the eclectic history of Cuba's capital as you join a knowledgeable local guide on a half-day tour of Old Havana.
Venture to the village of Vinales, where the small-town charms are many. Spend your time sipping rum in quaint bars with locals and exploring hidden caves in the mountains.
Stop in at the mausoleum of Che Guevara for a fascinating insight into the rise and fall of the charismatic and highly celebrated Cuban revolutionary.
With Parisian beauty and Caribbean pace, Cienfuegos lives up to its nickname 'Pearl of the South'. Wander the idyllic malecon (seafront) and be dazzled by the audacious architecture of the Palacio de Valle.
See why Trinidad is a favourite for many Intrepid adventurers. Wander the cobblestone streets alongside cowboys and farmers and clock the best-preserved colonial buildings in Cuba.
Itinerary In Brief
Havana – 1 night
Vinales – 2 nights
Playa Larga – 1 night
Trinidad – 2 nights
Havana – 1 night
Full Itinerary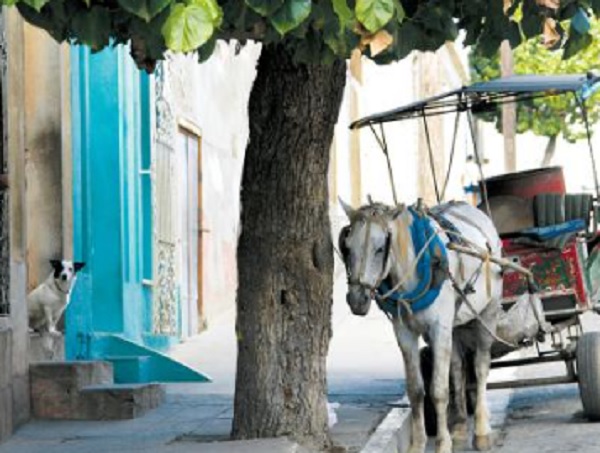 Day 1 – Havana: Bienvenido a Cuba! Welcome to Cuba! A complimentary arrival transfer is included with your trip. Please ensure you provide your flight details to your booking agent at least 14 days prior to travel so the transfer can be organised.
There will be a welcome meeting at approximately 6pm this evening. Please expect a letter from your leader in the afternoon of Day 1 to confirm the place of your meeting (if by 5pm you cannot locate this letter then please ask your guesthouse owner if one has been delivered, or ask to call our assistance line listed in the "Problems and emergency contact information" section of this document). Your insurance details and next of kin information will be collected at this meeting, so ensure you have all these details to provide to your leader. The tour briefing is generally followed by an optional group dinner.
Accommodation: Standard guesthouse (1 night)
Meals Included: There are no meals included on this day.
Day 2 – Vinales: This morning your leader will take you on a walking tour of the Old Havana. This tour includes a visit to the cathedral, Plaza de Armas, San Francisco de Asis, Plaza Vieja, Central Park and other sites. Next you will head west on a private bus to Vinales (approximately 3 hours). This is a small and charming rural village, and probably the easiest place in Cuba to mingle with locals, who are very sociable and love nothing better than to drink rum and dance the night away. The scenery around Vinales is some of the most picturesque in Cuba.
Accommodation: Standard guesthouse (1 night)
Included Activities: Havana – Guided walking tour of Old Havana; Vinales – Orientation Walk
Meals Included: Breakfast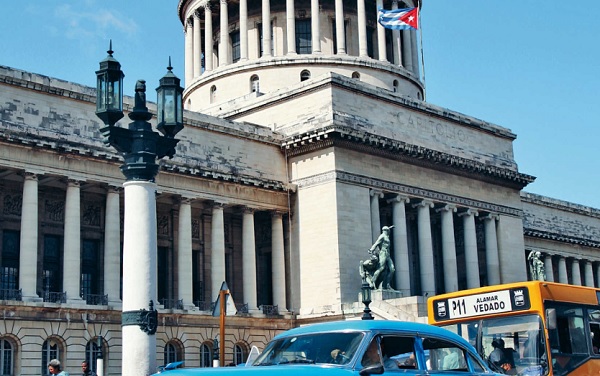 Day 3 – Vinales: You will have an included informal Spanish lesson when the group decides. Then enjoy some free time today in Vinales, which you'll soon see is home to extraordinary scenery that's some of Cuba's best. Soak up the slow, old-world pace of rural Cuba, as oxen plod gracefully along the streets. There are many optional outdoor activities available. You might like to cruise around the area on a bicycle, hike through the tobacco fields or to explore one of the America's largest cave complexes up in the mountains. Your leader will have further recommendations.
Accommodation: Standard guesthouse (1 night)
Included Activities: Informal Spanish lesson
Meals Included: Breakfast
Special Information: Cave visits will require sturdy footwear, as they can involve walking across slippery rocks.
Day 4 – Bay of Pigs / Playa Larga: Today is a long travel day – Head back to Havana before continuing east to Playa Larga (approximately 8 hours). You will stop at the Bay of Pigs for a swim, and if there is time you can hire snorkel gear. Continue to Playa Larga where you'll spend the night.
Accommodation: Standard guesthouse (1 night)
Included Activities: Bay of Pigs – Visit & swim
Meals Included: Breakfast
Day 5 – Trinidad: Hit the road again today, firstly visiting the Giron Museum to learn about the Bay of Pigs Invasion – the battle between the US and the Cuban revolutionaries which resulted in the first defeat of a US-backed takeover in Latin America. Next stop is Cienfuegos, which some locals like to call 'The Pearl of the South'. You'll have time for an optional lunch or simply discover its beautiful colonial centre, with its wide Parisian-style boulevard and elegant colonnades. If there is time, pay a visit to the Palacio del Valle with the group. Once a modest home for a local trader, this palace is now Cienfuegos' architectural pride and joy. The entire edifice drips with ornate carvings in Venetian alabaster. Then finally on to Trinidad (approximately 1 hour drive) is a standout destination for many visitors to Cuba, due in no small part to a friendly populace, old-fashioned feel and particularly well-preserved colonial buildings. The Santeria religion (a voodoo-like Afro-Cuban tradition) which is practiced here makes the town all the more intriguing. For an insight into the colourful post-revolutionary period, the Museo Nacional de la Lucha Contra los Bandidos and the Casa de los Mártires de Trinidad are great to visit. Nearby is the sprawling Valle de los Ingenios, where sugar plantations stretch out as far as the eye can see.
Accommodation: Standard guesthouse (1 night)
Included Activities: Playa Giron – Museum Giron Entrance and Film; Cienfuegos – Orientation Walk; Trinidad – Orientation walk
Meals Included: Breakfast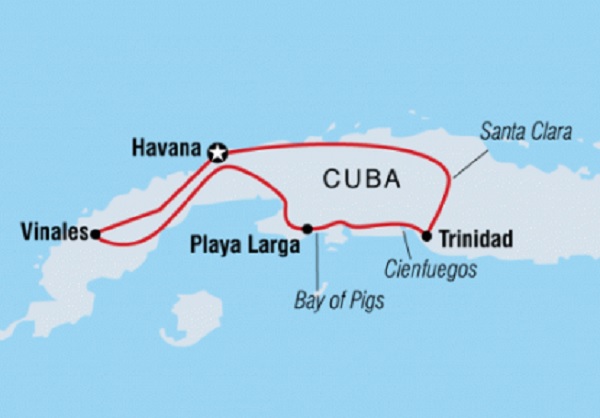 Day 6 -Trinidad: Today is a free day in Trinidad. For some beachside fun and perhaps a little snorkelling, head down to Playa Ancon. Just be careful you don't stand on a sea urchin. Hiking and cycling are equally good options, and there are some excellent walking trails in the nearby Sierra del Escambray mountains. At some point while you're here, a great activity is to go to a folklore show at one of the town's numerous open-air venues. Cuba has a rich and varied music and dance tradition that draws roots from Spain, Africa and France, and this is your chance to experience it all first-hand, from the Mambo to the rumba.
Accommodation: Standard guesthouse (1 night)
Meals Included: Breakfast
Day 7 – Havana: On the way back to Havana you will pass by Santa Clara to visit the Che Guevara mausoleum and memorial. Che's remains were brought to rest here after they were found in a remote corner of Bolivia in 1997, where he was assassinated by the CIA-backed Bolivian army. There is an impressive bronze statue of Che bearing his rifle. Inside the museum, you can learn about his amazing life and see photos and exhibits such as his famous black beret. On reaching Havana you will return to your guesthouse, then enjoy some free time. Take the opportunity to hit the town for a final night of salsa.
Accommodation: Standard guesthouse (1 night)
Included Activities: Santa Clara – Visit to Che Guevara Mausoleum and Museum; Havana – Visit to Plaza de la Revolucion
Meals Included: Breakfast
Day 8 – Havana: Your trip comes to an end after breakfast this morning. Check-out time is 10am. You may be able to store your luggage at the guesthouse for an extra cost.
Meals Included: Breakfast
Optional Activities
All can be added to your itinerary using the relevant code below:
Day 1
Buena Vista Social Club – CUC30
Cigar factory tour – CUC12
La Cabana Fortress canon blast ceremony – CUC8
Baseball game (Oct – Apr) – CUC3
Tourist bus day pass – CUC5
Ernest Hemingway tour – CUC70
Morro Castle – CUC3
Day 3
Bicycle hire (per day) – CUC5
Live music venues – CUC2
Palenque Cave – CUC1
Cueva del Indio (Cave visit with boat trip) – CUC5
Salsa lesson (per hour) – CUC10
Vinales valley guided walking tour – CUC10
Day 6
Bicycle rental (full day) – CUC5
Live music venues – CUC5
Musical instrument lesson (guitar, double bass, tres, percussion – per hour) – CUC10
Trek to El Nicho Waterfall (taxi, entrance fee & guide) – CUC27
Ancon beach shuttle bus – CUC4
Cayo Blanco island catamaran cruise – CUC45
Day 7
Jose Marti Memorial Tower – CUC2
Extensions
If you're looking at extending your trip either in Cuba, or maybe in a US/Caribbean beach resort before/after this tour, then don't hesitate to contact us and we can discuss available options.
Need to Know
The guesthouses (Casas) we use are much nicer than your average Cuban dwelling but keep in mind that each and every room is unique. Regardless of where you stay, power cuts and breaks in hot water are sometimes unavoidable, as in any developing country.
Funds can be difficult to access in Cuba. Ideally bring multiple credit cards from several different banks just to be sure.
Luxuries such as air conditioning, and even toilet seats, are often scarce. Part of the experience here is learning to appreciate everyday Cuban resourcefulness.
Internet access can be hard to come by, and when it's available it's often unreliable and expensive. This is, on the other hand, a great opportunity to take a break from modern devices and have a true holiday.
Cuba is different, and that's a big part of its allure. Things don't always go according to plan, and many things don't work the same way as back home. Patience and good humour will go a long way in this beautiful destination.
Life in Cuba may be slower and simpler than what you're used to. You'll have plenty of time free time to wander around villages, get active or wile away the hours sipping rum in a bar.
For more information or to book, please contact the reservations team.
Call 01928 246 243
Online Enquiries: Click Here