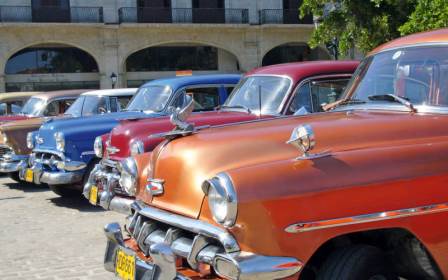 Cuba Explorer
Cuba is a unique country infused with vibrant Latin flavours and stuck in a time warp – charming colonial towns are left crumbling, sugar mills are deserted, and rusty 1950's cars still chug along the streets. This all-encompassing tour offers an authentic and fascinating insight into the island's colourful history as well as providing an opportunity to experience Cuba's beautiful landscapes and nature.
Board Basis: Mixed Meal Plan, Departure Date: Low Season, Departs: London Gatwick
Tour Highlights
Cigar factory visit in Pinar del Rio
Full day Havana tour
Bay of Pigs boat trip
Tour of Trinidad
View Cuban life in Sancti Spiritus
Vinales Valley
Our Opinion
Perfect for those with a whole two weeks to explore Cuba, this tour takes in the sights of western Cuba followed by time on the coast in Varadero. If you wish to enjoy a combination of the island's culture and nature then this tour is for you.
Itinerary in Brief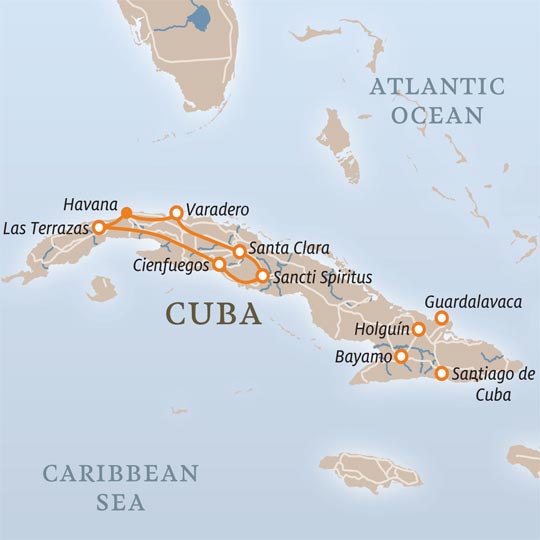 Havana: 1 night
Las Terrazas: 2 nights
Havana: 1 night
Cienfuegos: 2 nights
Sancti Spiritus: 1 night
Remedios 2 nights
Varadero: 5 nights
Full Itinerary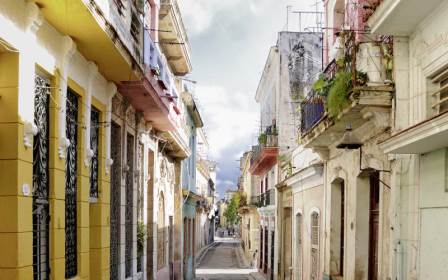 Day 1: Havana On arrival in Cuba you will be transferred to your hotel where you will spend two nights. Stay: Nacional de Cuba. (D).
Day 2: Havana to Las Terrazas Following breakfast you will depart from Havana and head west to the province and city of Pinar del Rio which sits at the heart of the island's iconic cigar producing region. While here your group will visit a factory where you will see how some of the world's finest cigars are made. Continue on your journey to the beautiful Vinales Valley, which has been designated as a UNESCO World Heritage Site. Enjoy views of this unique landscape where tobacco plantations are interspersed with limestone karsts, before visiting the Indian Caves, or 'Cueva del Indio' which were cut into the limestone cliffs by Guanajatabey Amerindians so they could shelter from bad weather. During a boat trip ride along the subterranean San Vicente River you may spot Indian pictograms and relics. Following lunch at a local restaurant you will transfer to your hotel for a two night stay. Stay: La Moka. (B, D).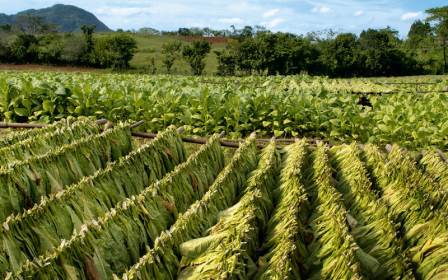 Day 3: Las Terrazas Today will consist of a tour of the rural community of Las Terrazas and firstly, a visit to the Soroa Orchid Garden. Home to over 700 orchid species and many other types of plants the garden, which is the largest of its kind in Cuba, is set out on a beautiful hillside. The rest of the day will be filled with a 'Love, Nature and History' excursion on which you will learn about the region's sustainable credentials and its fascinating history. Starting with a welcome drink at Rancho Curujey's restaurant the tour will go on to explore the La Sierra del Rosario UNESCO World Biosphere Reserve and the area's historic coffee plantations, ecological projects and its natural beauty. Take a refreshing swim in one of the natural pools of the San Juan River. Stay: La Moka. (B, L, D).
Day 4: Las Terrazas to Havana This morning you will return to Havana where you can enjoy a full day of exploration. The tour will include a visit to the Rum Museum to discover the process of producing Cuba's most famous beverage. The next stop on the tour will be the Museum of the City of Havana, where there is a selection of interesting colonial era exhibits, followed by a visit to the 18th Century San Carlos de La Cabana Fortress. Following lunch at a local restaurant the tour will focus on the modern part of the city with a visit to the city's somewhat austere Revolution Square. Here you will witness the memorial to 19th Century Cuban revolutionary Jose Marti and the Memorial Ernesto 'Che' Guevara. Tonight will begin with a welcome cocktail at the world renowned Floridita Bar, followed by dinner at a local restaurant. Stay: Nacional de Cuba. (B, L, D).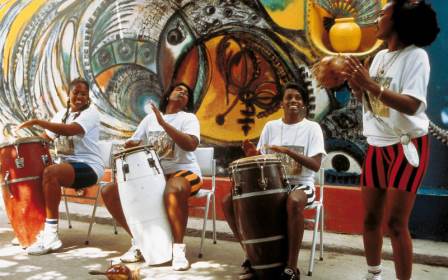 Day 5: Havana to Cienfuegos Your group will travel south east today to the Playa Giron, which is more famously known as the Bay of Pigs. Following the end of the Cuban revolution, during which Fidel Castro and his fellow revolutionaries over threw the American-allied Cuban government, the CIA funded and trained exiled Cubans who consequently mounted a counter revolutionary attack with the aid of the US sea and air forces. On 16 April 1961 the troops landed on this beach and a four day battle ensued. Your time here will be spent at the beach where the 1500 troops of Brigade 2506 landed, and the memorial museum. Continue on to the bay side city of Cienfuegos where you will spend one night. Stay: La Union or similar. (B, D).
Day 6: Cienfuegos Begin your day with a visit to the Topes de Collantes nature reserve. The drive to the park is incredibly scenic, taking you through traditional Cuban villages and up in to the verdant Escambray Mountains. The highlight of the park is the El Nicho waterfalls which descend into crystal clear pools – the perfect spot for a cooling dip. Return to Cienfuegos, for a city tour, taking in the Century Palacio de Valle, which is home to the National Heritage Museum; the Teatro Tomas Terry Theatre; and the charming Cienfuegos Boulevard.Stay: La Union or similar. (B, L, D).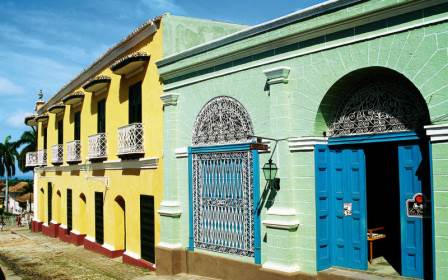 Day 7: Cienfuegos to Sancti Spiritus A tour of Trinidad is today's highlight. This living museum is a wonder to behold and during your brief city tour you will witness its main sights. A visit to La Canchanchara bar, where they serve the traditional drink of the same name is followed by a tour of the Romantic Museum, which offers a chance to step back in time to the 18th Century, and a stop at the Plaza Mayor. The countryside surrounding the city – the Valle de los Ingenious – was once home to 70 working sugar plantations, many of which stand in ruins today. The tour will head out of the city in order to view the iconic 44-metre tower in the beautifully restored Manaca Iznaga estate. Continue to the city of Sancti Spí­ritus where you will spend one night. Stay: Hotel del Rijo. (B, L, D).
Day 8: Sancti Spíritus to Remedios Partake in a brief tour of this pretty, colonial city which is often over shadowed by the more famous city of Trinidad. Your next destination will be the town of Remedios which is located just three miles from the island's north coast. On arrival there will be an afternoon tour which includes a visit to the town's church and a local sugar factory museum. Stay: Hotel Mascotte or Hotel Barcelona. (B, L, D).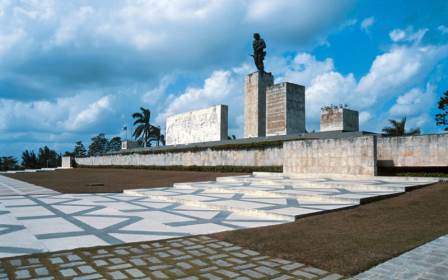 Day 9: Remedios A visit to Santa Clara, which is located in Cuba's heartland, is the highlight today. During a tour of the city, which was the site of a decisive battle of the Revolution won by Che Guevara and his contemporaries in 1958, you will visit the Plaza de la Revolucion to see Che Guevara's monument, vast mausoleum and museum, there you can learn about the tumultuous life of this revolutionary icon. You will also visit the Armoured Train and the Parque Vidal before returning to Remedios. Stay: Hotel Mascotte or Hotel Barcelona. (B, L, D).
Days 10: Remedios to Varadero The cultural part of your holiday comes to an end today as you travel to Varadero and the beach resort where you will spend five nights on an all inclusive basis. Stay: Paradisus Varadero Resort & Spa. (ALL).
Days 11-14: Varadero Your time in Varadero can be spent doing as much or as little as you please. There are a host of activities and facilities available to you, many of which are included in the all inclusive package. For more details see p154 or speak to one of our Personal Travel Experts. Stay: Paradisus Varadero Resort & Spa. (ALL).
Day 15: Varadero Return by road to Havana and transfer to the airport for your onward flight. (B).
Extensions
You can extend your stay longer in Varadero if you wish.
Need to Know
Tour dates 2015: Jan 05; Feb 09; Mar 09; Apr 13; Aug 03; Nov 02, 23; Dec 21.
For guests over the age of 18
A maximum of 16 passengers
This tour will only operate with a minimum number of participants, please speak to a Personal Travel Expert for details
Prices do not include departure taxes which are payable locally
2014 departures will follow a slightly different itinerary, please see online or ask for details, please see online or ask for details
What to expect?
Air-conditioned transportation
Tipping is the main source of income and, although discretionary it can vastly improve service
Touring Cuba is an amazing opportunity however the island's infrastructure is not as developed as other Caribbean countries and as a result delays and disruptions may occur
Cuban food and service may not be to the same standard as experienced elsewhere
Limited choices for vegetarians
For more information or to book, please contact the reservations team.
Call 01928 246 243
Online Enquiries: Click Here