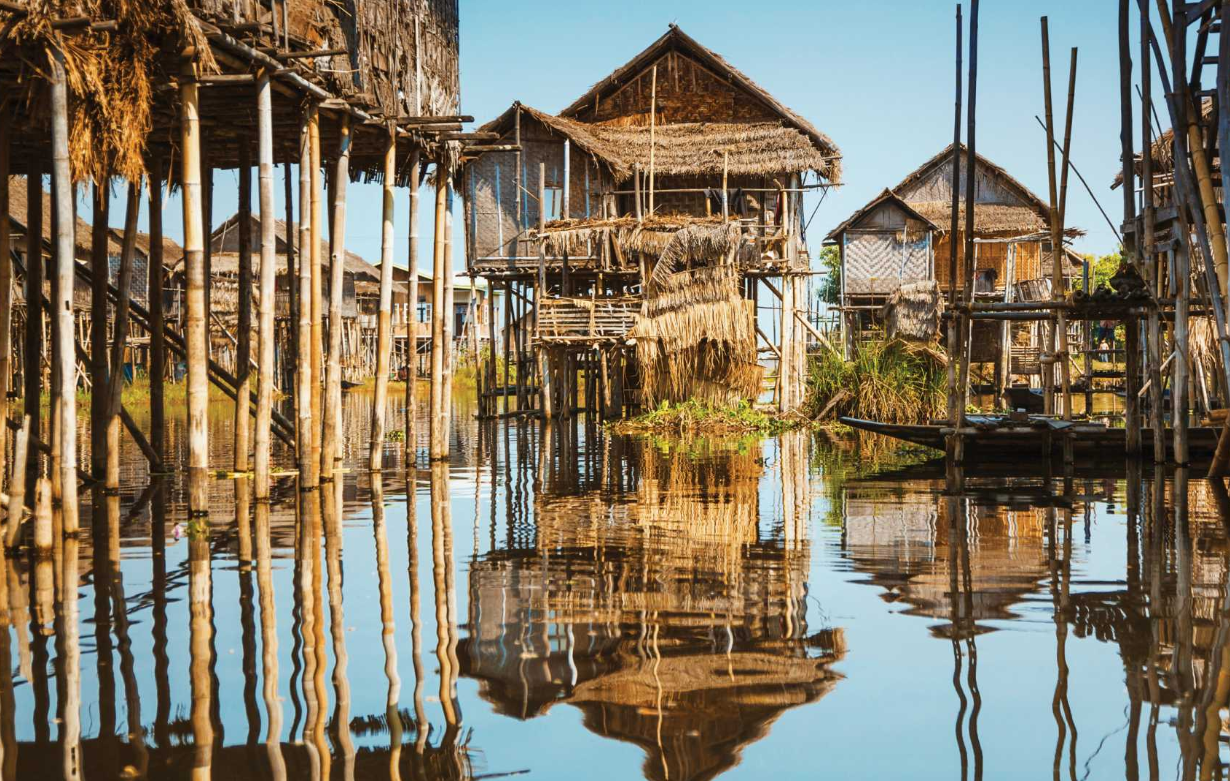 Burma Encounter – Luxury
Board Basis: Mixed Meal Plan, Departure Date: Low Season, Departs: London Manchester
Tour Highlights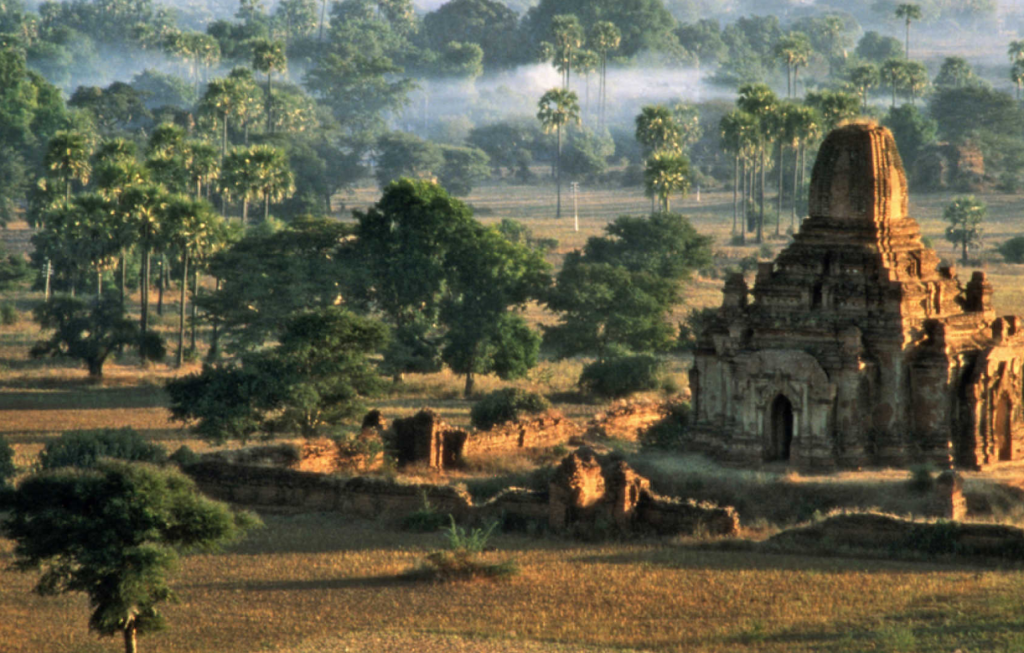 Visit the National Kandawgyi Park
Explore the gleaming Pagodas
Take a bike ride down the beaten track 
Visit the golden Shwedagon Padoga and picturesque U Bein Bridge
Itinerary in Brief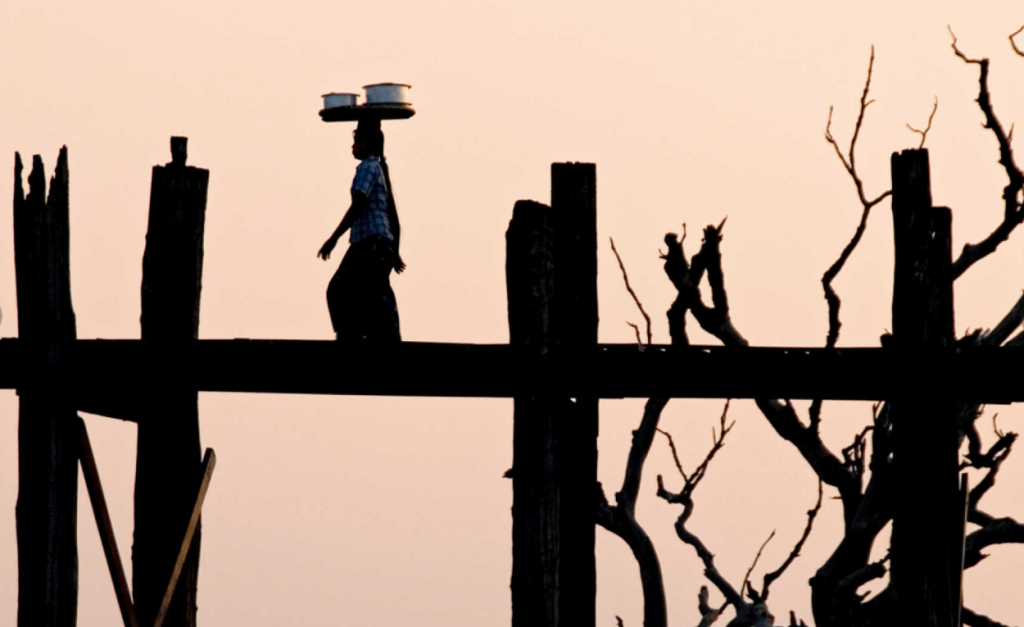 Rangoon – 1 Night
Maymyo – 1 Night
Mandalay – 2 Nights
Bagan – 3 Nights
Inle Lake – 2 Nights
Rangoon – 1 Night
Full Itinerary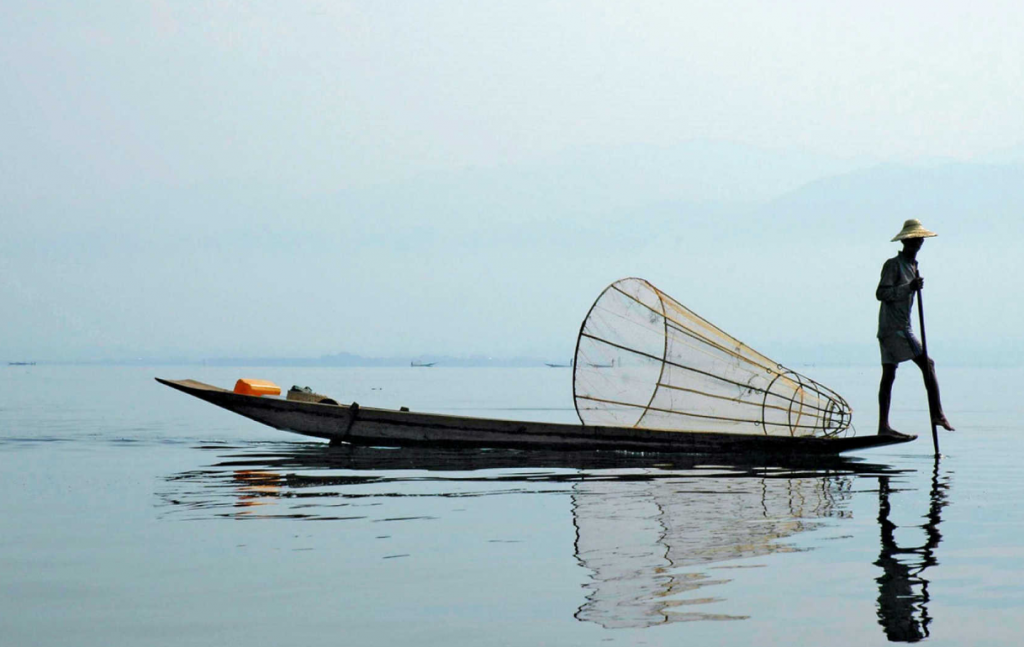 Day 1: UK to Rangoon
Depart from the UK on your overnight flight to Burma.
Day 2: Rangoon
On arrival, transfer to your hotel and enjoy an evening at leisure. Stay: Sule Shangri-La (or similar).
Day 3: Rangoon to Maymyo
Transfer to the airport for your flight to Mandalay (approx. 1½ hours). Soak up the scenery during the drive (approx. 2 hours) to the former British hill station of Maymyo (Pyin Oo Lwin). Discover the sights of this charming town from a horse-drawn carriage as you ride past the colonial buildings and markets. Visit the National Kandawgyi Park, the town's botanical garden. This evening, enjoy a welcome dinner at Feel Restaurant. Approx. journey time: 2 hours, 50 miles. Stay: Aureum Palace Resort (or similar). B, D.
Day 4: Maymyo to Mandalay
Rise early for the drive back to Mandalay. On arrival, take a tour of Burma's last royal city, visiting spiritual sites including the finely-carved teak Golden Palace Monastery and the Kuthodaw Pagoda which houses 729 marble slabs inscribed with the Buddha's teachings. Continue to Mandalay Hill, a major pilgrimage site for Buddhists and a fantastic place to enjoy views at sunset over the city's hills which are speckled with shining temples and pagodas. Approx. journey time: 4 hours, 76 miles. Stay: Mandalay Hill Resort (or similar). B.
Day 5: Mandalay
This morning, join a traditional ceremony of giving alms to local monks. Return to your hotel for breakfast before visiting the Mahamuni Pagoda, one of Burma's most important Buddhist pilgrimage sites – male devotees apply gold leaf to the Buddha statue as a sign of respect. Drive to the historic city of Inwa (formerly called Ava), known as the 'City of Gems'. This former capital has a tranquil rural setting and is scattered with remains of monasteries, palace towers and pagodas. Take a short boat ride over the river, then soak up the atmosphere as you explore the small city in a traditional horse-drawn carriage. Visit the Nanmyint Watch Tower – the remains of the ancient palace building, as well as the Maha Aungmye Bonzan and Bargayar monasteries before continuing to Sagaing Hill, a tranquil Buddhist retreat. Keen photographers have the chance to capture U Bein Bridge, the world's longest teak bridge which was built in 1782 and stretches across the Taungthaman River. Enjoy the sunset with a boat ride on the lake. Stay: Mandalay Hill Resort (or similar). B.
Day 6: Mandalay to Bagan
Today's journey is a real highlight. Cruise along the Irrawaddy River – dubbed the 'Road to Mandalay' by the British – to the ancient city of Bagan. During your 8-10 hours on board (times vary depending on river levels), lunch will be served as you pass regions largely untouched by modern civilisation. In Bagan, a truly spectacular vista awaits with centuries'-old pagodas rising from the plains to create a majestic skyline. Approx. journey time: 8-10¼ hours, 135 miles. Stay: Myanmar Treasure Resort (or similar). B, L.
Day 7: Bagan
This morning, hop on a horse and cart for a half-day tour of the city's most important temples including the 11th-Century Shwezigon Pagoda which was built by King Anawrahta to enshrine sacred relics of the Buddha. According to local legend, if you visit all four replicas in one day then good luck and prosperity will ensue. Later, visit a number of temples including Gubyaukgyi, famed for its murals of Jakatas (tales of Buddha) and Ananda Temple with its four standing Buddha statues, before enjoying the sunset from a lookout point. An optional hot-air balloon ride at sunrise offers enchanting views of vast plains dotted with golden temples (available October-March). Stay: Myanmar Treasure Resort (or similar). B.
Day 8: Bagan
Learn a little more about local culture during a cycling excursion, passing temples and monasteries on your way to Myinkaba Village where you'll visit a farmer's house and traditional barber's shop. In the village lacquerware and bamboo fence makers line the streets and the locals go about their business giving you a glimpse of their day-to-day lives. The rest of your day is at leisure. Stay: Myanmar Treasure Resort (or similar). B.
Day 9: Bagan to Inle Lake
After breakfast, board a 45-minute morning flight to Heho. You'll then travel to the town of Ayetharyar for a wine tasting and lunch at one of the region's vineyards. Next, drive to Nyaung Shwe, visiting the Shwe Yan Pyay Monastery en route. A boat excursion takes you to a silk weaving workshop and silversmith's in the village of Inn Paw Khon (approx. 3 hours) before you continue to Phaungdaw Oo Pagoda, home to five small Buddha images which sit hidden beneath infinite layers of gold leaf applied by devotees. Approx. journey time: 4¼ hours, 33 miles. Stay: ViewPoint Eco Lodge (or similar). B, L.
Day 10: Inle Lake
This morning, ride a boat to the lakeside village of Maing Tauk and walk (approx. 1 hour) to a meditation centre. A local monk will teach you the ways of meditation; afterwards, enjoy time to reflect on your own. Enjoy a local lunch then walk to the Nga Phe Kyaung Monastery. Another boat journey takes you to one of the lake's most impressive sites, Shwe Indein Pagoda. Ascend an ancient stairway to find this hauntingly beautiful complex containing hundreds of pagodas, crumbling and foliage-covered, beside their fully restored neighbours. Stay: ViewPoint Eco Lodge (or similar). B, L.
Day 11: Inle Lake to Rangoon
Begin your return to Rangoon via boat to Nyaung Shwe and transfer to Heho airport for your flight to Rangoon (approx. 1¼ hours). Spend your last full day exploring Rangoon's important landmarks, including Burma's largest Catholic church, the High Court and Rander House before enjoying high tea at the heritage hotel The Strand. Approx. journey time: 2 hours, 31 miles. Stay: Sule Shangri-La (or similar). B.
Day 12: Rangoon
This morning you will visit one of the city's most striking landmarks, the octagonal-shaped 2000 year old Sule Pagoda which has a 152-foot golden dome reputed to contain a hair from Buddha. Continue to the Shwedagon Pagoda, a glorious golden pagoda which is also believed to house strands of Buddha's hair. Transfer to the airport for your flight to the UK, arriving the following day. B.
Extensions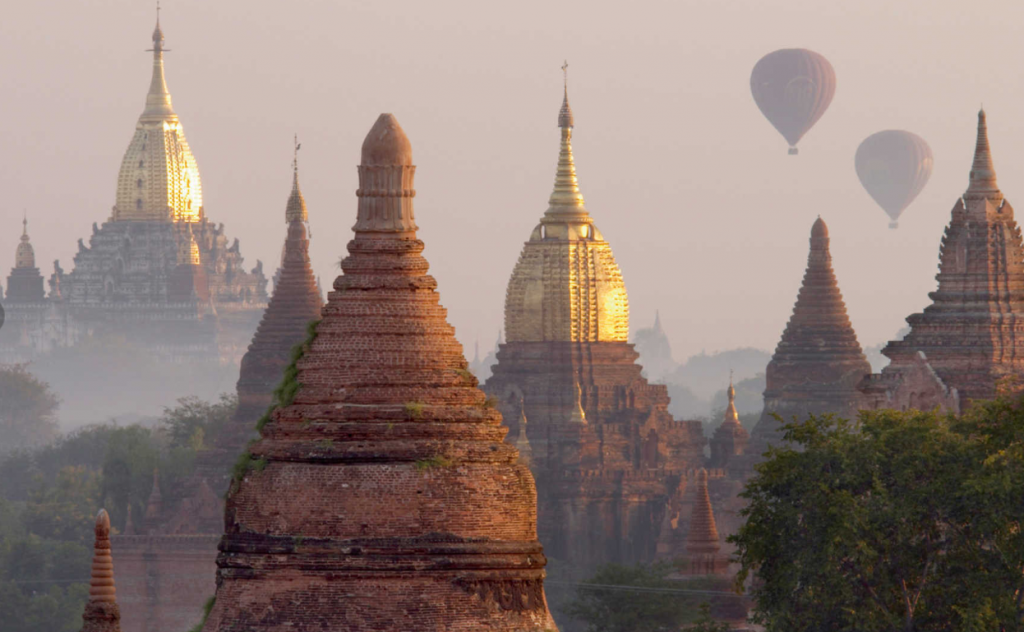 9 nights
A captivating tour of Cambodia and Laos' cultural and historic sights.
Singapore 2 nights
Spend some time exploring multicultural Singapore, known as the 'City in a Garden'.
2020
Ngapali Beach 3 nights
Visit this lesser-known area of Burma, a palm-dotted stretch of sandy coastline on the country's west coast.
Day 1: Rangoon to Ngapali Beach
After breakfast, transfer to the airport for your flight to Thandwe (approx. 1 hour), where on arrival you'll transfer to your hotel. Spend the rest of the day at leisure and soak up some sun on the powdery sands of Ngapali Beach. Stay: Sandoway Resort (or similar). B.
Days 2-3: Ngapali Beach
Make the most of beautiful Ngapali Beach. Go swimming and snorkelling, head out on a boat trip to explore offshore islands or rent a bicycle to discover local fishing villages and markets. The beach is west-facing, so you should have the chance to take in superb sunsets over the Bay of Bengal. Stay: Sandoway Resort (or similar). B.
Day 4: Ngapali Beach to Rangoon
Transfer to Thandwe airport for your flight to Rangoon, where you will take your flight back to the UK. B.
Need to Know
• For guests over 16 (unless travelling on a private journey)
• Average group size of 10 guests
• A maximum of 18 guests.
For more information or to book, please contact the reservations team.
Call 01928 246 243
Online Enquiries: Click Here